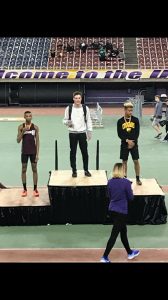 Riley Moss has some lofty expectations for the 2018 high school track season.
"I've set a goal to never lose a race for the high hurdles this year so we will see what happens when outdoor season comes along," said Moss.
The Ankeny Centennial senior is off to a great start in the indoor season. He won the 60-meter hurdles in 8.11 seconds at the Dickinson Relays on Tuesday at the UNI-Dome in Cedar Falls.
Moss, the state runner-up a year ago in the Class 4A 110 hurdles, broke the school record.
"I've got the fastest 60-meter time in the state along with the 55-meter time, so it's looking good," Moss said.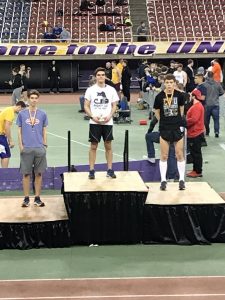 Teammate Camden Cox also set a school record on Tuesday. He won the 1,600 in a time of 4:22.44, finishing about 4 seconds ahead of runner-up Myles Bach of Center Point-Urbana.
"I've put in a lot of work this winter, and I think it showed," Cox said. "It was also nice to get in a great early season race against Bach, who is an outstanding runner."
Centennial's Sam Snyder placed fourth in the 60-meter dash in 7.18. Moss finished eighth in 7.25.
Those two marks cracked the school's all-time top-five list. The Jaguars had five other top-five performances on the day.
"We had a good meet," said Centennial coach Nate Smith.
Ankeny's Max Smith took sixth in the 60 in 7.23. Teammate Jacob Baier was ninth in the shot put with a throw of 49 feet 2.5 inches.
"I was happy with how those guys performed," said Ankeny coach Nick Nelson, whose team also placed 13th in the 4×800 relay in a time of 8:49.63.
Centennial's Nathan Reinke placed seventh in the 60 hurdles in 8.90. Jonah Vicker placed 10th for the Jaguars in the 3,200, posting a time of 10:16.93.
Centennial placed sixth in the 4×200 relay in 1:34.68. It was the second-fastest indoor time in school history.