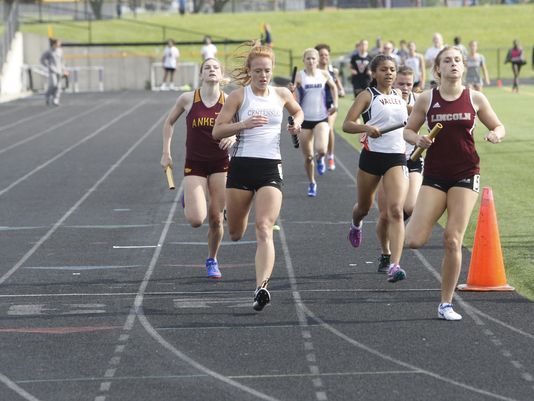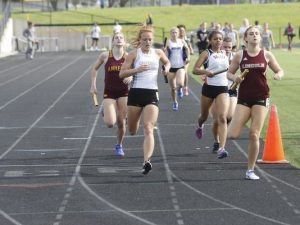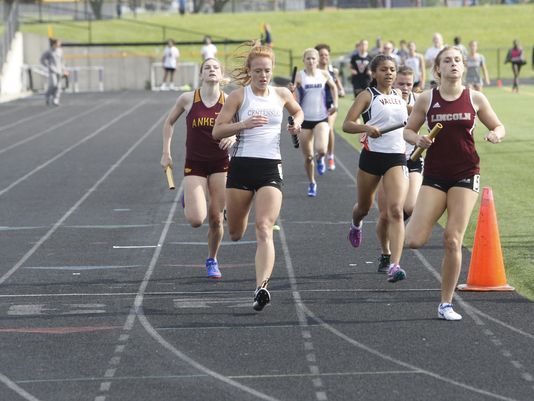 Andrew Kruzich knows that it takes an elite athlete or two in order to truly make some noise at the girls' state track meet.
His Ankeny Centennial squad appears to have a couple of them, which could allow the Jaguars to earn their highest finish in school history.
"Top 10 is always the goal," said Kruzich, whose first four Centennial teams have placed from 13th to 18th in Class 4A. "It's been hard for us to get there the last couple of years, even in 2016 when we had our best team to date. You have to have elite talent to score well at state, and one girl like the Council Bluffs Lincoln sprinter/long jumper (Darby Thomas) can place in the top 10 all by themselves if they are elite. We've had a lot of very good athletes, but not enough 1-2-3 in the state athletes to break into that."
Centennial tied for 18th in last year's state meet with 11 points. The Jaguars boast 16 athletes with state-meet experience, including junior Kenna Sauer and seniors Emma Gordon, Megan Gray and Katie Saddoris.
Gordon, an Iowa recruit, is one of the state's top distance runners. She placed 17th in the 1,500 and anchored the Jaguars' 15th-place distance medley relay at last year's state meet.
"So far, our distance kids look really fit," Kruzich said. "Emma has been very sharp, Jeanne Peters set her all-time 1,500 PR at the Dickinson Relays (on March 5) in her first time racing that this season, and Megan is ahead of where we thought she'd be given all of her time off from injury."
Gray and Saddoris both ran on Centennial's state champion distance medley relay in 2016. But Gray, a Minnesota soccer recruit, then suffered a torn ACL last spring and missed her junior season.
Saddoris and fellow senior Betsy Ridout will be the Jaguars' top sprinters. Saddoris placed 13th in the 200 a year ago, while Ridout took 16th in the long jump and also ran on three relays.
"Betsy and Katie have really been sharp for this early in the season, and we've got a whole lot of sophomores as options to help them out," Kruzich said. "We will have to do some sorting of that as the season goes on. We're hopeful that Kenna will be back healthy by the Drake Relays or so, but we'll have to be ready in case she's not."
Sauer, a Missouri volleyball recruit, placed second in the long jump as a freshman and finished third last year. She could also be a huge factor in the relays if she can recover from a leg injury that forced her to miss most of the basketball season.
All four members of the 12th-place 4×200 relay that set a school record of 1:45.73 are back this year. That team consisted of Ridout, Sauer, Calea Jones and Saddoris.
Sauer also joined Ridout and Saddoris on the ninth-place 4×100 relay. That trio also ran on the 19th-place sprint medley relay, which returns senior Karri Pippett as well.
Pippett placed ninth in the 400 hurdles. She also joined Jones on the shuttle hurdle relay that placed fourth in a time of 1:06.05, which set a school record.
"We've got the potential to have a nice hurdle group, returning those two plus our two alternates," Kruzich said.
Among the other returnees are seniors Chloe Frazier and Claire Wubben; juniors Jesslyn Gaumer, Meg Ridout and Brianna Smith; and sophomores Kayla Eilander, Taylor Runchey and Sophie Lee.
Lee and Smith joined Gordon and Peters on the 16th-place 4×800 relay. Ridout, Eilander and Wubben all ran on the distance medley relay, while Runchey joined Wubben on the 23rd-place 4×400 relay.
"We've got a deep group of experienced kids who are looking to do big things this year," Kruzich said. "We've got our biggest group of seniors ever at Centennial, and we had 32 of last year's 36 freshmen come back out. The girls are excited."
Centennial will open its outdoor season on March 27 at the Johnston Invitational. Kruzich said his team's balance and depth should allow the Jaguars to be highly competitive throughout the season.
"In rankings like the IATC power rankings, we score very well because of our top-to-bottom quality in all parts of a meet. We've been ranked in the top 10 the last two seasons there," Kruzich said. "We should have good distance runners and relays, solid hurdle options, and a lot of quality girls in the sprints. We are also the deepest we've been at the 400 distance in quite some time, and that's critical since there are seven 400 slots in a varsity meet lineup. We just need to get a little more consistent in the high jump and throws."
The key for the Jaguars, though, will be to avoid any more injuries.
"If our top athletes can get and stay healthy, and we find a couple of missing pieces for a relay or two, we could have a lot of fun at state this year," Kruzich said. "Our girls have been very positive so far and have been working very hard. It's going to be an exciting season."