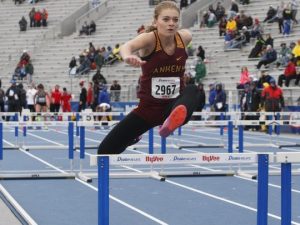 It's been awhile since the Ankeny girls' track team earned a top-10 finish in the Class 4A state meet.
All of the current members of the squad were in elementary school the last time it happened. In 2010, the Hawkettes finished seventh with 46 points.
This could be the year that Ankeny returns to the top 10. The Hawkettes boast 12 returning state qualifiers from a team that placed 15th in Class 4A with 15.33 points.
"Our state finish from last year has left our returnees hungry for a top-10 finish at this year's meet," said Ankeny coach Dennis Adamson. "With record offseason participation in strength conditioning and productive practices, we can see the girls are committed to contributing to this. If the girls achieve their personal and relay team goals, this could come to fruition."
Seniors Peyton Daugherty, Sydney Flatness, Alex Robran and Meghan Trimble are among the team's returnees. The other returning state qualifiers are juniors Sarah Bosch, Olivia Sharar, Mikala Sidney and Sydni Wendling along with sophomores Scout Bergwall, Malea Daugherty, Jasmine Rumley and Holly Trimble.
Rumley placed sixth in the 100 and 11th in the long jump at last year's state meet. She also anchored the Hawkettes to a runner-up finish in the 4×100 relay.
Peyton Daugherty and Sidney are also back from that relay, which set a school record with a time of 48.62 seconds. Those two also ran on the 12th-place sprint medley relay, while Daugherty joined Rumley on the 10th-place 4×200 relay.
Sharar tied for eighth place in the high jump with a leap of 5 feet 2 inches. She finished 12th in the 400 hurdles and also ran on the eighth-place 4×400 relay.
Sidney and Malea Daugherty are both back from Ankeny's sixth-place shuttle hurdle relay. That squad posted the second-fastest time in school history during the preliminaries (1:05.71).
Bergwall, Bosch and Meghan Trimble all ran on the 12th-place 4×800 relay. Trimble joined her sister and Malea Daugherty on the 14th-place distance medley relay.
Meghan Trimble also placed 21st in the 1,500, while Robran took 20th in the 3,000. Flatness placed 16th in the shot put, Sidney was 17th in the 200, and Wendling finished 22nd in the 400.
"We are a young team with eight seniors and 13 juniors out of 81 on the roster," Adamson said. "We graduated five seniors who scored points at the state meet last year, but there are lots of girls working hard to step up and fill their shoes."
Ankeny won a pair of meets last year, including its own Hawkette Invitational. The Hawkettes will try to defend that title on April 5.
Ankeny has already shown glimpses of its potential during a successful indoor season.
"Many of our returning athletes have achieved performances better or near their PRs from last season," Adamson said. "In addition, we have had some promising freshmen performances in these meets, too. It's a very encouraging start."
Ankeny will open the outdoor season at the Waukee Invitational on March 27. Adamson is hoping that his squad will peak at the state meet on May 17-19.
"Every year we talk about the process, the preparation, and the skills to learn and sharpen," he said. "Making a team of 81 girls bond and gel is always uppermost on the mind of all the coaches. Attitude is also a very important aspect of this. Years ago the Ankeny sports slogan was 'Attitude Makes the Difference', and we try to get them to see that the outcomes derive from believing in and joining together in the process."