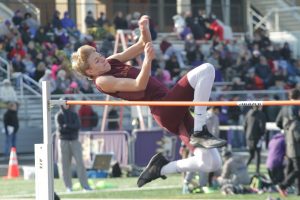 Ankeny Centennial's Ryan VanBaale isn't the only talented sprinter from Ankeny.
Crosstown rival Ankeny High School also has a speedster in the form of junior Max Smith, who won the 100-meter dash at the Johnston Early Bird Invitational on Thursday.
Smith crossed the finish line in 11.54 seconds to provide the Hawks' lone victory of the night in their first outdoor meet of the season. He edged runner-up Tashawn Buchanan of Valley, who was clocked in 11.56.
Smith also ran on Ankeny's third-place sprint medley relay. He teamed up with Peyton Agan, Cael Boyd and Brody Brecht to post a time of 1:37.95.
"The team performed well," said Ankeny coach Nick Nelson. "I thought we competed very well."
The Hawks got a fourth-place finish from Kyle Johnson in the long jump. He posted a mark of 18 feet 10 inches.
Teammate Max Griffin placed sixth in the 200. He turned in a time of 24.53.
In the junior varsity division, Brecht won the 200 in 24.23. Jackson Norgaard took the 400 in 57.97, while freshman Mason Thompson won the high jump with a leap of 5 feet 6 inches.
"He did a great job," Nelson said of Thompson.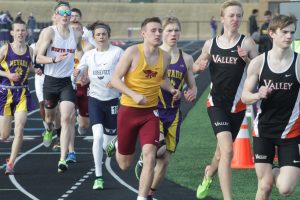 Ankeny took fourth or higher in five different varsity relays, highlighted by a runner-up finish in the 4×800 relay. The foursome of Connor Farrell, Drake Strnad, Cole Johnson and Noah Odson posted a time of 8:34.76.
Here are the Hawks' other top relay finishes:
4×200–Kein Valentine, Cooper Cox, Carter McMullen and Kade Somers, 1:37.68 (4th).
4×400–Jalen Elwell, Farrell, Odson and Johnson, 3:40.99 (3rd).
Distance medley relay–Jase Bauer, Hayes Gibson, Macieo Pritchard and Elwell, 3:59.93 (3rd).