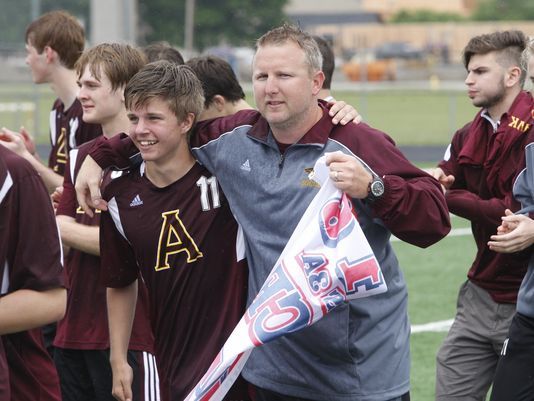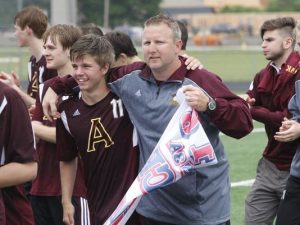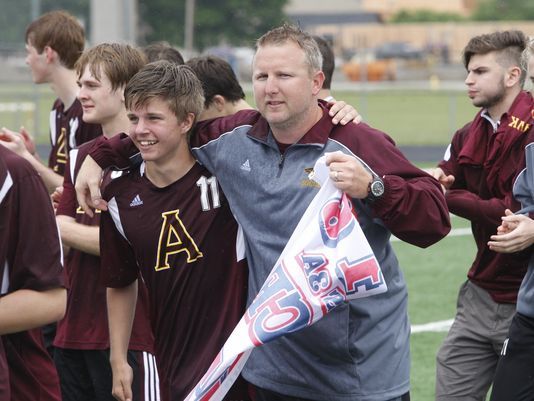 Brian Duax still wants to win a state championship.
Now, he'll be trying to accomplish that goal at Ankeny Centennial.
The former Ankeny boys' soccer coach moved across town last summer to take over the Jaguars' program. He inherits a team that posted a 12-6 record a year ago, including a 2-3 mark in the CIML Central Conference.
"The goals are always the same no matter how many years we have been together," said Duax. "Winning a state championship is the ultimate goal. A smaller-scale goal is to get better every day while making sure we are playing the best soccer we can come postseason."
Centennial returns several starters from a team that dropped a 3-2 decision at Urbandale in a Class 3A substate final last season. That was the final game for coach Aaron Ruff, who then left to become an assistant principal in Ottumwa.
Duax is already familiar with many of the Jaguars, since he has coached some of them during his stint as a coach with the Iowa Rush club team. In the offseason, he got a chance to learn more about his new players.
"I have learned who is willing to put in the work (in the weight room) and who isn't ready to commit fully," he said. "I also think we will find out very quickly after the first day of practice (on March 19) who has put in the fitness work during the offseason to make sure they are prepared physically for the season. As far as learning soccer-specific items, I am withholding judgement until we get out on the turf."
Senior Alex Keninger is back for the Jaguars along with juniors Nick Ashton, Easton Becker, Michael Brandt and Will Overberg. Overberg was named to the Central Conference second team as a sophomore, while the other four players received all-conference honorable mention.
Overberg scored six goals and had a team-high six assists last season. Keninger, a Wartburg recruit, contributed five goals.
Ashton had four assists for the Jaguars. Brandt added two assists.
Senior Sean Dennis and sophomores Cole Vincent and Connor Page all saw a lot of action in 2017. Dennis started 11 games, Vincent scored a pair of goals, and Page had two assists.
Duax said none of the returning players is guaranteed a starting position.
"This will be a start-from-scratch team newly made this year," he said. "We have three new coaches teaching a different style of soccer and different expectations."
Duax will also have to find a replacement for goalkeeper Matt Halder, who graduated after starting 17 of the 18 games last year. Senior Mitch Hinners, who is currently battling an injury, is one of three contenders for the position along with junior Cole Pankey and freshman Jonathan Stockwell.
Duax said he's still trying to find out how to motivate each of his players.
"The biggest hurdle in my opinion is learning which buttons to push for each player to try and get their very best every day," he said. "We want to create a culture of competing every day for a varsity role or starting role."
Centennial will open its season on March 30-31 with three games at the Iowa City West Invitational. Weather permitting, the Jaguars will meet defending Class 3A state champion Iowa City West, Cedar Rapids Washington and Linn-Mar (Marion).
"By watching open gyms and weight room I do think we will be competitive with any team in the state, but the coaches have to make the puzzle of players fit together in the right formation and players in most effective positions," Duax said.