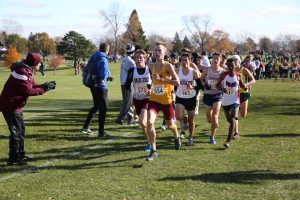 The health of junior Tim Sindt could go a long way in determining the success of the Ankeny boys' track team.
Sindt, one of the state's top distance runners, won a Class 4A cross country title last fall. But he underwent surgery last month for a heart problem and has yet to compete this spring.
"I had something called (Wolff-Parkinson-White syndrome)," said Sindt. "They had to fix an extra electrical circuit in my heart that was causing it to randomly start racing. But I am back to training now, and I will start racing in April."
Sindt is one of seven returning state qualifiers for the Hawks, who finished in 31st place at last year's Class 4A state meet. He provided one of the team's two points with an eighth-place finish in the 3,200-meter run, posting a time of 9:34.28.
Sindt also qualified for state in the 1,600. He placed 16th in that event in 4:30.20.
Ankeny's other returning state qualifiers are senior Connor Farrell; juniors Max Griffin, Connor Niffenegger and Noah Odson; and sophomores Jacob Baier and Nick Scherle.
Niffenegger and Scherle both ran on the Hawks' 16th-place shuttle hurdle relay. Scherle anchored the team to a time of 1:00.24.
Farrell and Odson are both middle-distance runners. They ran on Ankeny's 18th-place 4×800 relay team that was clocked in 8:21.33.
Griffin qualified for state in the 400, placing 17th in a time of 51.06 seconds. But he is versatile enough to run the shorter sprints and will likely also compete in the long jump.
Ankeny coach Nick Nelson is excited about the potential of Baier, who has a chance to be one of the state's top throwers. He qualified for state as a freshman in the discus, placing 23rd with a toss of 134 feet 6 inches.
During the indoor season, Baier also showed that he could be a factor in the shot put. He placed fourth in that event at the Wartburg Indoor Meet on Feb. 27.
Junior sprinter Max Smith has also been impressive for the Hawks. He placed seventh in the 55-meter dash at the Wartburg meet.
Ankeny opened its outdoor season on Thursday by competing in the Johnston Early Bird Invitational. Smith won the 100 in 11.54 and also teamed up with Peyton Agan, Cael Boyd and Brody Brecht for a third-place finish in the sprint medley relay.
The Hawks placed fourth or higher in four other relays, including a runner-up finish in the 4×800 relay.
"The team performed well," Nelson said. "I thought we competed very well."