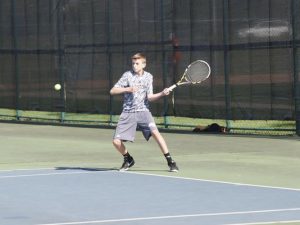 A run of three consecutive winning seasons came to an end last year for the Ankeny Centennial boys' tennis team, which struggled to a 4-7 record during a rebuilding campaign.
Now, Centennial coach Tami Lewton is hoping for a bounce-back year in 2018.
"We are really hoping to improve on our record from last season," Lewton said. "We graduated a ton of players in 2016 so last year was a building year. We are hoping with all of the freshmen and sophomores we have that we can look to the future with strength. I think our season will depend on whether our younger kids can be mentally tough and achieve what they are definitely capable of."
There are 45 players on the roster, 11 more than a year ago. The larger squad is a double-edged sword for the Jaguars.
"Our team keeps growing," Lewton said. "But with only four courts, it becomes a challenge to make sure that everyone is practicing every day and getting better."
Centennial returns seven varsity regulars from last year's squad, including seniors Sam Marold and Matt Tressel. Juniors James Cole, Zach Petersen and Joel Unick are also back along with sophomores Samson Densmore and Ryan Lofgren.
Marold shared time at the No. 1 singles position last year with Jonny McGill, who has graduated. He posted a 6-5 record.
Marold also teamed up with McGill for a third-place finish in doubles at a Class 2A district tournament.
Lofgren spent most of his freshman season at the No. 5 singles spot. He compiled a 4-6 mark.
Lofgren also saw a lot of action in doubles. He was part of the winning No. 2 doubles team at the Johnston Invitational.
Densmore moved into the No. 6 spot midway through the season. He finished with a 5-6 record.
Cole and Unick played a lot of doubles together last year, going 6-7 as a tandem. Petersen and Tressel also went 6-7 as a doubles duo.
"Our team is looking good, but we're very young this year," Lewton said. "We will have some freshmen and sophomores playing some leadership roles. That is both exciting and scary. I've learned that they are a smart, hard-working group."
Freshman Will Blevins is expected to make an immediate impact for the Jaguars, who will host Urbandale in their season opener on April 3.
"Will will definitely be a factor on our team and play in one of the top spots," Lewton said. "We are excited to see what he can accomplish."
Some other newcomers could also crack the varsity lineup.
"Nic Mackaman is a contender for varsity as well," Lewton said. "We are hoping he will help out this season, too."