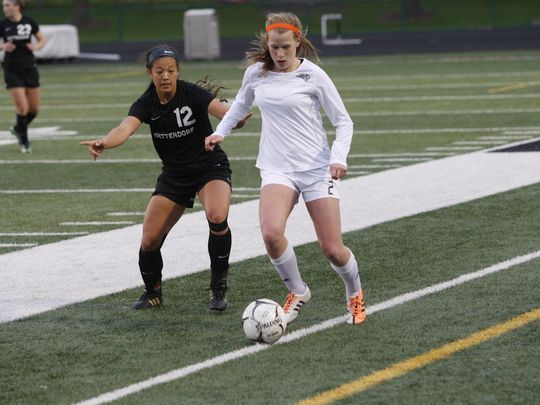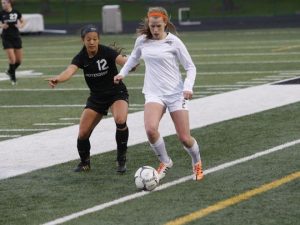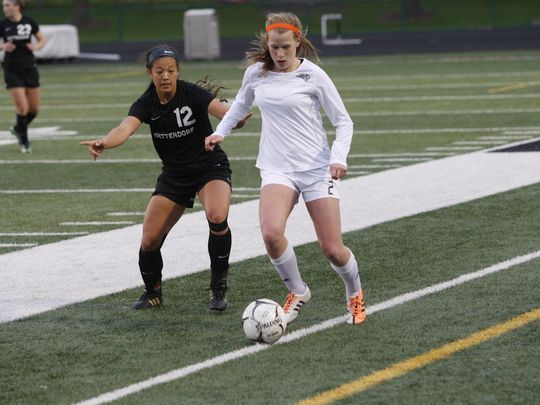 There's at least a dozen reasons why the Ankeny Centennial girls' soccer team is ranked fourth in the Class 3A preseason rankings by the Iowa Girls' High School Athletic Union.
That's how many Jaguars have already committed to play soccer at the collegiate level.
Several of them are headed to Division I schools, and they're also the foundation of Centennial's squad.
"We have a group of seniors and returners who are proactively working to protect the productive culture of our team, who are excited for the start of our season, and who see themselves as positive contributors to the legacy of Ankeny soccer," said Centennial coach Chris Allen. "Their enthusiasm is infectious, and I can't wait to see them use their leadership skills on a day-to-day basis."
Centennial posted a 16-4 record a year ago, including a 4-1 mark in the CIML Central Conference. The Jaguars dropped a 1-0 decision in the Class 3A semifinals to second-ranked Valley, which then lost in the title game to fellow Central Conference member Ames, the preseason No. 1 team.
Centennial returns six starters from last year's squad, led by senior center backs Olivia Brown and Tori Ubben. Brown, a Nebraska recruit, was named to the Class 3A all-tournament team and was joined on the all-state first team by Ubben, who will play for Drake.
Also returning are senior midfielder Kenzie Geiger, junior midfielder Lizzy Johnson, junior wingback Olivia Wee and senior Nahomi Lopez, who shared the goalkeeper position with her twin, Marissa. The Lopez sisters, who combined for 38 saves and seven shutouts last year, will play for Tiffin and Wartburg, respectively.
"I think we will be a tough defense given the experience of the returners, and we would like to become more dangerous and unpredictable in the attack," Allen said. "We appear to have the personnel to do just that based on some of what we have seen in tryouts."
Johnson led the team a year ago with nine goals and also had five assists. The all-state second-team pick has committed to play for Missouri-Kansas City.
Geiger contributed eight goals and five assists as a junior. She will play for Augustana (S.D.).
Both Wee and fellow junior Allie Wyckoff, who scored three goals last season, have committed to play for Iowa State. Senior Marisa Smith and junior Kenzie Langstraat are also back after scoring three and two goals a year ago.
"Kenzie has used her agility to develop an extremely quick shot, and we hope to see that become effective in our attack," Allen said. "Marisa returns for a fourth year in top form and has embraced an attacking role—though we can likely use her anywhere on the perimeter of the field at this point, and Allie returns with a hunger to contribute and a speed that will be tough to match."
Centennial has also been strengthened by the addition of a few players who decided to forego club soccer this spring in favor of playing for their high school team. One of them is senior Meg Gray, a Minnesota recruit.
"Meg plans to participate in both track and field and soccer," Allen said. "She is a well-respected athlete known for an incredible work ethic and for being a quality teammate, and we are excited to have her add those characteristics to our program. We would like to see her become very involved in our midfield play, and with time and reps, she can make an impact there."
Three other newcomers are Lexie Gutknecht, Carlie Jensen and Gillian Nithang. Gutknecht will play for Northwest Missouri State, Jensen is headed to Indiana State, and Nithang has committed to Murray State.
"We have a group of juniors and seniors that recognize the importance of chemistry, accountability, and putting the team first," Allen said. "They also know that no season is without adversity and have already started thinking about how they want to handle adversity as a team and in a productive manner."
Centennial will open its season on April 6 at a tournament in Council Bluffs. The Jaguars will then host No. 2 Waukee in a huge early-season showdown on April 13.
"One of our team goals is to harness the productive team chemistry that we have developed over the past few years," Allen said. "In terms of how we play, I would like to see us form an early identity of a team that handles pressure and applies pressure readily. I also would like us to develop our vision and accuracy to cut down on unforced turnovers during the run of play. Finally, I would like players to commit to developing individual aspects of their game throughout the season—I hope they will see complacency as an adversary."