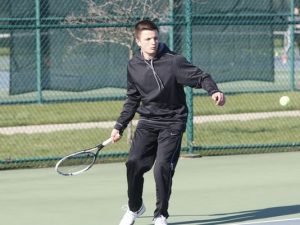 Logan Scheer is the Ankeny Fanatic prep of the week sponsored by Revive Clinic and Spa. The senior is the top returning player for the Ankeny boys' tennis team.
Scheer helped the Hawks to a 6-6 record last year. He placed fourth in singles at a Class 2A district tournament.
Here is some inside info on Scheer:
How are the practices going thus far?
They are going very well. I'm focusing on the fundamentals for my groundstrokes and serve. I'm also picking up different tips and learning about some small things that will help me win matches as well. Our team is returning several players with varsity experience so we are looking forward to being competitive this year.
As a senior, are you trying to be a leader for the squad? In what ways?
Yes, I'm leading the team in stretches and warmups, helping explain different situations in a match that can help us win, and just trying to set a good example and tone for this year that will hopefully also carry over into next year for that team.
Do you prefer singles or doubles? Why?
I prefer singles more than doubles because I'm a fairly independent person so I like to figure things out on my own. Then if I'm successful, the point or win becomes a more motivating factor to keep going. I also play basketball and baseball so it is fun to play somewhat of an individual sport knowing I only have myself to rely on.
You played a lot of doubles last year with Griffin Laib, who went on to qualify for the state tournament in singles. Did you learn a lot playing with Griffin?
I learned so many things from Griffin. I was able to hit with him on a daily basis which really helped my technique, and I learned how to respond to different situations. I hope I can use some of the things he taught me last year and translate them into the style of play I hope to have this year.
Do you know who your doubles partner will be this year?
I do not know who my doubles partner will be, but whoever it is I know for sure he will compete as hard as I try to do. We will just have to work on our chemistry in playing together and anticipating each other's moves.
Does it take awhile to get comfortable playing with a new partner?
It takes a couple matches to get used to what your partner likes to do, but I have been hitting and playing with many of my teammates for two to three years. I don't imagine it being an obstacle going into the season.
What is the strongest part of your game?
The strongest part of my game is certainly my forehand. After playing for a few years now, I have picked up different tips and techniques from past teammates that have helped me develop my forehand. Also, my serve is improving and it's going to be important for me to use my serve to win points.
Goals for the season?
I have many goals for the season that include improving my backhand, improving in pressure situations, and making sure I help my team compete in every meet. Ultimately for myself, my goal is to make it to state. I have been a game short the last two years and now that I have more experience, I know what to expect and how to manage specific situations.
What has been the highlight of your high school career?
The highlight of my high school career was certainly beating Ankeny Centennial last year. There isn't a better feeling than when you beat your crosstown rival.
Plans for next year? Will you play tennis somewhere?
I will be attending the University of Iowa next fall. Even though I will not be playing tennis at the next level, I really enjoy the game and will continue to play the rest of my life.
What are you going to study in college?
I will be studying Sports and Recreational Management.