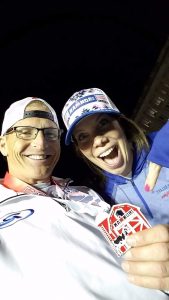 Friday's boys' soccer game between Ankeny Centennial and Des Moines North wasn't much of a contest, but it was still an emotional one for Centennial assistant coach Brent Rauch.
It was the final game for Rauch, who is moving to Estes Park, Colo., along with his wife, Bridget, on Tuesday.
"It's been a great experience to coach these guys, but my wife and I just decided to chase our own dreams," said Rauch. "And like I told the guys, sometimes we have to make a sacrifice to do that. And I'm definitely going to miss it."
Rauch was the freshman coach for Centennial before the school even opened in 2013. At that time, the school district was preparing for the eventual split into two high schools.
Rauch later became the head coach of the junior varsity Silver team under then-head varsity coach Aaron Ruff. When Brian Duax took over the Jaguars' program last summer, Rauch became the varsity assistant.
"I've been here almost seven seasons now," Rauch said. "It's been great to share the passion that I have for the game with the kids, and I have a feeling that I'll coach again in the future. I just don't know when."
Rauch and his wife will be working together at the Baldpate Inn in Estes Park. The couple would eventually like to run their own retreat center.
"It wasn't like we needed to leave, but it just came to fruition that we're going to be able to work together at a bed-and-breakfast type inn," Rauch said. "We'll live on the grounds and help manage the inn and serve the guests along with the owner."
On Friday, Rauch watched from the sidelines as the fourth-ranked Jaguars rolled to a 6-2 victory at North. They built a 4-0 lead just 8 minutes into the game and then coasted to the win.
Will Overberg had a hat trick and one assist as Centennial improved to 10-3 on the season. Alex Keninger, Michael Poitry and Cole Vincent each added a goal and an assist.
The loss dropped North's record to 3-9.
Afterwards, Rauch rode the bus home for the last time.
"It's kind of surreal," he said. "But I told the guys that we'll be following them from afar. And if they can make it to the state tournament, we'll try to make an effort to get back here."