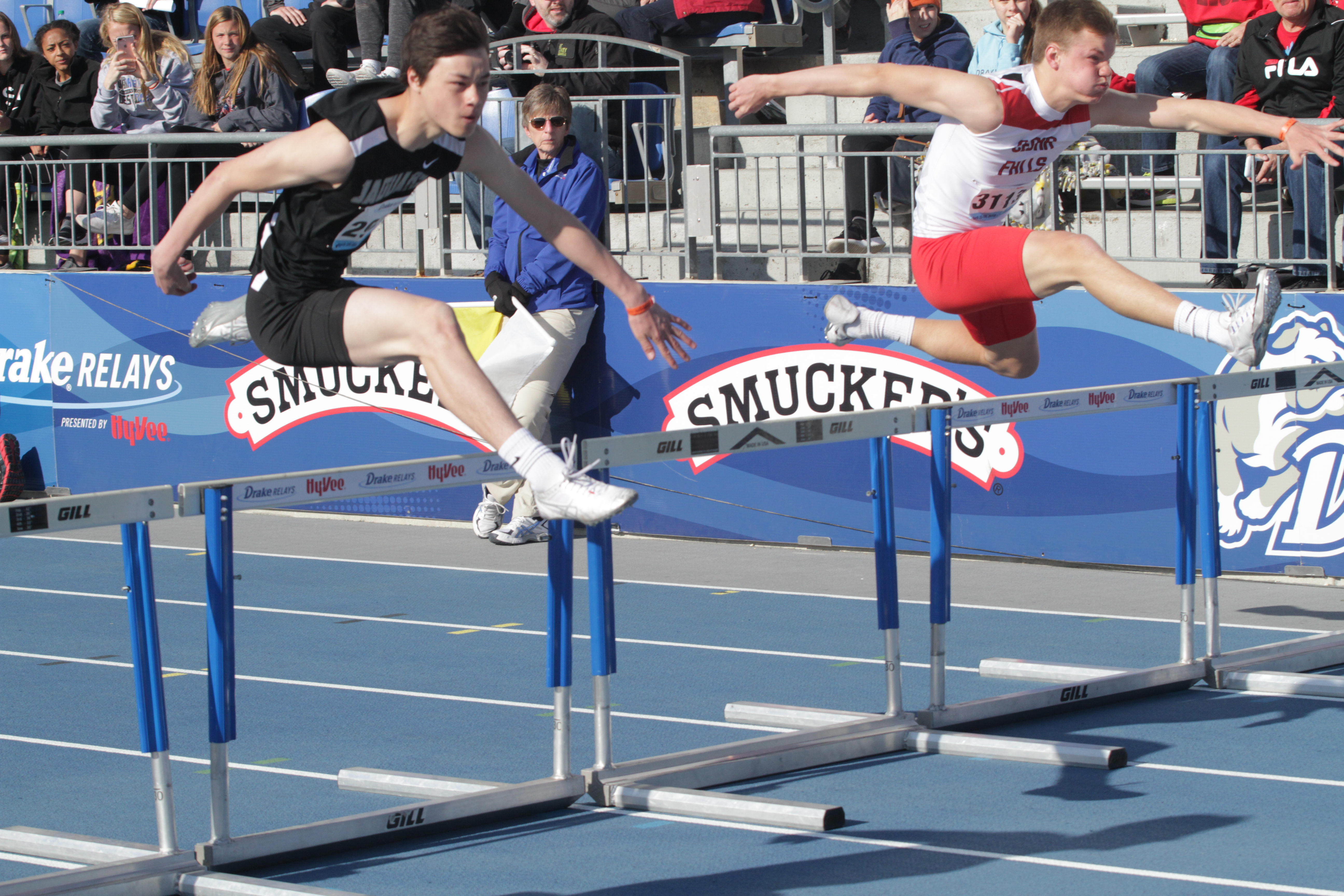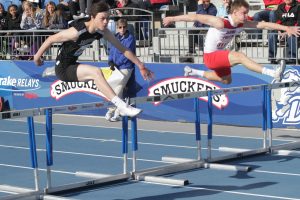 Ankeny Centennial's Riley Moss and Ankeny's Tim Sindt combined for five victories on Friday in the CIML Central Conference boys' track meet at Ames.
Moss easily defended his crown in the 110 hurdles, posting a time of 14.10 seconds. He defeated the runner-up, Conner Niffenegger of Ankeny, by a full second.
"I was just happy to get the win," Moss said. "It's like the third time I've run a 14.1 so at least it's consistent."
Moss also anchored the winning shuttle hurdle relay. He teamed up with Jon Wong, Dylan DeAngelo and Karter Kester for a clocking of 58.07 seconds.
"Our shuttle is turning around at the right time in the season," Moss said. "We started off a little rough just because of how young that relay is. But most of those guys are slowly dropping splits."
Moss later anchored the Jaguars to another victory in the 4×100 relay. He combined with Ryan VanBaale, Avery and Jensen Gates to win the race in 42.30 seconds, which set a school record.
"We popped off a great time," Moss said. "Ryan had one of the best opening legs of this year along with our great handoffs. Ryan and Avery's handoff was a little shaky, but if we clean that up there is no doubt in our minds that we can come close to that Cedar Rapids Jefferson team who has the fastest time in the state."
Sindt, meanwhile, swept the distance events. He took the 1,600 in 4:29.70 and the 3,200 in 9:49.40.
"I felt very good about my races, and I had a lot of fun," Sindt said. "We were practicing my potential state qualifying lineup so I was just supposed to do what I needed to in order to win. I am very happy with how it went, and I am looking forward to districts and state."
Centennial placed fourth in the six-team field with 77 points. Ankeny finished fifth with 68.
Waukee won the team title for the second straight year, racking up 143 points. Ames was second with 125.
VanBaale was the runner-up in the 100 in 11.22 seconds. He also took fourth in the 200 in 22.70.
Ahren Davis placed third for the Jaguars in the 800, posting a time of 2:00.40. He signed a letter of intent earlier this week to run track for Grand View next year.
Jacob Baier took second for the Hawks in the discus, turning a throw of 159 feet 2 inches. He also placed sixth in the shot put with a toss of 48-0.5.
Ankeny placed second in the distance medley relay in 3:38.40. The Hawks added third-place finishes in the 4×400 and 4×800 relays.
Here are the rest of Ankeny and Centennial's top individual finishes:
100–Max Smith (A), 11.35 (5th); J. Gates (AC), 11.43 (6th).
400–Brendan Hoy (AC), 51.91 (4th).
1,600–Jayden Oshirak (AC), 4:36.00 (5th).
3,200–Jonah Vicker (AC), 10:14.68 (5th).
400 hurdles–DeAngelo (AC), 56.50 (5th).
High jump–James Jacavino (AC), 6-0 (4th).
Long jump–Jackson Huber (AC), 20-3 (5th); Kein Valentine (A), 20-0 (6th).
Discus–Riley McClaskey (AC), 144-6 (4th).