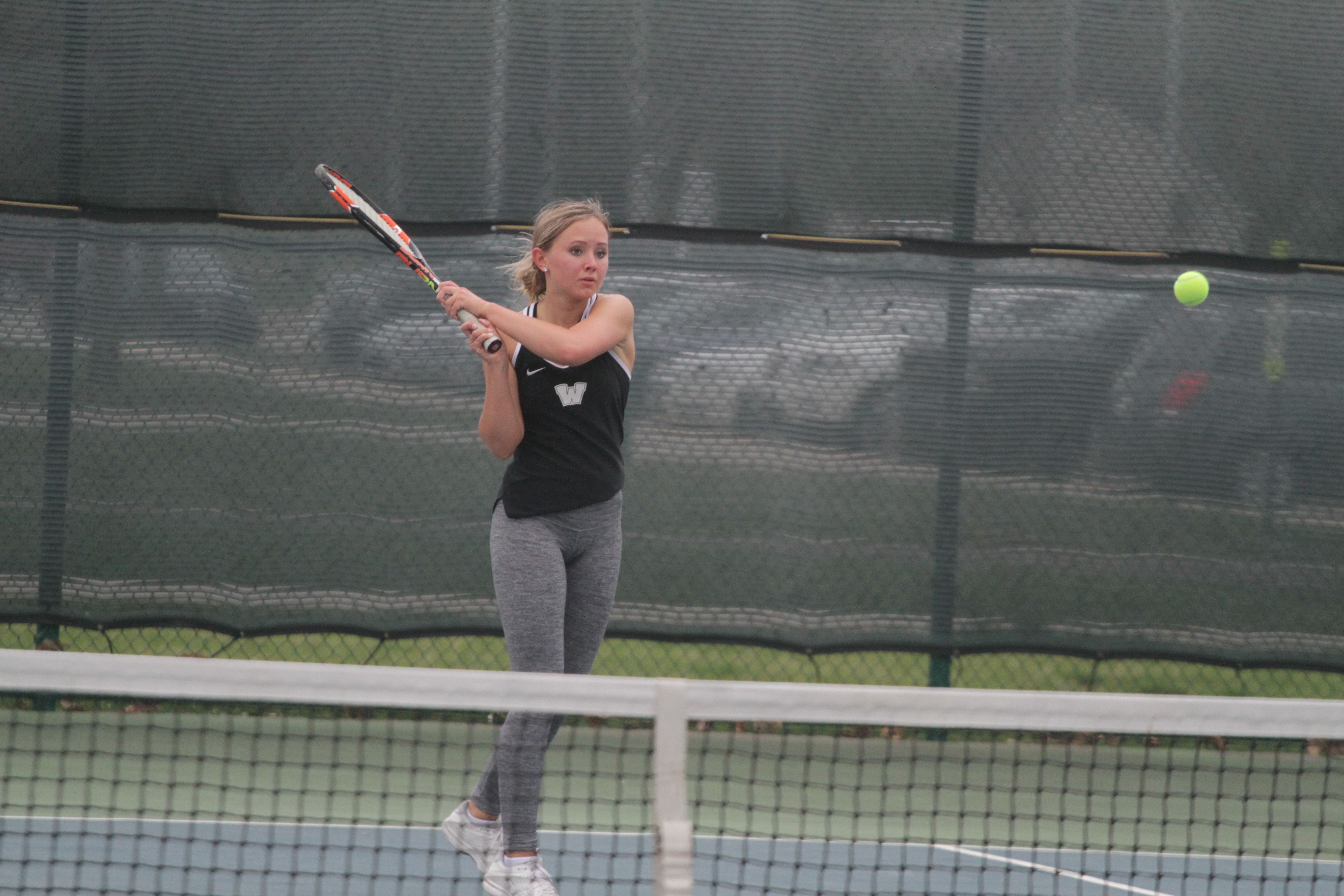 On one of the warmest days of the spring, Ankeny Centennial's Olivia Vandeloo played one of the longest tennis matches of the year.
Vandeloo helped the Jaguars to a 10-1 victory at Mason City on Monday by winning a marathon match at No. 5 singles. After losing the first set, the senior rallied for a three-set victory over the Mohawks' Eden Lewerke.
Vandeloo won the super-tiebreaker by an 18-16 margin.
"Vandy had an amazing run," said Centennial coach Emily Phommachack. "She played her heart out."
Centennial swept all six of the singles matches to secure the non-conference win, raising its overall record to 5-5. Mason City dropped to 3-6.
The Jaguars moved back to the .500 mark after suffering consecutive losses to Waukee and Ames.
"Everyone had a great and competitive night of tennis. Mason City put up some great competition," Phommachack said. "The girls played extremely well in singles. It was very warm, but they stuck it out and finished their points. And we also had another great opportunity to move some girls up to varsity."
Mason City's lone victory came at No. 4 doubles, where Lewerke and Hannah Hill teamed up for a three-set win over Vandeloo and Hannah Watson. The Mohawks' duo won a second-set tiebreaker, then posted a 10-7 win in the super-tiebreaker to close out the match.
"We were getting after more balls than I've seen us do all year," Mohawks coach Jim Cornick told the Mason City Globe Gazette. "We are getting a little more confident."
Here are the match-by-match results:
Centennial 10, Mason City 1
Singles–Lewton beat VanDusseldorp, 7-6 (2), 6-4; A. Gustafson beat Henrich, 6-2, 6-1; Nisius beat Andrews, 6-4, 6-0; Nemmers beat Carpenter, 6-1, 4-6, 1-0 (7); Vandeloo beat Lewerke, 4-6, 6-2, 1-0 (16); J. Gustafson beat Yarahmadi, 6-1, 6-0.
Doubles–Lewton/A. Gustafson beat VanDusseldorp/Carpenter, 6-2, 6-3; Nisius/Nemmers beat Henrich/Andrews, 6-3, 7-6 (4); J. Gustafson/Guan beat Yarahmadi/Barkema, 6-4, 7-6 (1); Lewerke/Hill (MC) beat Vandeloo/Watson, 5-7, 7-6 (6), 1-0 (7); Bendezu/Ryan beat Pope/Sullivan, 6-0, 6-0.