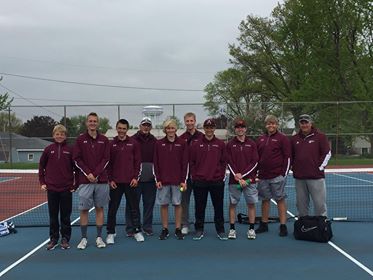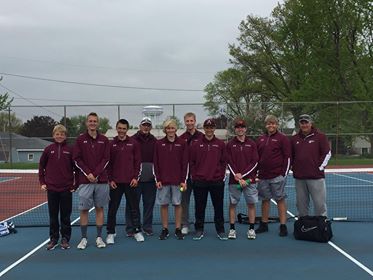 Randy Daniels will get to coach for at least another week.
The Ankeny boys' tennis team kept its season alive with a 5-4 victory at Marshalltown in a preliminary substate match on Saturday. The Hawks (6-5) will advance to play Ames in the substate team tournament on May 19 at Ankeny.
"It was a good win for the kids," said Daniels, who announced his retirement earlier this week. "It was nice that all the parents could be there, because some of them obviously couldn't be there for districts on Wednesday."
Ankeny and Marshalltown (6-6) split the six singles matches. The Hawks got a big victory at the No. 3 spot from Andrew Snyder, who posted a 6-0, 6-3 win over Jack Gruening.
Gruening had defeated Ankeny's No. 2 player, Jayce Goergen, at the district tournament three days earlier, helping the Bobcats to a runner-up finish.
"That probably was the difference in the meet," Daniels said. "It was a huge win for Snyder."
Both Goergen and Cameron Bush had a set point in the second set of their singles matches. However, the Bobcats then rallied to close out both of those contests.
"We thought maybe we had a shot to go 5-1 out of singles, but that didn't happen," Daniels said. "So that left it up to the doubles, and we kind of knew it was going to go down to the wire."
Marshalltown won the No. 1 doubles match to take a 4-3 lead, but Ankeny's No. 2 duo of Snyder and Andrew Schon closed out their match shortly thereafter to tie it up.
"I felt pretty good about those two," Daniels said of Snyder and Schon. "When they play relaxed, they can play with anybody."
The Hawks appeared to be in good shape because their No. 3 doubles team of Bush and Caleb VanRees had jumped out to a 6-1, 4-1 lead in the deciding match. But Marshalltown battled back to tie the second set at 4-4 and eventually forced a tiebreaker.
Bush and VanRees then built a 6-2 lead in the tiebreaker, giving them four match points. They then wasted three of them before closing out the match to seal the victory.
"I think they were just trying to make it exciting for the fans," Daniels joked.
The Hawks will now try to avenge a 7-4 loss at Ames on April 23. The Little Cyclones boast a 7-3 record, having lost only to Waukee, Valley and Ankeny Centennial.
"It's going to be a tough one," Daniels said. "I don't know if Ames was at full strength when we played them the first time, so we'll have to play our best tennis in order to compete with them. The winner will likely take on Valley in the substate final."
Here are the match-by-match results from Saturday:
Ankeny 5, Marshalltown 4
Singles–McKibben (M) beat Scheer, 7-5, 6-2; L. Smith (M) beat Goergen, 6-4, 7-5; Snyder (A) beat Gruening, 6-0, 6-3; Schon (A) beat J. Smith, 6-1, 6-4; VanRees (A) beat Kennedy, 6-0, 6-0; Eberle (M) beat Bush, 7-6, 7-6.
Doubles–McKibben/L. Smith (M) beat Scheer/Goergen, 6-1, 6-4; Snyder/Schon (A) beat Gruening/J. Smith, 7-5, 6-1; VanRees/Bush (A) beat Eberle/Skala, 6-1, 7-6.