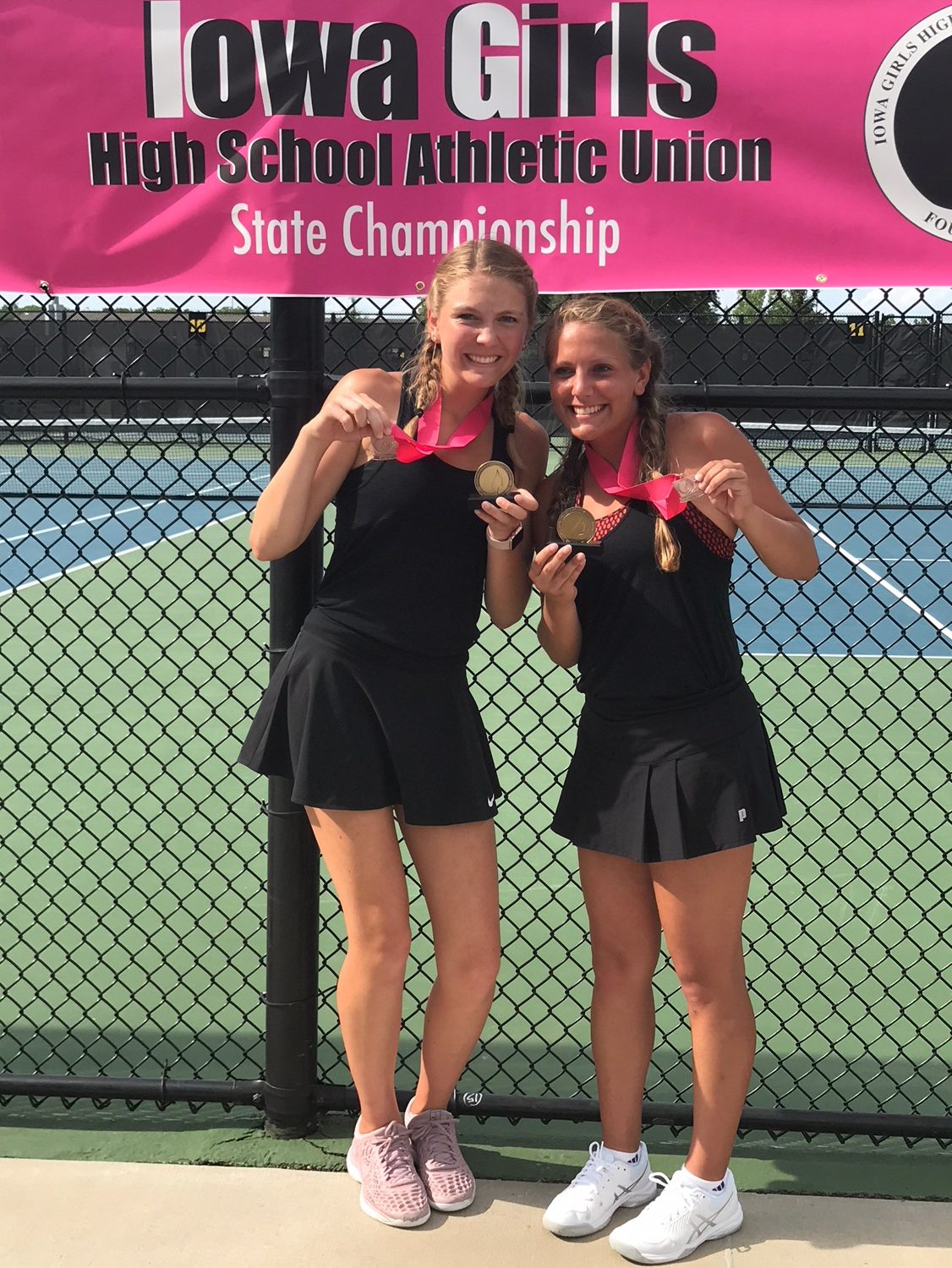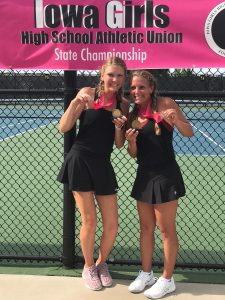 The Ankeny Centennial doubles team of Alyssa Lewton and Alli Gustafson nearly pulled off a miraculous comeback Thursday in the fifth-place match at the girls' Class 2A state tennis tournament in Iowa City.
Dubuque Hempstead's Erin Connolly and Joyce Sun built a 6-4, 5-2 lead before Lewton and Gustafson rallied to win five consecutive games, tying the match at one set apiece and forcing a super-tiebreaker. However, Connolly and Sun then regrouped to earn a 6-4, 5-7, 1-0 (5) victory.
"The whole thing was a lot of fun," said Gustafson, a junior. "The fatigue really set in against Hempstead, and we just couldn't win the long rallies. We had momentum to come back and win the second set after being down, but the super-tiebreaker just didn't fall our way."
Still, the sixth-place finish was the highest in Centennial school history. Lewton teamed up with Maddie Volk for an eighth-place finish last year.
"I think the key to our success was that we stopped worrying so much about the outcome and just wanted to have fun," said Lewton. "We had surpassed our goals and at that point, everything else was an incentive. We had nothing to lose going into the match, and we just wanted to have a fun last hurrah."
Lewton and Gustafson finished the season with a 15-8 record. They lost to eventual state champions Emma and Audrey Koch in Wednesday's opening round.
The Koch sisters swept all four of their matches in straight sets, losing a total of just 14 games along the way. They dropped three games to Lewton and Gustafson, who had a chance to win several others.
"What an incredible experience for both players," said Centennial coach Emily Phommachack, whose five-year tenure as the Jaguars' coach came to an end. "I couldn't have asked for a better fight than they have given the last two days."
The Centennial duo won a pair of three-set consolation matches on Wednesday to assure themselves of a top-eight finish. They then posted a 6-4, 6-4 victory over Roshni Penmatcha and Kayla Nutt of Pleasant Valley in a consolation semifinal on Thursday morning.
"They definitely came out on the courts ready to play," Phommachack said. "They played with patience, hard and consistent ground strokes, aggressiveness and amazing persistence and hustle. They deserved every point."
The ensuing loss to Dubuque Hempstead did nothing to dampen Gustafson's spirit.
"I am so happy with how we finished," she said. "It was really cool to be able to give both Alyssa and Phomm the finish that we had worked so hard to achieve."
Lewton called it a memorable year.
"I can't thank Alli enough for making this experience so much fun and giving me an exhilarating senior season," she said. "I also can't thank Phomm enough for putting up with me these last three years. She's taught me so much not only about tennis, but about myself as well."