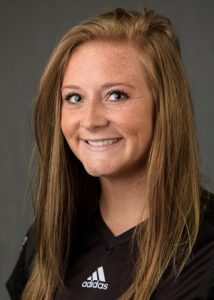 Emily Fontana has found a new home.
The former Ankeny Centennial soccer standout has decided to transfer from the University of Nebraska Omaha to Wartburg College following her freshman season, when she played in six games for a total of 74 minutes for the Mavericks.
"I loved the school, and I loved my team," said Fontana. "I played a little bit, but not as much as I wanted to. As a freshman, it's kind of hard."
Fontana said she "didn't see eye-to-eye" with head coach Tim Walters, who took over the program in December of 2016 after previously serving as a men's assistant coach at UNO. Walters replaced Don Klosterman, who coached the Mavericks for 18 seasons.
"I didn't get recruited by (Walters)," Fontana said. "I got recruited by Klosterman and (Tim) Bennett, and they left before I even got there. Walters didn't really know me, and I didn't really know him and how he wanted us to play. It changed my whole perspective."
Fontana played several different positions while helping UNO to a 6-10-1 record last fall. She played a season-high 22 minutes during the Mavericks' 3-1 win over Rockhurst.
Fontana made her decision to transfer after the spring semester. She contacted several schools that had recruited her during high school, including Northern Iowa and Minnesota State.
However, Wartburg clearly stood out.
"I just loved coach (Tiffany) Pins," Fontana said. "They've made the NCAA Tournament the last four years, and they're just a very successful program."
Fontana will be reunited with Iowa Rush teammate Molly Close, a freshman midfielder from Ankeny High School. Close started all 20 games for the Knights last fall, contributing three goals and an assist while helping the team to a 10-6-4 record.
"When I was waiting for my release (from UNO), I talked to Molly a lot because I wasn't allowed to talk to other programs yet," Fontana said. "She was texting me a lot, and she would talk to coach Pins for me. She was really helpful throughout the whole process."
Fontana said she may get a chance to play an attacking position for the Knights.
"I think coach Pins is looking at me as an outside mid(fielder), or something like that," she said. "I like scoring, and I'm a really aggressive player so it helps to play up top, where I can create opportunities."
The biggest transition for Fontana might be moving from the large city of Omaha to the college town of Waverly, which has a population of about 10,000.
"Omaha is DI and it's a bigger school obviously, but I think the environment at Wartburg will be better for me," Fontana said. "It'll be a big change going from a big city to Waverly. There was so much to do in Omaha, but I think I'll be fine."