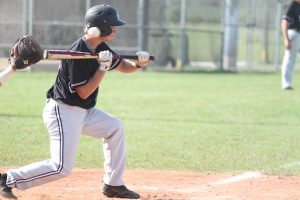 The Ankeny Centennial baseball team won't have much time to recover from Monday's doubleheader loss at Waukee.
The Jaguars will be back on the field Tuesday morning for a make-up doubleheader against visiting Cedar Rapids Kennedy, beginning at 11 a.m.
"It's a busy week," said Centennial coach Mark Hey, whose team will also play two more twinbills on Friday and Saturday.
Waukee posted a 4-3 victory in the opener, then completed the sweep with a 6-1 win in the nightcap. The Warriors finished 12-8 in the CIML Central Conference and improved to 22-9 overall, while Centennial's records dropped to 6-13 and 13-17.
Waukee's Owen Minshall tossed a one-hitter in the second game. Connor Kesterson singled with one out in the seventh inning for the Jaguars' only hit.
"Minshall threw a great game," said Hey, whose team has lost five consecutive games.
Tyler Cleven went 2-for-3 with a double and two RBIs for the Warriors. Jake Morrison added a solo home run.
Trey Morris drove in Centennial's lone run in the fourth inning. Alex Greiner (3-1) suffered his first loss of the season, allowing four earned runs on eight hits in 5 1/3 innings.
In the opener, the Jaguars scored three runs in the fourth inning to take a 3-2 lead before Waukee tied the game in the bottom of the frame. The Warriors then scored the go-ahead run in the fifth.
Cory Prange (0-2) took the loss in relief of Morris, who allowed two earned runs on seven hits over the first four innings. Morris had thrown a one-hitter against Waukee on June 13.
"Trey threw very well," Hey said. "He's got a lot of confidence, and he's getting all of his pitches over for strikes."
Kaden Bollwinkel, Keaton Gray and Derek Boike each knocked in a run for the Jaguars, who were held to just four hits by Kyle Sorenson and Tony Oleshko.
Cleven went 2-for-4 and had two doubles for Waukee, which finished in a tie with sixth-ranked Southeast Polk for second place in the conference. Tyrese Moore went 2-for-3 with a double, while Garrett Tigges also doubled and had one RBI.