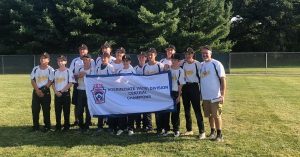 The Ankeny Intermediate All Stars are heading to California for the Little League World Series after winning the Central Regional title in Kalamazoo, Mich.
The team of 13 year olds punched its ticket to the World Series with a 6-2 victory over Indiana in the Central Regional championship game on Wednesday.
"We've got some pretty special players," said Cory McClure, who is one of the team's three coaches. "These kids just roll out of bed and they hit, and we're so pitching-deep. We've got six or seven kids who can throw for us on any given day."
No Iowa team had previously won more than one game at the Central Regional. The Ankeny team went 6-0 at the tournament and outscored its opponents by a 56-10 margin.
"We haven't lost since we put this team together," McClure said. "It's just a really good group of kids and parents."
The Ankeny team started its magical run with a pair of wins in district play over a Johnston squad that qualified for last year's Little League World Series. Then came a victory over Indianola to capture the state title.
Ankeny went to the regional tournament with modest goals.
"We just wanted to win two games and we went 6-0," McClure said. "The boys are just having a great time and making a great run."
Ankeny won't have much time to get ready for the World Series. The tournament, featuring six U.S. teams and six international squads, begins on Sunday in the San Francisco Bay area.
The three coaches and 11 players will fly out of Omaha on Friday morning.
"You can't plan for it until you win (the regional)," McClure said. "We're basically coming home to catch a flight to California."
Although the expenses for the players and coaches will be covered by Little League International, McClure has created a GoFundMe page to help get some of the players' family members to the tournament. As of 8:15 p.m. on Thursday, a total of $4,285 had been raised toward the $10,000 goal.
"The parents are on their own (for the costs)," McClure said. "This is a chance of a lifetime for our families, and we want to make sure they have a chance to experience it with their players."
Ankeny will try to make some more history at the World Series. No Central Regional team has ever won a game at the tournament.
"We've got our work cut out for us. We just want to win one game," McClure said. "There's no world where I think we'll win (the World Series), but there was no world where I thought we'd even get there."
Here's the link to the team's GoFundMe page: