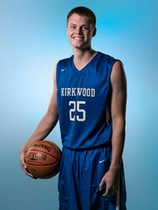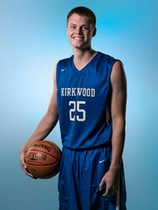 It didn't take long for Connor Kasperbauer to find his shooting rhythm after sitting out last season.
The former Ankeny Centennial star poured in 30 points to lead the Kirkwood Community College men's basketball team to a 96-64 victory over Morton College on Saturday at Cicero, Ill. He made 9-of-14 shots, including 8-of-12 from 3-point range.
"I just try to contribute to the team the best way I can and Saturday I was feeling it a little, and my teammates did a great job finding me and my shot felt good so I just kept shooting," Kasperbauer said.
Kasperbauer has helped the fifth-ranked Eagles to a 3-1 record. He is averaging 15.5 points per game on 51.6 percent shooting from behind the arc (16-of-31).
Kasperbauer, a 6-foot-4 guard, was redshirted last season as a true freshman at Truman State. He then transferred to Kirkwood following a coaching change.
"This was one of the hardest preseasons I've ever been through so all the hard work is finally paying off and it's good to see," Kasperbauer said. "It was a good transition for me because my teammates and coaches are all great people to be around, which makes it fun, and we all have a common goal and that is to win."
Kirkwood is coached by former Iowa State player Bryan Petersen, who guided the Eagles to the 2016 NJCAA DII national championship. Kasperbauer's former Centennial teammate, Byron Harp, played on that team before moving on to William Jewell College, where he is now a senior.
Kirkwood's current roster includes three other former CIML standouts–Doug Wilson and Devonte Thedford of Des Moines Hoover and Luke Appel of Marshalltown. Wilson was an all-American for the Eagles last year.