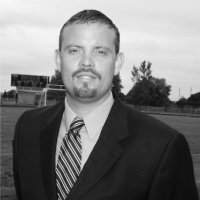 Ankeny Centennial Activities Director Scott Garvis will be honored next month during the banquet at the 49th annual National Athletic Directors Conference conducted jointly by the National Federation of State High School Associations (NFHS) and the National Interscholastic Athletic Administrators Association (NIAAA). He will be one of 11 recipients of the 2018 Distinguished Service Awards.
Garvis and the other individuals who have made outstanding contributions to interscholastic athletics will be honored Dec. 18 in San Antonio, Texas. The Distinguished Service Award is presented annually to individuals from within the NIAAA membership in recognition of their length of service, special accomplishments and contributions to interscholastic athletics at the local, state and national levels.
Garvis has implemented his vision for athletics and activities across three states for the past 20 years. He was the athletics and activities director at Newton High School for six years, and he is currently in his first year as athletic/activities director at Centennial.
During his six years in Newton, Garvis was instrumental in the development of the $1.1 million softball facilities, as well as its renovated stadium and baseball field. While serving as the athletic director of Eastside Catholic High School in Seattle, Wash., from 2010 to 2012, Garvis was responsible for directing a campaign that resulted in a $2.2 million baseball stadium and $1.1 million football stadium and track.
At the state level, Garvis has been a prominent figure with the state athletic directors associations in Iowa and Minnesota. He was president of the Iowa High School Athletic Directors Association (IHSADA) in 2016. From 2004 to 2006, he was the IHSADA newsletter editor and media relations chair. Garvis has also served as the IHSADA strategic plan task force co-chair, IHSADA Strategic Planning Review Committee chair, and on the IHSADA 50th Anniversary Planning Committee.
An active member of the NIAAA since 2004, Garvis has served on the NIAAA Accreditation Committee since 2012 and the NIAAA National Faculty since 2015. In addition to receiving the NIAAA Quality Program Award in 2012 at Eastside Catholic and in 2015 at Newton, he has been asked to present at the national conference on five occasions.
Garvis was awarded the IHSADA Ken Beverlein Award in 2017 and the IHSADA-NIAAA Distinguished Service Award in 2016 and 2018. In 2015, he was a finalist for the NHSACA National Athletic Director of the Year. Garvis has also earned national attention with his 2010 United States Army All-American Bowl Excellence in Education and Athletics Center of Influence Award.