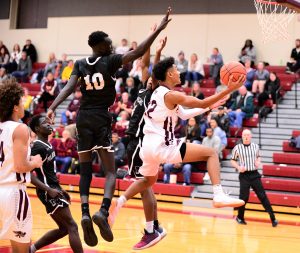 There was no letdown for the Ankeny boys' basketball team.
Just three days after opening the season with a huge win over Des Moines North, the Hawks went on the road Friday and rolled to an 83-55 victory at Fort Dodge. They shot 57 percent from the field, including 10-of-19 from 3-point range, en route to the win.
"We haven't won up at Fort Dodge since I've been here so that was kind of a big goal for us to win up here in a tough environment," said Ankeny coach Brandt Carlson. "They have a couple players back from last year that really gave us problems, so it was a good win for us overall. We were able to get multiple guys into the game and anytime you can win on the road in our conference, we feel good about it."
Ankeny (2-0) closed out the first half with an 8-0 run to build a 39-22 lead. After Fort Dodge's Malihk Lockman made a 3-pointer to begin the third quarter, the Hawks answered with a 21-8 run to blow the game open.
"They throw a lot of looks at you and really pressure the ball defensively," Dodgers coach Tom Daniel told the Fort Dodge Messenger. "I think they'll be a legitimate top-10 team minimum this year."
Jaxon Smith scored 17 points to lead Ankeny's balanced attack. Dillon Carlson had 11 points, Jordan Kumm chipped in 10, and Jaron Crews and Reece Pitz each added nine.
Kumm, Pitz, Crews and Drake Bennett went a combined 7-for-9 from behind the arc.
"I thought our effort continued to be really solid even as our lead got bigger," Carlson said. "We started moving the ball better, and our shots started to fall. There was a lot more flow to the game in the second half."
Twelve different players saw some action for the Hawks. Ten of them scored, including Nolan Otten, who contributed five points.
"I thought Nolan played great with his rebounding, moving the basketball, things like that," Carlson said. "Braxton (Bayless) and Jaxon had solid outings again. Those three in particular stood out as we got out to an early lead."
Jordan Jackson had 15 points to lead Fort Dodge. The Dodgers dropped to 0-3.
Ankeny will host Des Moines Lincoln (1-0) on Tuesday.