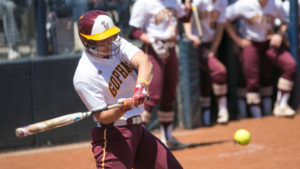 Kendyl Lindaman has decided to move from Dinkytown to Gainesville.
One of the best collegiate softball players in the country, Lindaman announced her decision on Friday to transfer to the University of Florida. The former Ankeny Centennial catcher had previously submitted her name into a national transfer database, signaling her intention to transfer away from the University of Minnesota.
Lindaman revealed her future plans on Twitter.
"It's been an amazing two years at the University of Minnesota," Lindaman tweeted. "I can't even begin to count the number of memories I've made here, amazing friends I've met, and the doors that have been opened to me. Minnesota will always hold a special place in my heart. With every journey comes a new chapter. I wanted to officially announce that I will be continuing my academic and softball career at the University of Florida! This was the most difficult decision I've ever had to make, but I appreciate all the love and support I've gotten every step of this process.
"From the bottom of my heart, thank you to the entire Gopher community. With that being said, I am EXTREMELY excited to be a part of @gatorssb. GO GATORS!!!!"
Lindaman was a two-time Big Ten Player of the Year and a two-time all-American at Minnesota, leading the Gophers to a pair of NCAA Tournament appearances. She broke the Gophers' single-season home run record with 20 as a freshman, then matched that total during her sophomore year.
Efforts to reach Lindaman for additional comment were unsuccessful, but she hinted in an Ankeny Fanatic podcast on Oct. 17 that a coaching change before last season may have contributed to her departure. Jessica Allister, the coach who recruited Lindaman to the Twin Cities, left after the 2017 season and was replaced by former Iowa State coach Jamie Trachsel.
"I'm going to be honest, it was really tough," Lindaman said. "Just different views on softball and different types of coaching styles. We were really upset with our coach leaving, kind of right before we were about to go back for school again, and that was really tough on us. I think it took us awhile to get over that."
Minnesota posted a 56-5 record in Allister's final season. The Gophers went 41-17 last year under Trachsel.
"Everything was completely different," Lindaman said. "Even (Trachsel) says transition is hard. It was hard for her, and it was hard for us."
Lindaman sat out the fall season after tearing the meniscus in her knee on the first day of practice. She is expected to make a full recovery after undergoing surgery.
"I was blocking (the plate) and kind of just felt it pop," Lindaman said. "I've never had surgery before, so it's definitely a learning experience."
Lindaman said in October that she was looking forward to the 2019 season, but she then took advantage of a new rule that allows softball players to transfer without the permission of their original school. She submitted her name into a database that allowed coaches from other programs to contact her.
Trachsel issued a statement after meeting with Lindaman: "I met with Kendyl and she informed me of her decision to transfer. We wish her well moving forward."
Lindaman, who can play immediately, will have two years of eligibility remaining. It is believed that part of the motivation for her transfer is to better position herself to make the College World Series and 2020 U.S. Olympic Team.
A year ago, Lindaman traveled to Florida to participate in the U.S. National Team tryouts. She called it a great experience even though she wasn't selected for the squad.
"I got to play against the best players and best pitchers in the world," she said. "I was one of the youngest players there."
Lindaman said she thinks she can still make the Olympic Team.
"It will be really tough and there's a lot of things that I still have to work on, but I do feel that there's a chance for me," she said.