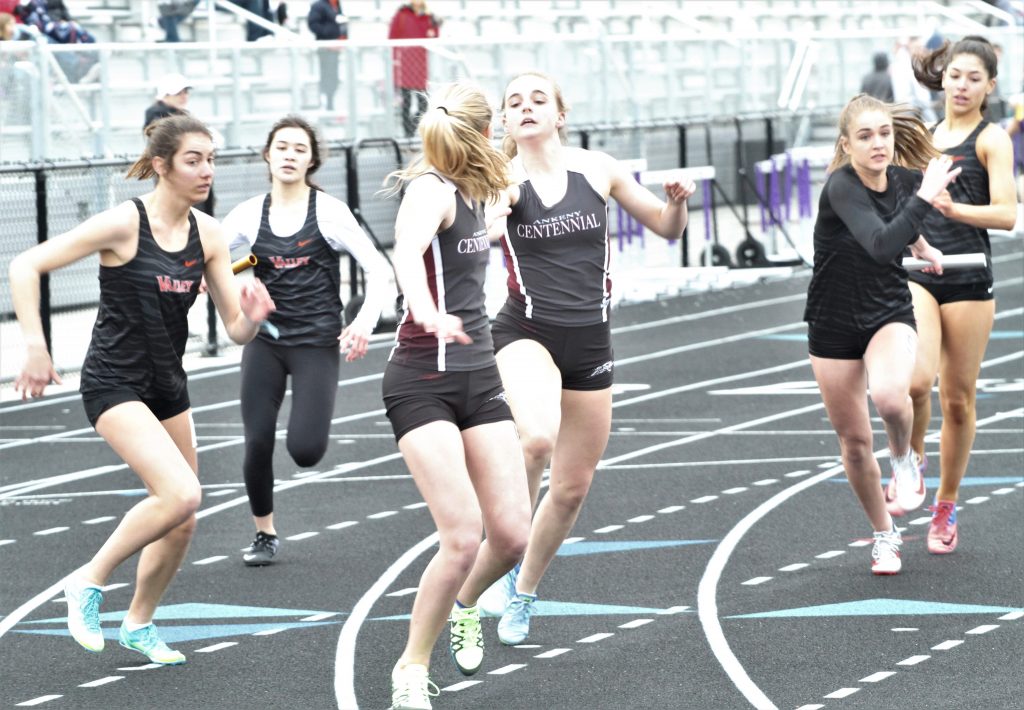 A never-say-die attitude helped the Ankeny Centennial girls' track team to a runner-up finish in the Craig Oldham Invitational on Tuesday at Johnston.
Waukee easily won the meet for the fourth straight year, racking up 209 points. But Centennial and the host Dragons battled down to the wire for second place in the nine-team field.
The Jaguars won the final event, the 4×400 relay, to finish with 90.5 points, edging Johnston by a half-point. The foursome of Kathryn Vortherms, Elle Street, Katie Petersen and Millie Hill posted a season-best time of 4:09.84.
"Last week, we got third (in the 4×400) at the Hawkette (Invitational) by .04 seconds," said Centennial coach Andrew Kruzich. "Tonight, we won the race over Johnston by .27 seconds and get second place at the meet by a half-point. It was a great battle that our whole team was into."
Petersen earlier won the 100 hurdles in 15.03 seconds, breaking her own school record that she set a week ago. She then ran the team's fastest split in the 4×400.
"Katie continues to have an impressive season," Kruzich said. "She's never run a 400 in high school. She's a great competitor who just got out there and fought down the home stretch, and that was the decisive margin in the race."
Vortherms won the 400 in a time of 1:00.71. She broke the school record that was held by Karri Pippett.
"Kathryn continues to run very hard, and we're very pleased with her," Kruzich said. "Again, she runs aggressively and battles for every tenth of a second, and that's a big reason why she's so successful."
Hannah Wilson had a second-place finish in the 100, posting a time of 13.17 seconds. The Jaguars later took fourth in the 4×100 relay to pull within striking distance of Johnston.
"Tonight was a great example of why I like our team so much," Kruzich said. "The meet was long won by Waukee, but going into the 4 x 100 we were 3.5 points back of Johnston for second place. We didn't run our fastest 4 x 100, and we had a bad handoff from the second to third leg, but we came back and edged Johnston by .02 seconds on a nice anchor by Macee Pruisner. Now we're down 1.5 points going into the 4 x 400.
"I'm really proud of how hard we compete, and how the girls on our team will do whatever they need to in order to succeed. A kid like Katie Petersen could have easily complained about having to run a 400 when she's a short hurdler, but she got out and ran her butt off, just like the other three girls. We're tough, we're team-focused, and that's made this season a lot of fun so far," he added.