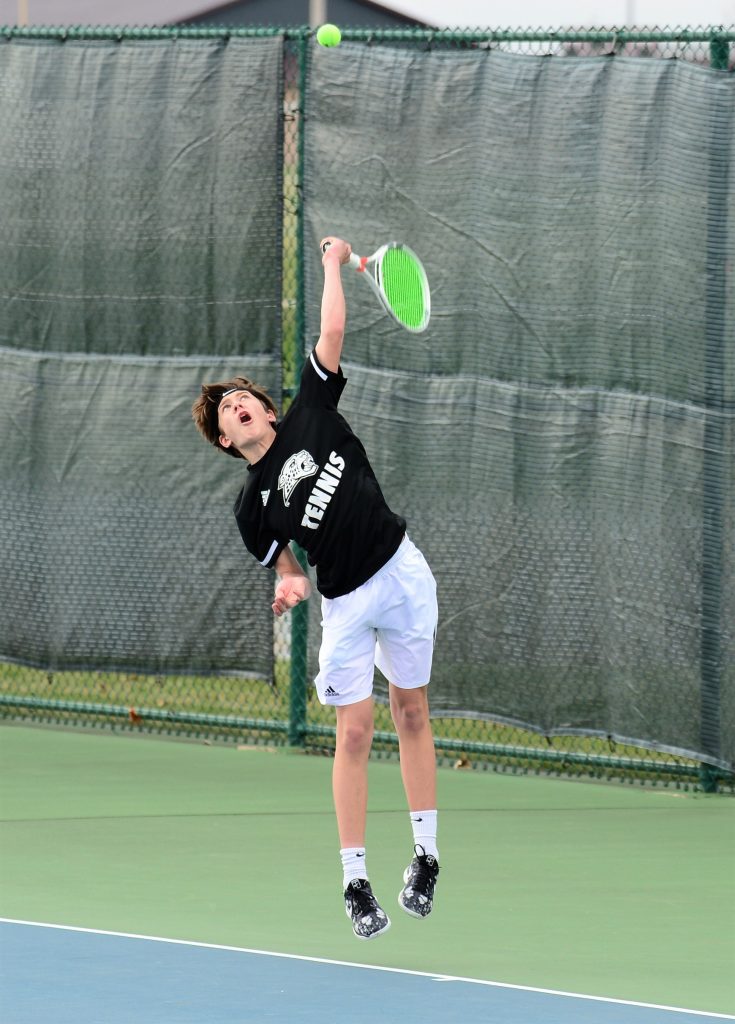 The Ankeny Centennial boys' tennis team bounced back from its first loss of the season with a 7-4 victory at Dowling Catholic on Thursday.
The Jaguars, who dropped a 10-1 decision at Waukee on Tuesday, won four of the five doubles matches to seal the win. They improved their records to 3-0 in the CIML Central Conference and 5-1 overall.
"We came out of singles 3-3, which we were happy with since we were missing James Cole at No. 4 and Zach Petersen at No. 5," said Centennial coach Tami Lewton. "Nic Mackaman and Matt DenAdel filled in for us at 5 and 6, respectively."
Petersen was able to play doubles and teamed up with Will Blevins for a 7-5, 6-2 victory at the No. 2 spot. The No. 5 doubles team of Clayton Livingston and Sage Peterson also won in straight sets to remain unbeaten, while the Jaguars won a pair of three-set matches at the No. 3 and 4 positions.
"The match was closer than we would have liked," Lewton said. "If we would have had our full lineup, it would have been great. We are thankful that our team is pretty deep and guys are filling spots and performing. We're hoping that next week we can all be healthy."
Here are the match-by-match results:
Centennial 7, Dowling Catholic 4
Singles–Blevins (AC) beat Lu, 6-4, 6-0; Drey (DC) beat Densmore, 6-3, 7-5; Lofgren (AC) beat Frazier, 6-1, 6-2; Unick (AC) beat Schultheis, 3-6, 6-2, 10-8; Kinkor (DC) beat Mackaman, 6-3, 6-1; Cox (DC) beat DenAdel, 6-4, 7-5.
Doubles–Lu-Cox (DC) beat Densmore-Lofgren, 6-3, 6-3; Blevins-Petersen (AC) beat Drey-Frazier, 7-5, 6-2; Unick-DenAdel (AC) beat Schultheis-Kinkor, 7-5, 4-6, 10-6; Mackaman-Carlson (AC) won, 6-3, 4-6, 10-3; Livingston-Peterson (AC) won, 6-1, 7-6.