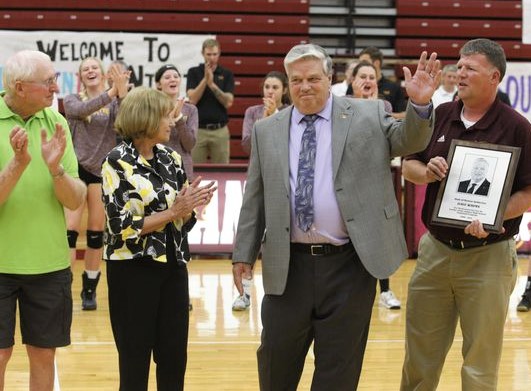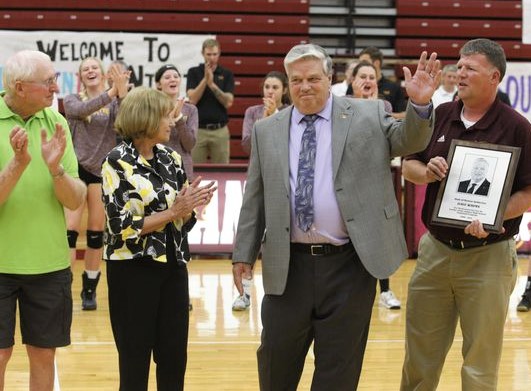 When Dave Whims retired as Ankeny's volleyball coach in 2014, he left as the state's all-time leader in coaching victories with 982.
Whims was only 18 wins shy of the 1,000-victory career mark, but it appeared that he would not be able to reach the milestone.
Now, he probably will.
Whims has come out of retirement to again coach the Ankeny volleyball team. He replaces Joe Morton, who took over for Whims in 2015 and guided the Hawkettes to a pair of state tournament appearances in four seasons.
"We are thrilled that coach Whims is excited to come out of retirement and coach again," said Ankeny Activities Director Brent Buttjer. "It honestly did not surprise me as he has lived and breathed coaching since the day he retired. Our volleyball staff continues to be committed to excellence, and coach Whims certainly brings instant credibility to the position."
Whims said he was offered the position after returning to Ankeny from a month-long vacation to South Carolina.
"The phone rang, I answered it, and it was (Buttjer) asking me to consider coming back and being the head coach since coach Morton stepped down," Whims said. "It was all in the timing. I agreed, and here I am."
Whims said he was exhausted when he retired after the 2014 state tournament.
"I needed a break, and I was satisfied with my career," he said. "I took one year off from coaching anyone. No clinics, no camps, no watching video. But I did attend a few matches and went through my coaching notes. I reorganized everything and became more current with the job of teaching the game."
Whims was inducted into the Dick Rasmussen Coaches Hall of Fame in 2016, but he wasn't ready to retire for good. His passion for the sport still burned.
Whims became the junior high coach at North Polk Middle School to help out his son-in-law, who was the Comets' varsity head coach.
"I did camps, clinics and coached the junior high girls," he said. "I prepared the players for the high school. This year, my son-in-law stepped down so I had to decide to step away, continue or go for another head coaching position."
There are several other head coaching positions open in the area, but Whims wanted to stay in Ankeny.
"I have grandkids here, I like living here, and I wanted to stay close," he said. "And I do know if you are going to make an impression on players, parents and the community, you need to be there. People need to see your commitment. You need to get people involved."
Whims has guided a total of 21 teams to the state tournament. He led Bedford to a state tournament trip before guiding six North Kossuth teams to state.
After moving to Ankeny in 2000, Whims quickly built one of the state's premier programs. He won state titles in 2004, 2005, 2008 and 2009 while also earning four runner-up finishes.
Whims has been named Iowa coach of the year four times, regional coach of the year six times and was the 2014 Iowa nominee for national volleyball coach of the year. He has also been inducted into the National High School Coaches Association Hall of Fame.
"I continued to have a passion for the game, and I stayed involved except for that first year being out," Whims said. "The advantage for me is I am retired now so I can be as busy with camps as I like. So I can plan more camps. The players that are playing now had me when they were in lower grades so they understand where I am coming from and where we want to go."
Ankeny posted a 31-13 record in its final season under Morton. The Hawkettes advanced to the state tournament before losing to Valley in the Class 5A quarterfinals.
Outside hitter Isabelle Vacek, a senior-to-be, and setter Phyona Schrader, a junior-to-be and a Notre Dame recruit, are two of the players that Whims can build around.
"I am just tweaking what coach Morton did," Whims said. "Ankeny had great seasons under him, and we want to continue to have great seasons. Volleyball in Ankeny is here to stay, and we want to put a good product out there for the community to be proud of."
Outside hitter Malea Daugherty, a senior-to-be, said she was surprised by Whims' return.
"I never had coach Whims as my coach, but I know he has had a lot of success," Daugherty said. "I believe he will build on what we had going. He has a different coaching style than coach Morton did so I'm interested in seeing how that goes, and the success we will have with that."