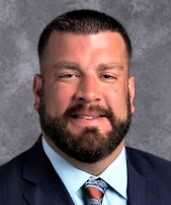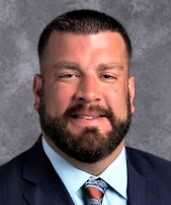 It was going to take a special place to lure Andy Umthun away from Cedar Rapids Xavier.
Ankeny High School was one of those places.
Umthun has been named the new Activities Director at Ankeny, replacing Brent Buttjer. He will take over the position on July 1.
"There was a small list of schools that I would have been willing to leave for, and Ankeny is one of them," said Umthun. "This gives me an opportunity to get closer to home but also to take on a big challenge at a 4A school like Ankeny is, especially one that has had a lot of success. I'm excited for the opportunity and the challenge."
Umthun and his four brothers are all graduates of Dowling Catholic. His parents live in Granger.
"I grew up just down the street from Jester Park Golf Course," Umthun said. "My parents are still here, and my brothers are all in the Des Moines metro area as well."
Umthun also has family ties to Ankeny. He is the nephew of retired Ankeny school teachers Biff and Cynthia Renner.
Umthun has been the Activities Director at Xavier for the last two years. He is moving from one successful athletic program to another.
"I'm going to be going back and forth as much as possible over the next month just to try to get acclimated and make sure that I'm ready to hit the ground running on July 1," Umthun said. "I also want to leave things in good shape here at Xavier, which is a great school, too."
Umthun started his coaching career in 2007 at Sioux City Heelan, where he was an assistant football and track coach. He said he learned a lot in his six years at Heelan.
"I had an opportunity to coach some great teams there," he said. "You come out of college and you think you know everything, but you find out pretty quick that you've got a lot to learn. It was a very humbling but also a huge learning experience for me."
Umthun was then hired to become the head football coach and the head strength and conditioning coach at Estherville Lincoln Central in 2013. Estherville is also where he got his start in administration, serving as the Activities Director and Assistant Principal at the same time.
In 2017, Umthun moved on to his current position at Xavier. Now, he's looking to tackle another new challenge as the successor to Buttjer, who is departing for Dallas Center-Grimes.
"The expectations are high, and that's where you want them to be," Umthun said. "I'm looking forward to that and relishing the challenge."
Umthun said his first priority will be to get to know the Ankeny coaches.
"The biggest thing for me will be building relationships at a lot bigger school," he said. "There's a lot of different coaches, so that's one thing I'm going to focus on right away is building relationships with the coaches as well as the kids, the parents and just the community in general.
"And I can't wait to get started," he added.