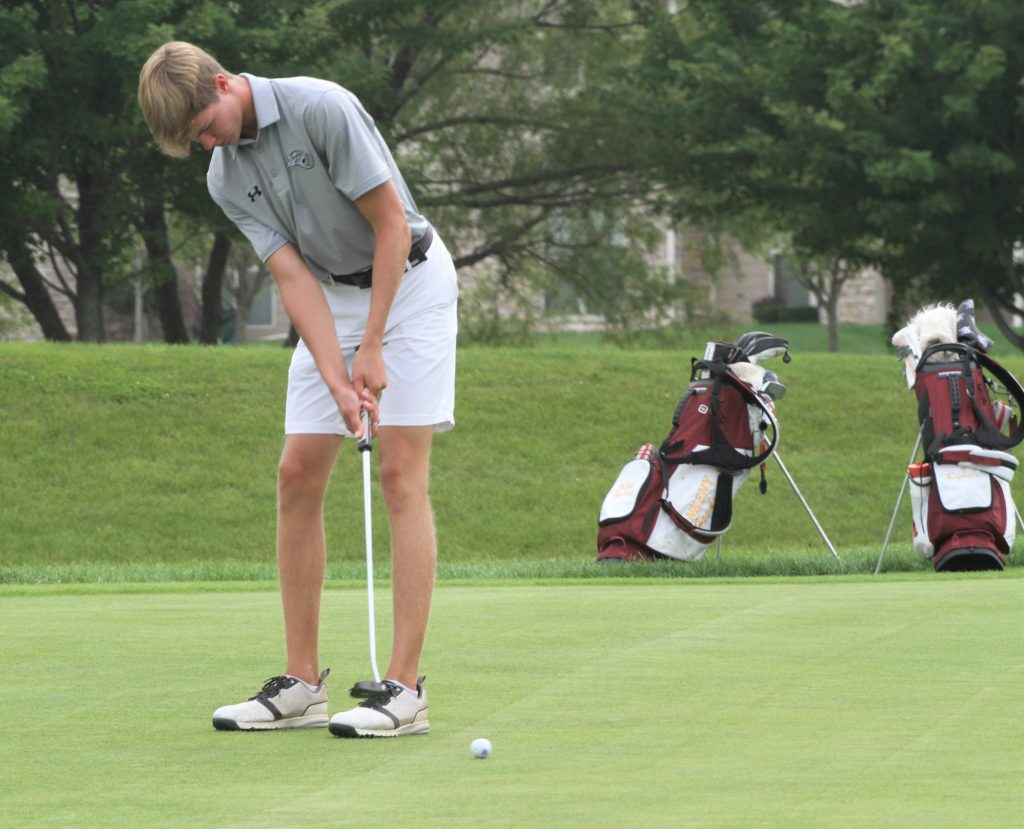 For the second time this season, the Ankeny and Ankeny Centennial boys' golf teams posted identical scores in an 18-hole tournament.
The Hawks and Jaguars each shot a 336 in the Turk Bowman Invitational on Tuesday at Veenker Golf Course in Ames. Centennial placed eighth in the 15-team field based on a better sixth score, while Ankeny finished ninth.
The two teams also tied for third place at the Fort Dodge Invitational on Sept. 3, when they both shot a 317. The Hawks then edged Centennial by two strokes at the Ankeny Invitational on Sept. 11 at Otter Creek before defeating the Jaguars in a dual meet, 167-173, on Monday at Briarwood Golf Club.
"It was not the best day for us as a team," said Ankeny coach Mike Weddingfeld. "Hunter (Johnson) was still not at full strength having been sick the day before, and Dylan (Taylor) needed to stay back at school and take care of some work so we were not at our team's best. We played well as a whole for a lot of holes, but seemed to really struggle on a few that led to some big numbers, making our team score much higher than we are happy with."
Third-ranked Ames claimed the team title on its home course, shooting a 316. No. 4 Waukee placed second with a 321.
Logan Kinch carded an 81 to lead Centennial. Drake Ellgren shot an 83, Johnny Saddoris had an 84, Jack Winkel and Adam Wagner each fired an 88, and Connor Thorpe finished with a 93.
Johnson led the Hawks with an 81. Ty Roghair carded an 82, Luke Parkinson had an 85, Corbin Walker and Joey Newton each shot an 88, and Ian Ferree added a 97.
Both Ankeny and Centennial had the same fifth score, so it took a sixth score to break the tie for eighth place.
"Veenker is a challenging course that has a number of holes that you can get into trouble on very easily, and they had some very tough pin placements that made the day even more challenging," Weddingfeld said. "I am not worried about the results. Yes, we would have liked to shoot better, but in the long run it really doesn't change our ultimate goal of making it to state. I was proud of Dylan for making the decision to put school work first on this day as that is what is most important."
The Jaguars will compete in the Marshalltown Invitational on Friday at the American Legion Golf Course. Ankeny, meanwhile, will be off until next week.
"We will take the next few days to improve on a few things with our golf games, get caught up with some school work and to get healthy," Weddingfeld said. "Next week is a busy one as we play Monday, Tuesday and Wednesday so it is really important for the kids to stay on top of their school work and to take the steps to stay healthy."