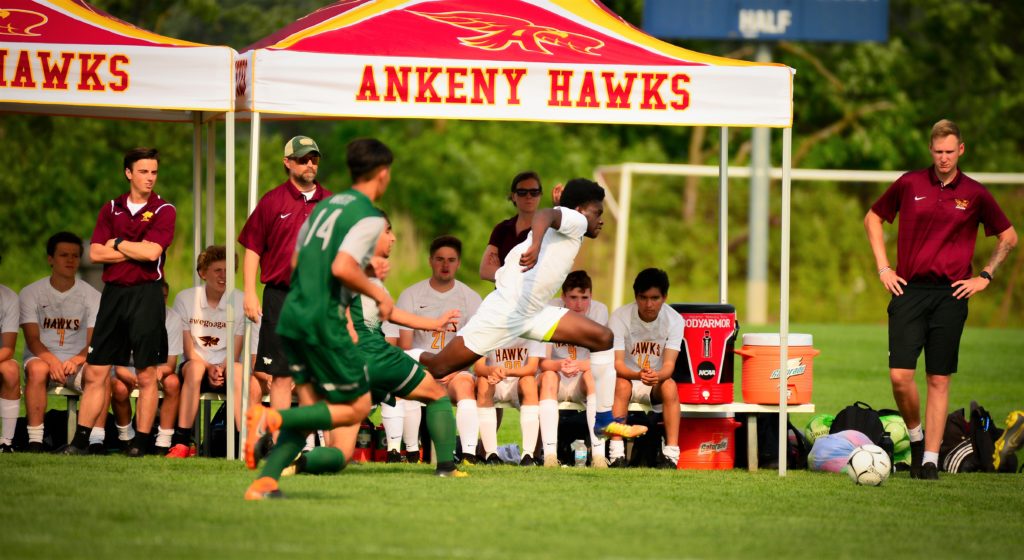 The replacement for Ankeny boys' soccer coach Jordan Burns was already on the Hawks' coaching staff.
Assistant coach Marcus Varnum has been hired to take over the program. A former Ankeny player, Varnum helped the Hawks to a 12-7 record last season.
"I'm absolutely thrilled," said Varnum. "It's a great opportunity, and I am really pleased and feel very fortunate for the opportunity. I can't wait to get the season rolling."
Varnum has been an assistant at Ankeny for the last four seasons, including the last two years under Burns. Burns resigned after the 2019 season to pursue some other opportunities.
"I could not be more excited to have Marcus take over at the helm of the Hawks' soccer program," said Ankeny Activities Director Andy Umthun. "Coach Varnum knows the program well serving as an assistant the past four seasons and brings a great deal of soccer experience and knowledge to the program now as the head coach. Not only does he bring a great deal of soccer knowledge to the program but of the community as well, which I know will serve him well. Our program is in good hands with coach Varnum's experience, drive, high character, and commitment to this community."
Varnum was named the most valuable player on the 2012 Ankeny team that posted a 17-3 record and qualified for the state tournament. He set a single-season school record with 19 assists, breaking the mark of 14 assists that he set two years earlier.
Varnum then went on to play at Simpson College, where he was a two-year captain for the Storm. He currently serves as an assistant coach for the Simpson women's team under head coach Jeremy Reinert.
"I've worked under several head coaches with (Brian) Duax, Burns and now with coach Reinert," Varnum said. "I've seen some things that they do that I really like, and then there are some other things that I think we can change. But once the season gets going, that's really when I'll be able to implement those changes and a little bit of my own style."
Varnum was a part of Duax's coaching staff at Ankeny when the Hawks advanced to the state tournament in 2016. He remained on the staff when Burns took over the program in 2018, helping guide Ankeny to a 15-5 record and a third-place finish in Class 3A.
Last season, the Hawks qualified for state for the third time in four years.
"When I got started (coaching), I was helping out to begin with. I wanted to stick around the game," Varnum said. "But after that first season, I got a bit of a taste of what it was like and I thought I would love to be able to lead this program and try to lead it in the way that I want to lead it. To be able to give back to the high school from where I graduated, it's an honor."
There were 11 seniors on last year's Ankeny squad. Standouts Charlie Pritchard, Kolby Raineri and Riley Wood will have to be replaced.
"We've lost quite a few starters, but we're also returning a solid chunk of guys," Varnum said. "I am very excited to work with these guys and to see how they can sprout and make the program their program."
One of the Hawks' returnees is sophomore Trever Anderson, who is also looking forward to next season.
"I'm excited because coach Varnum is a great coach," Anderson said. "I'm excited to see what he does with this program. He has slowly worked his way up the ladder every year from JV2 to JV1 to assistant and now head coach. I feel me and coach Varnum have a great connection, and I can't wait for this season!"
Varnum said the high expectations for the program will not change.
"There's definitely a good sense of pressure to succeed, but I also think there's a lot of things I've learned from the past coaches that I can bring to this table that allows these boys to grow into young men throughout their high school career," he said. "I think the program is in an awesome spot, but I just want to make sure to continue that path and that sense of a solid program."