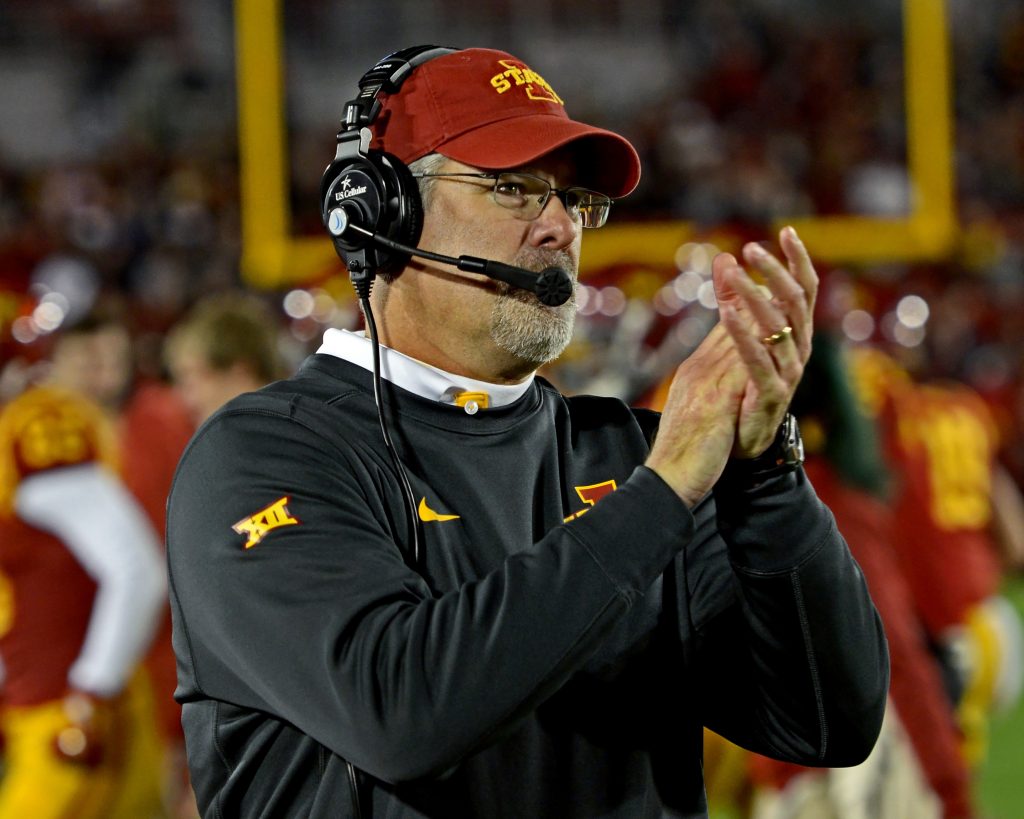 Paul Rhoads still yearns to be a head football coach again.
A move to the Arizona desert may help him get there.
The Ankeny native and former Iowa State head coach is getting ready for spring ball at the University of Arizona, where he was named the defensive coordinator in late December. He spent the last two seasons on the staff of UCLA coach Chip Kelly, coaching the Bruins' defensive backs.
"I don't know if I was necessarily looking to move on as I was looking for more responsibility," said Rhoads, who guided the Cyclones to three bowl games and 32 wins from 2009-15. "I still desire to be a head football coach again if the opportunity arises, but after two years of coaching the secondary, I just felt a longing for a bigger challenge. I wanted to take a look at that wherever the chances may be, and this one just happened to present itself."
Rhoads has some previous ties to Arizona head coach Kevin Sumlin. When Rhoads was a candidate for the Pittsburgh head coaching job, he was going to hire Sumlin as his offensive coordinator.
Sumlin was also at Texas A & M when Rhoads was coaching at SEC rival Arkansas. Both coaches then moved on to the Pac 12 at the same time–Kelly hired Rhoads before the 2018 season while Sumlin landed the Arizona job.
"(I know Sumlin) primarily from just competing against each other and recruiting against each other, knowing each other for a long time and seeing each other on the road," Rhoads said. "We've defended (his teams), and he's attacked us. There are just certain people you meet out there on the road that you have respect for and gravitate toward, and he and I have always had a good relationship."
Rhoads left one rebuilding program for another one. Both UCLA and Arizona went 4-8 last season in their second year under a new coach.
Rhoads said the pressure to succeed at the Power Five level has grown in recent years.
"Obviously, there's always been pressure. But the patience has grown quite thin," he said. "The NFL affects a lot of what we do, and the owners aren't afraid to get rid of a guy in one year even. I think that has slowly trickled down to college administrators and the boosters that support them. You've seen a number of guys that have been let go after two seasons. It's becoming more common than it's not."
That's why it's crucial for the Wildcats to show some progress this year in Sumlin's third season at the helm, which begins on Aug. 29 against Hawaii.
"We've been below .500 both years, and I think it's awfully important we get to the postseason this year," Rhoads said. "Quite frankly, it will take a lot of work to get that done."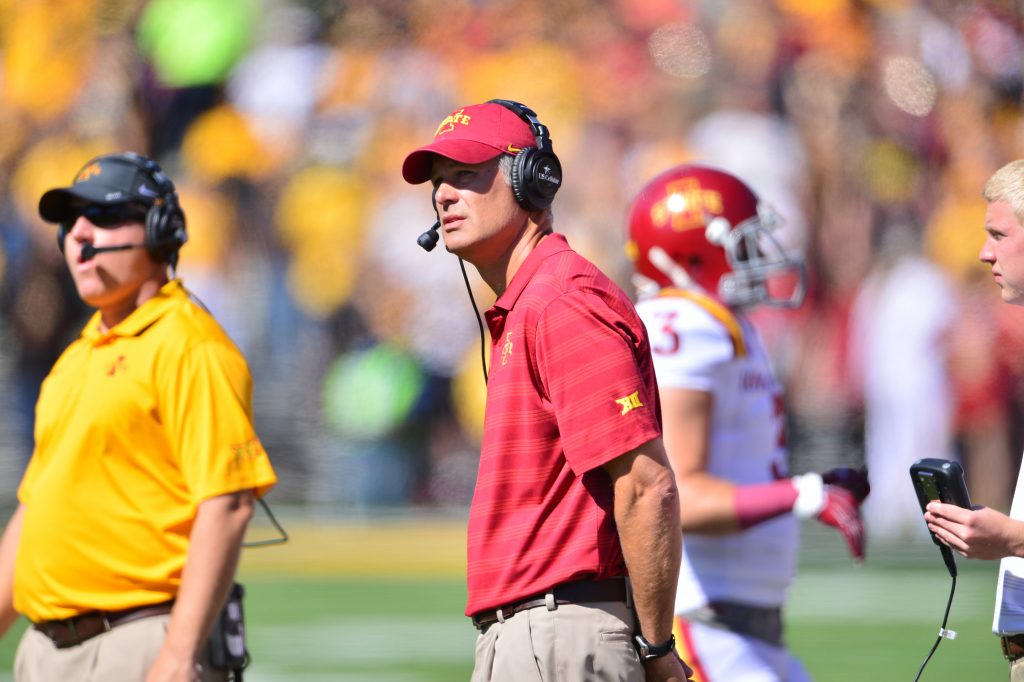 Rhoads is still trying to get settled in Tucson. His wife, Vickie, remains in Los Angeles.
"She's been down here a couple times and we've had a chance to house shop, but we're still in that process," Rhoads said. "We've got three coaches living together in a house that we rented, and we'll probably have a fourth when the new running backs coach gets here. I'll be excited when she joins me. This is a great state and a great community. They're very supportive of the university, and this is going to be an exciting place for us to live."
Rhoads has no previous ties to Arizona, but he has spent a lot of time in the state. He was UCLA's primary recruiter in Arizona.
"I've been fortunate that I've coached in a number of bowl games here, including while at Iowa State," Rhoads said. "I've had a lot of exposure to the people in the state, and I've recruited the state. I do have familiarity."
Rhoads said he has yet to watch much film of the Wildcats' 2019 season.
"I'm a little funny that way," he said. "I like to see things for myself rather than have some preconceived notions of what we have or what we don't have. We've had some discussions with the guys who were on the staff last year about where some guys should start out in spring ball, and then we'll figure it out from there."
Once he evaluates the talent on the Arizona roster, Rhoads will develop a defensive plan of attack for the Wildcats.
"We're putting the package together based on what talent exists as opposed to taking a black-and-white defensive package and this is what we're going to run and you guys have to fit into it," he said. "I don't think that's very smart."
Rhoads is confident that the Arizona program will succeed under Sumlin, who guided Texas A & M to a 51-26 record and six bowl games from 2012-17. He also helped quarterback Johnny Manziel win the Heisman Trophy.
"He's been around a lot of great people and been a part of a lot of great programs and certainly led some programs to some great success himself," Rhoads said of Sumlin. "We got to take another step toward that in the third season here this year."
Sumlin is hoping that Rhoads can help rebuild a defensive unit that allowed 30 or more points in nine of the 12 games last year.
"Paul is a man of personal and professional integrity," Sumlin said in a press release. "He brings to Arizona a history of proven success as a leader and teacher who will bring a focus on relationships, communication and fundamentals. I look forward to working with Paul as we continue to position our program for future success."