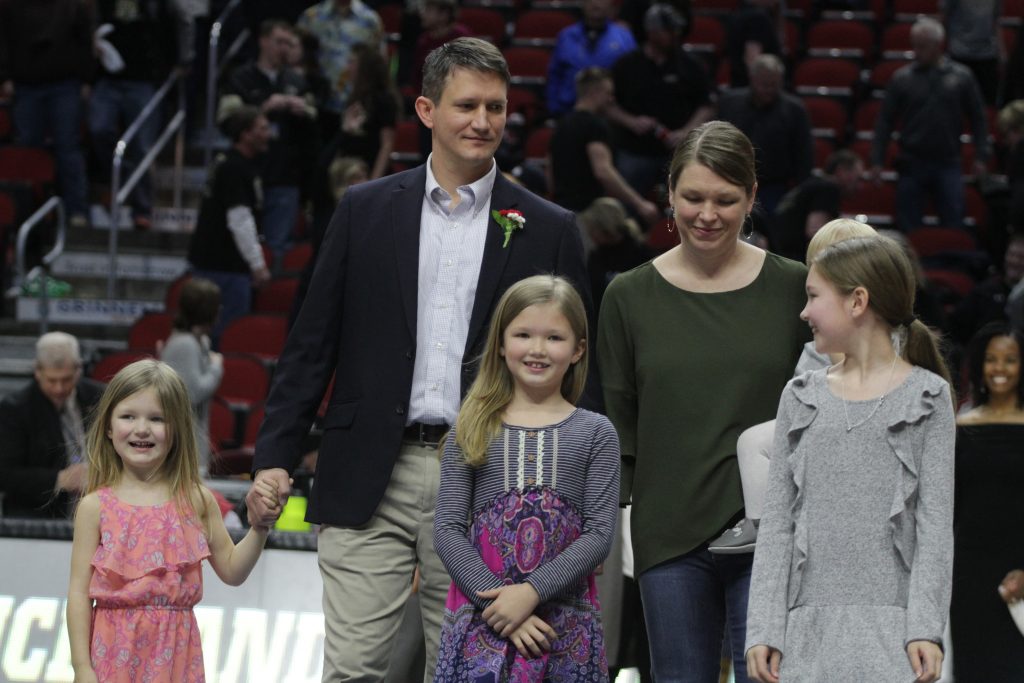 When the Ankeny boys' basketball team went on its magical postseason run earlier this month, perhaps nobody enjoyed it more than former Ankeny great Ryan Sears.
Sears, who has lived in Omaha for the last five years, watched from afar as the Hawks captured the second state title in school history.
"The way they came out and played (in the Class 4A final), I was amazed," said Sears, who was inducted into the Iowa High School Athletic Association Basketball Hall of Fame in 2018. "Everything seemed to be clicking. Waukee didn't seem to have an answer, and I was just impressed and amazed at how they dominated the first 3 1/2 quarters or so. It was an impressive performance."
Ankeny's 78-70 victory over fourth-seeded Waukee was its third in three days against a higher-seeded opponent. The No. 6 Hawks previously knocked off No. 3 Iowa City West and No. 2 Cedar Falls, the two-time defending champion.
Sears was a standout guard on the 1995 Ankeny team that went on a similar postseason run. The unranked Hawks defeated No. 4 Iowa City West, No. 9 Davenport North and No. 8 Valley to claim the school's first crown 25 years ago.
"In some ways it does (feel like 25 years), but in some ways it feels like yesterday," Sears said. "It's been a quick 25 years."
Both of Ankeny's championship teams featured high-scoring backcourts that allowed the Hawks to overcome a lack of size. Braxton Bayless poured in 68 points in the three games and was named the captain of this year's all-tournament team.
"It brought back some memories," Sears said. "They're not a huge team, but everybody was doing their part and playing with a ton of confidence. Everybody knew their role and came on the court with a ton of energy. The edge that they played with–everybody was willing to get on the floor and do the hard stuff. I think we played in a similar way. We went into each game and it didn't really matter who we were facing–we were just doing our thing."
Sears and fellow guard P.J. Dauterive were both juniors on the 1995 team. They combined for 132 points in the three games and were both selected to the all-tournament team.
Dauterive scored 23 points in Ankeny's 76-69 win over Iowa City West in the quarterfinals. Sears had 24 in the Hawks' 73-50 semifinal victory over Davenport North, a team that was led by future NBA player Ricky Davis.
Dauterive then erupted for 35 points, including 22 in a row during one stretch of the first half, as Ankeny posted a 76-67 win over Valley in the title game.
"Based on our experience, any team has that opportunity to (go on a run), especially in high school because every team is in (the postseason)," Sears said. "Every team starts out 0-0."
Sears was unable to watch Ankeny's first two games in this year's tournament, but he heard about Bayless' 41-point performance against Iowa City West.
"I saw some of the box scores," Sears said. "I had heard that (Bayless) was doing pretty well, and that was an impressive stat line there."
Sears watched the title game online while participating in a group text with former teammates Dauterive and Tim Scheib. It gave the trio an opportunity to relive some of their own championship moments.
"We had a lot of fun going back and forth," Sears said.
It didn't take long for Ankeny to take control of the game against Waukee. Jordan Kumm made a 3-point goal on the game's first possession, and the Hawks went on to shoot 10-for-17 from behind the arc.
"Jordan hit that first 3 right off the bat and you could just tell right away they were locked in and playing well together," Sears said. "It was just a ton of fun to watch."
Before moving to Omaha to become the Area Director for the Fellowship of Christian Athletes, Sears helped coach some of the current Ankeny players when they were younger.
"I was coached by Ryan at Kingdom Hoops," Kumm recalled in a recent episode of the Ankeny Fanatic weekly podcast. "He actually helped me change my shot when I was in like fifth grade. He taped my thumb to my hand because I was using my left thumb to shoot the basketball."
Sears recalled that Kumm was a "gym rat" even in those days.
"I remember him being really fast, even at that age," Sears said. "Just undersized, but even then he still competed. When he stepped on the floor, he was getting after it. That was just his personality."
Jaxon Smith was another player that Sears worked with several years ago. Smith and Kumm combined for 30 points in the win over Waukee.
"I do remember those two shooting around (when they were younger)," Sears said. "They were a lot of fun to be around. Just reminds me again how old I am."
Prior to March 13, Sears had played on the lone boys' basketball state championship team in Ankeny High School history. Now, the 1995 squad will have to share the limelight with its 2020 counterparts.
Sears is more than happy to share the glory.
"I'm super happy for the players, the coaches and the community," he said.