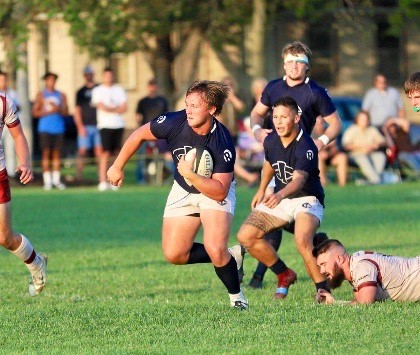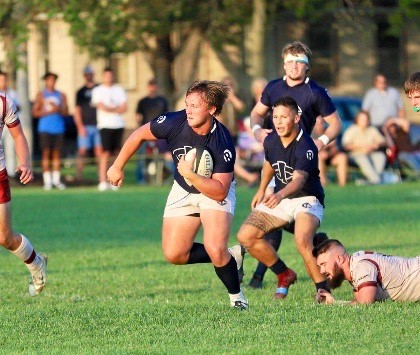 When Lane Pruisner was a junior at Ankeny Centennial, the football and wrestling standout wasn't sure if he wanted to compete at the collegiate level.
"I was thinking I wasn't even going to play sports in college," he said. "But I got to my senior year and I thought to myself, 'I can't give up being an athlete.' So then I decided to play rugby, and I'm really glad that I did."
As a freshman at Iowa Central Community College, Pruisner helped the Tritons to the DIAA national championship in 2019. Then, on Monday, Pruisner was named to the 2020 USA Rugby Men's Under-20 team.
Only 33 players from across the nation were selected to the squad.
"I'm really excited," Pruisner said. "I knew there were a few of us from (Iowa Central) that were being looked at. I knew it was a possibility, but I didn't know until (Monday) that I was going to be on the team."
The U-20 squad is comprised mostly of U.S. collegiate and high school players with overseas clubs represented as well. Saint Mary's freshman Miles McCormick has been named team captain.
"I've heard of a few of the players," Pruisner said. "But I don't think I've ever actually met any of them."
Pruisner is one of 20 players on the team representing U.S. universities and junior colleges. Four players are from high school programs, three represent Major League Rugby and seven others represent clubs from Europe, New Zealand or Australia.
"Our staff's main focus this cycle was athlete identification," said coach Scott Bracken in a press release. "We solicited across the U.S. and over the world for player recommendations and the response was vast. We netted nearly 200 responses which made the competition for selection tight.
"The staff and I have spent endless hours looking at film, talking with coaches and on calls; and, we think we got it right. This 2020 team has the potential to be a very formidable side," he added.
Pruisner was named to the team at a prop position. More specifically, he plays the loosehead prop–as opposed to the tighthead prop.
"If a minor penalty happens, there's always a scrum and that's usually what people recognize about rugby. That's where the two teams smash up against each other," Pruisner said. "There's two of the props on each team–a loosehead prop and a tighthead prop. I usually play loosehead and they're in the front row, so they're taking all the force in the front."
Pruisner started on the offensive line for the Centennial football team and was also a state qualifier in wrestling at 220 pounds. Those two sports helped prepare him for the demands of rugby.
Pruisner also played for Centennial's rugby team in high school.
"I coached him for five years," said head coach Dennis Oliver. "He was a tremendous player and young man."
Pruisner then elected to continue his rugby career at Iowa Central, which started its program in 2015 under Brent Nelson. The Tritons won the small school national championship in 2017 and then claimed another crown in December with a 34-21 victory over Western Michigan.
"That definitely put me out there, being a national champion," Pruisner said.
Pruisner learned of his selection to the U-20 team from a friend.
"He told me, 'Good job on it,'" Pruisner said. "I was kind of confused because I was about to go to work. But then I saw the article right before I went to work."
The USA Under-20s were originally set to play in the inaugural Men's U20 Americas Rugby Championship. While the competition was postponed due to COVID-19, World Rugby continues to evaluate the climate for an opportunity to host the event later this year.
If the U20 ARC is to be canceled entirely, USA Rugby High Performance will seek alternative competitions, in line with World Rugby's return to play protocol, to give all athletes an opportunity to represent the United States.
Pruisner said he's looking forward to the opportunity, whenever it may be.
"I've had a lot of great coaches at Iowa Central and through Ankeny, and I feel like I can compete with anyone," he said. "I definitely want to try to make it to the professional league eventually."