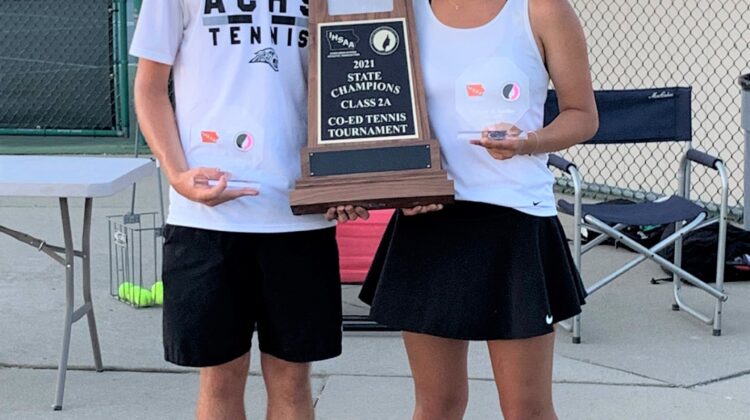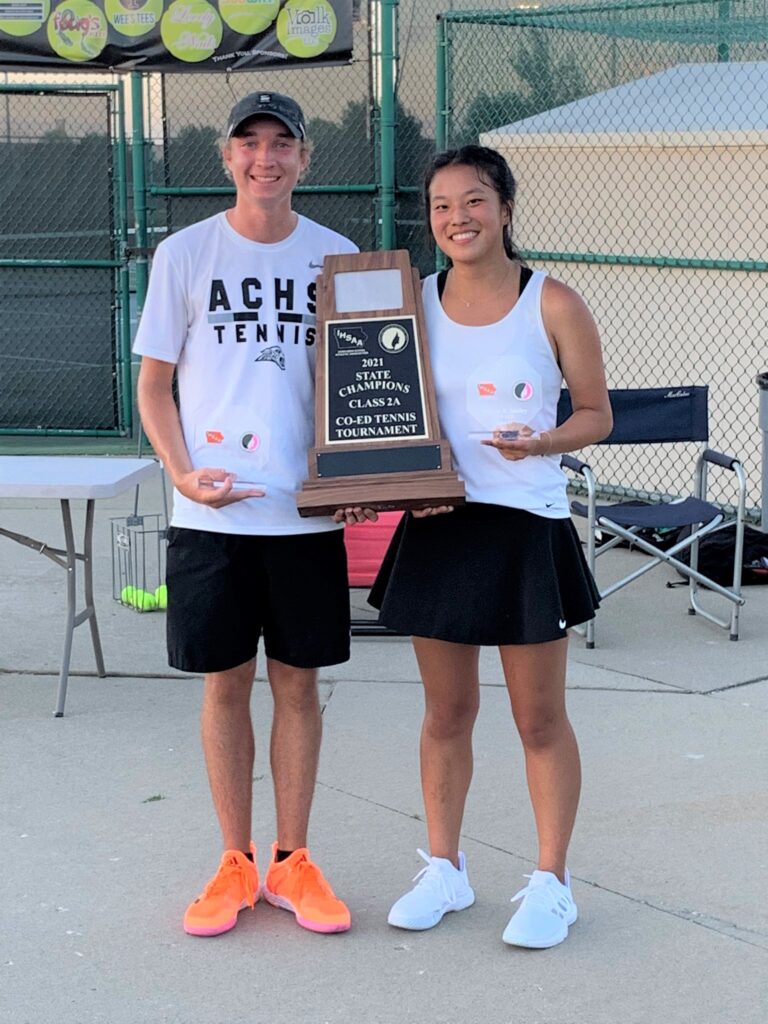 Ankeny Centennial seniors Will Blevins and Claudia Guan teamed up to win the co-ed state tennis championship on Tuesday at Ankeny. They played five matches over the course of 12 hours to capture the title.
In the finals, Blevins and Guan posted a 6-3, 6-3 victory over Daniel Lu and Allison Szalay of Dowling Catholic, who were the boys' and girls' singles champions this season. Lu defeated Blevins in the Class 2A final last month.
After losing a total of just seven games in their first three matches, Blevins and Guan needed three sets to outlast the Waukee duo of Will Ecklund and Ally Roeth in the semifinals. They won the match by scores of 6-3, 1-6, 1-0 (10).
In the round of 32, Blevins and Guan cruised to a 6-0, 6-0 victory over Jacob Fee and Ella Skolrood of Davenport Central. They then followed with a 6-0, 6-2 win over Kyle Sehlin and Kavya Kalathur of Pleasant Valley in the second round.
In the quarterfinals, Blevins and Guan defeated James and Celine Matthews of Mason City, 6-3, 6-2.
Centennial's Nic Mackaman and Jordyn Gustafson also competed in the tournament. They posted a 6-3, 4-6, 1-0 (7) victory over Caden Rodning and Tiegan Barkema of Mason City before dropping a 6-1, 6-1 decision in the second round to Eli Young and Julianna Mascardo of Iowa City West.
Two Ankeny teams also participated. Mason Bush and Abby Johnson dropped a 6-1, 6-2 decision to Vyas Amalkar and Isabella Dobrinov of Valley in the first round, while Ian Ferree and Megan Sommerfeld suffered a 6-4, 7-5 loss to Christian Jensen and Lanee Olsen of Council Bluffs Lewis Central in the preliminary round.