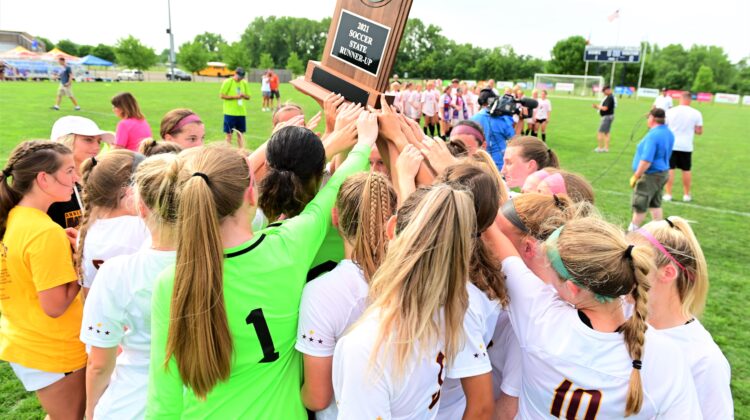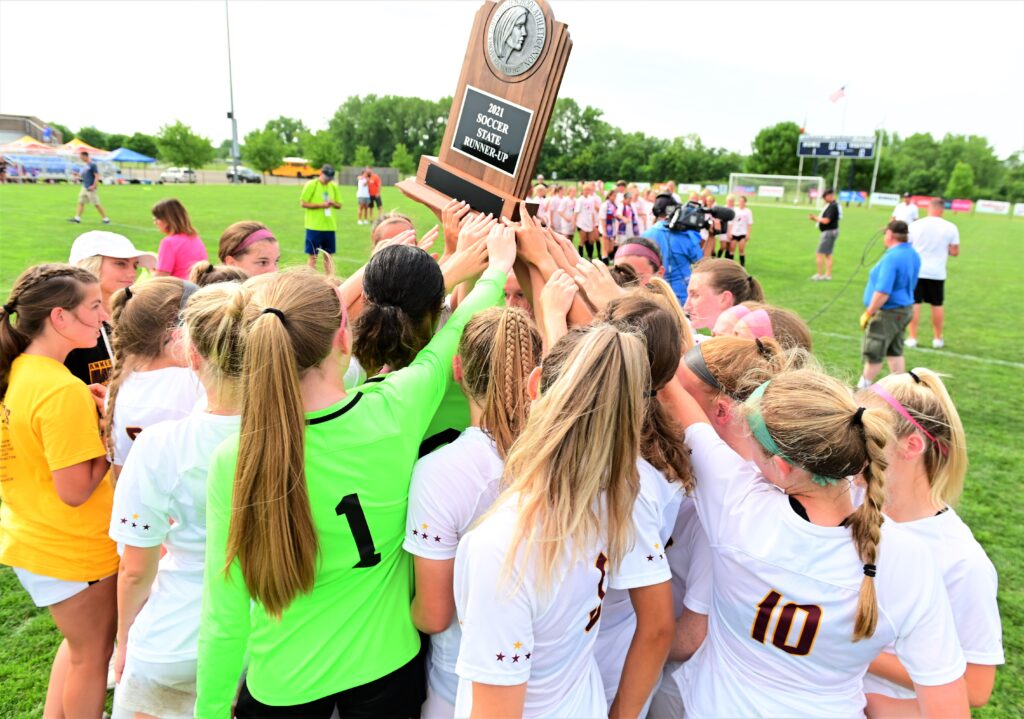 As the Ankeny girls' soccer players walked off of Field 9 on Friday at Cownie Soccer Park, the Hawkettes held their heads up high.
By reaching the Class 3A championship game for the third consecutive season, Ankeny had exceeded most people's expectations.
"Everyone doubted us," said junior defender Eden Gibson. "Nobody believed in us, but we believed in ourselves and I think that's what helped us get here."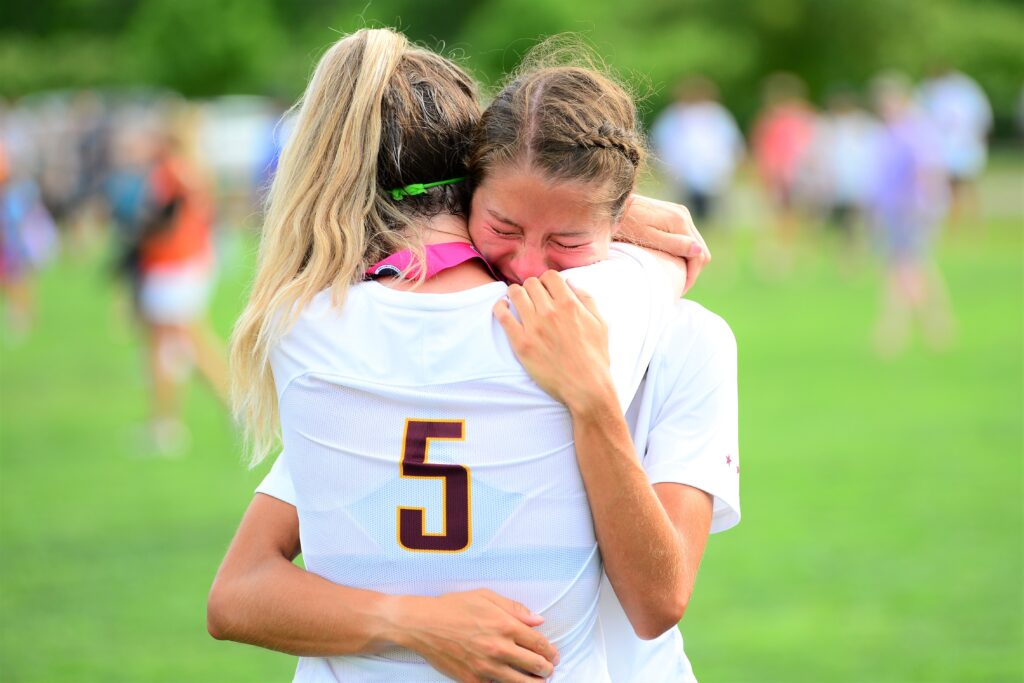 Eighth-ranked Ankeny's dramatic postseason run came to an end with a 1-0 loss to top-seeded Valley. The Hawkettes, who were seeking a fifth state title, earned runner-up honors for the third time.
"We kind of had the odds stacked against us," said junior midfielder Kennedy Macke. "A lot of people didn't even think we had a good chance of making it to state, and to get to state first of all is a huge achievement–much less getting to the championship game and beating the 2 and 3 seeds (Pleasant Valley and Waukee) is just amazing itself. It's just great to be back here, and although it sucks we got second, we'll be all right next year and we'll definitely be back here."
Macke and Gibson were both named to the all-tournament team along with senior forward Rachael Christmann, who played her final game for the Hawkettes.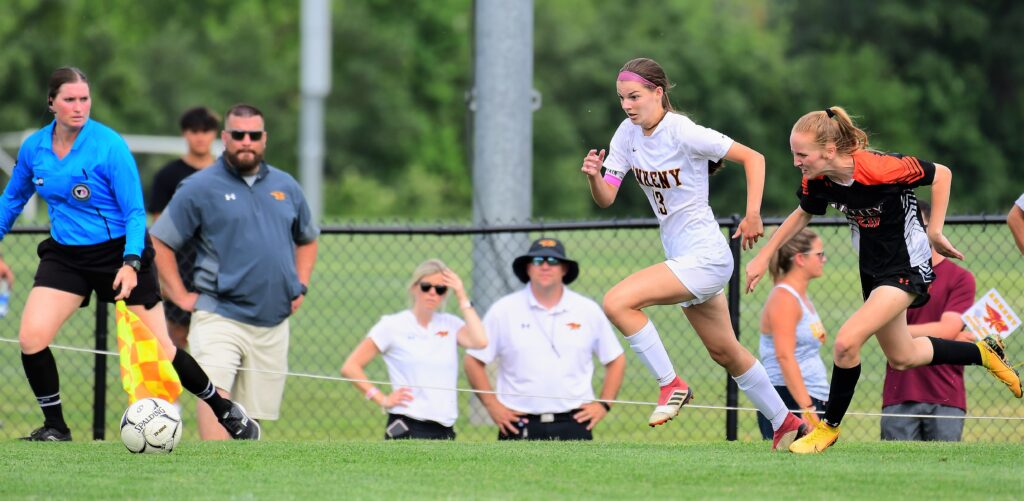 "I think some of the gas just ran out," said Christmann. "Our tanks kind of emptied out."
Playing for the third time in four days on another hot and muggy afternoon, Ankeny battled the Tigers on even terms for much of the game but could not overcome an early penalty kick by Valley's Catie Johnson–who was named captain of the all-tournament team.
"We massively overachieved with this team," said Ankeny coach Simon Brown. "The last thing I told them was, 'This is probably normal from my experience anyway. You don't go win the state championship every year.' To win it again after winning in 2019 would have been a lot, especially with this group. This is probably a normal feeling, but I'm so proud of these girls. Besides a couple of seniors out there, this whole team will be back next year. I feel bad for them because this is their first experience and they're probably a little overwhelmed, but we started so many young kids that next year when we come back we'll be ready to play. I'm super proud of them."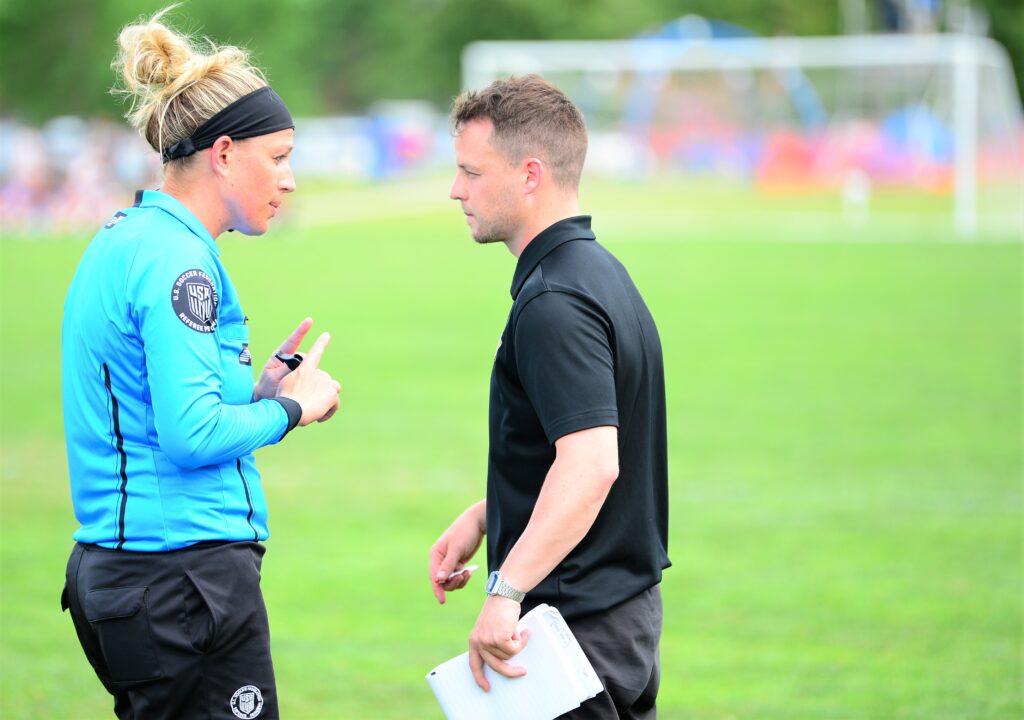 Valley (21-1) won its seventh state title–and its first since 2010–under longtime coach Rob Chapman, who was the recipient of this year's Golden Plaque of Distinction Award. Chapman has won more state championships than any other girls' soccer coach in Iowa.
Ankeny (14-5) had its nine-game winning streak snapped.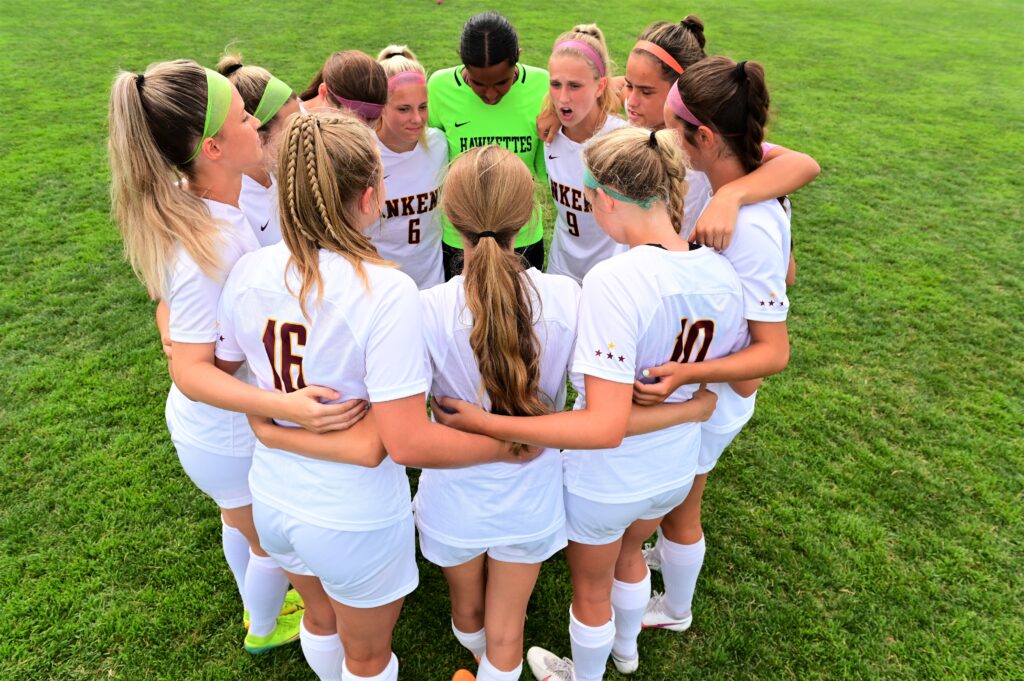 "It was hot the last few days, but we powered through that heat," Macke said. "We took some ice baths for recovery, we did a lot of recovery movements, and I think we were prepared coming in here. We were confident, and we knew a lot of people would overlook us. It just didn't go our way today."
The Tigers scored the game's only goal after Ankeny was called for a handball in the box less than 8 minutes into the first half. Johnson then converted the ensuing penalty kick, blasting the ball past diving goalkeeper Jasmine Moser and into the right side of the net.
"I watched film from other previous games and thought I had it, but it is what it is," Moser said. "Pks happen, and they're part of the game. The refs are part of the game. It's just how it works. It's pretty disappointing, but we'll definitely come back on fire next year and show Valley what we've got."
Nobody wants to lose a game on a penalty kick, but Christmann said the Hawkettes couldn't really complain. She made a penalty kick of her own to beat Pleasant Valley in the quarterfinals on Tuesday.
"It was a hard-fought game, and they got a PK," Christmann said. "I mean we won on a PK, so we can't really sit here and say that it's unfair."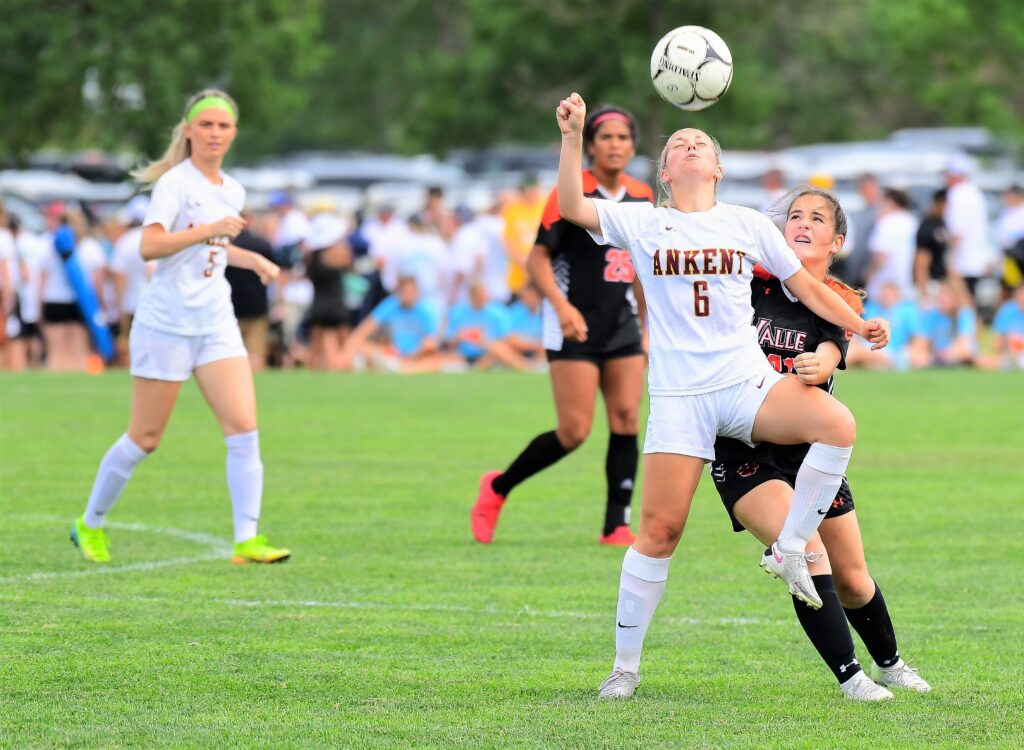 Neither team had many scoring chances during the game. The Tigers, who allowed just nine goals all season, posted their 15th shutout.
"Valley's the best team," Brown said. "They've beaten everybody all year, besides that Ankeny Centennial game. If it wasn't for the referee giving them that penalty like that, it would have been a lot different. I know they're the better team. They possessed the ball, but we defended really well. They were warriors back there. Everybody played fantastic."
Gibson and fellow defenders Maddie Foels, Jenna Pitz and Elizabeth Proctor kept Valley's high-powered attack in check, giving the Hawkettes an opportunity to score the equalizer.
"Even with the loss, I'm still super proud of our back line," Gibson said. "We have Liz, Jenna and Maddie, and I just love playing with them. I'm so proud of our team."
Brown said the Hawkettes stayed with their initial game plan following Johnson's penalty kick.
"We were playing fine," he said. "How many clear-cut chances did Valley have compared to all the other teams they played against this year? They were battering teams. We just defended really well, and if it wasn't for that one moment, it would have been a lot different."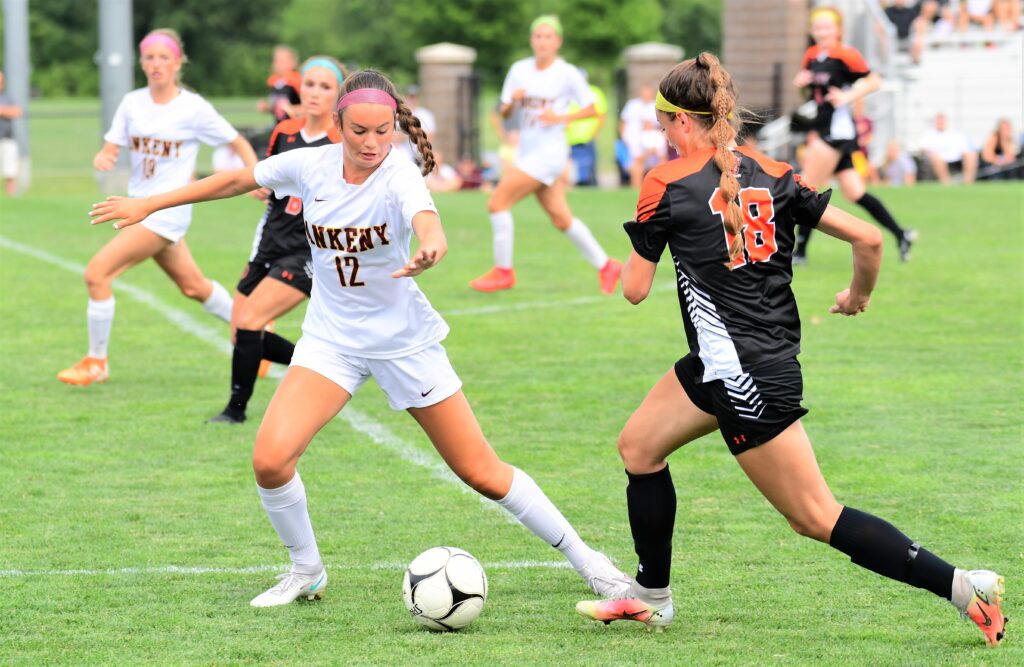 Valley ended the season on an 18-game winning streak. The Tigers defeated Centennial in the semifinals on Wednesday, avenging their only loss on April 13.
Moser, a sophomore, vowed that her team would be back in the title game next season.
"I was really excited for coming here," she said. "It's a bummer that we lost, but we've come so far going through a losing streak earlier this year. It's good to be here finally. Coming to a state championship and trying to give it our all. We didn't come through today, but we'll be back next year and we know we'll do better."