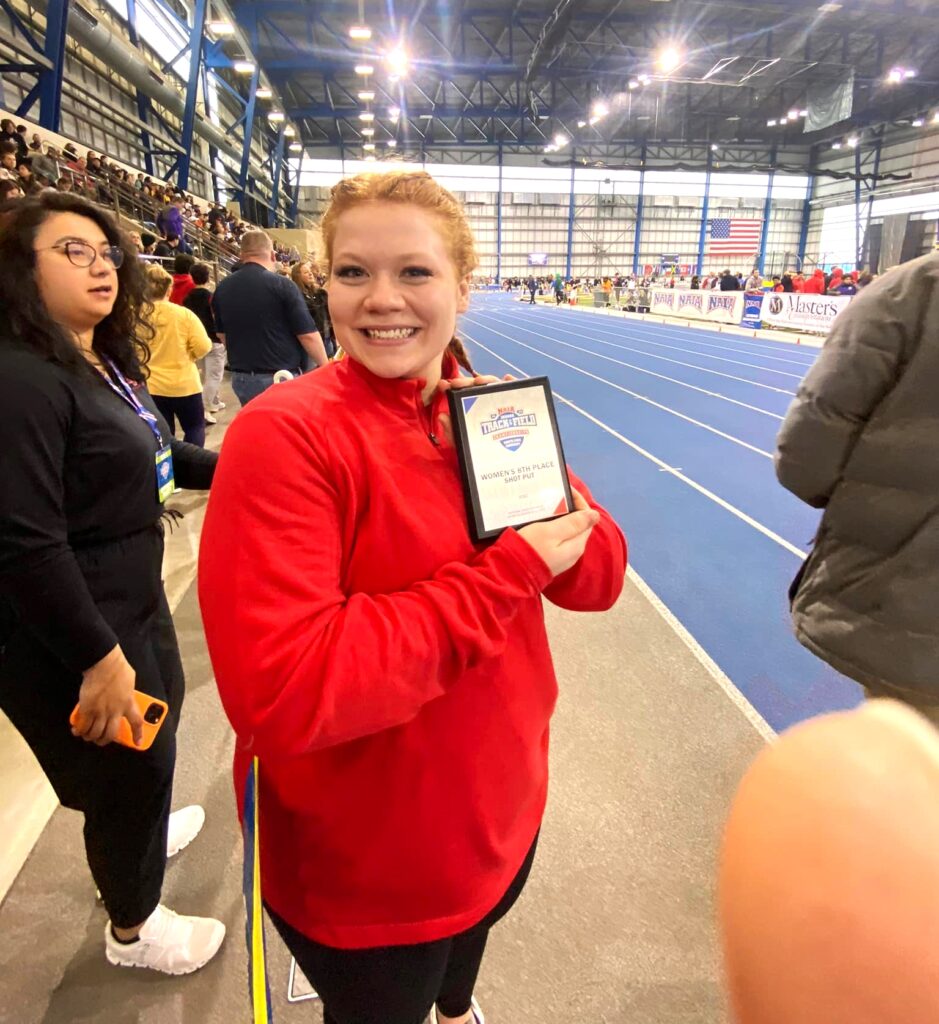 Former Ankeny thrower Sydney Flatness has been dreaming of being an all-American for a long time.
The Grand View University senior finally reached her goal on Saturday at Brookings, S.D.
Flatness placed eighth in the shot put at the NAIA Indoor National Championships to earn all-American honors.
"I am elated. I've been dreaming of this since my freshman year of college," said Flatness. "I honestly still can't believe that I did it and in the moment it felt like a dream. I kept asking myself if this was real life; I was just so in shock. At the start of the third throw, I had only one person who could push me out of eighth and after she threw and it wasn't far enough, my coach looked at me and said, 'Syd, you're an All-American.' After that, I went into the ring and threw my third throw crying I was so happy."
Flatness recorded a personal best with a throw of 13.43 meters. That translates to a distance of 44 feet 3/4 inch.
"Going into the meet, I'll be honest–I was not confident at all," Flatness said. "The night before I was very anxious about how I would do. After seeing my teammate do so well in weight throw, I felt like I had high expectations on my shoulders. I talked to my coach and said that I felt like I couldn't perform how they did. He reassured me and told me that the battle was already won because I was there, I had already made it to nationals, and all I could do was go out and do my best."
And that's exactly what Flatness did.
"During my warmup throws, I felt really solid and I started to think, 'Hey, maybe I can do this,'" she said. "All I remember thinking before I threw my PR was, 'Huh, I feel really good right now' and then I threw. When I heard the distance, I cried. I could not believe I just did that. It was surreal and I was so thankful, thankful for my coach, for my parents, my teammates, but most importantly myself. I pushed my negativity out and let myself believe that I belonged there and I was going to show everyone why.
"I've learned that half the battle is believing you can win and I'll carry that lesson with me forever," she added.
Flatness helped the Vikings women's team to a 14th-place finish. They scored 15 points.
She was one of Grand View's 14 all-Americans.