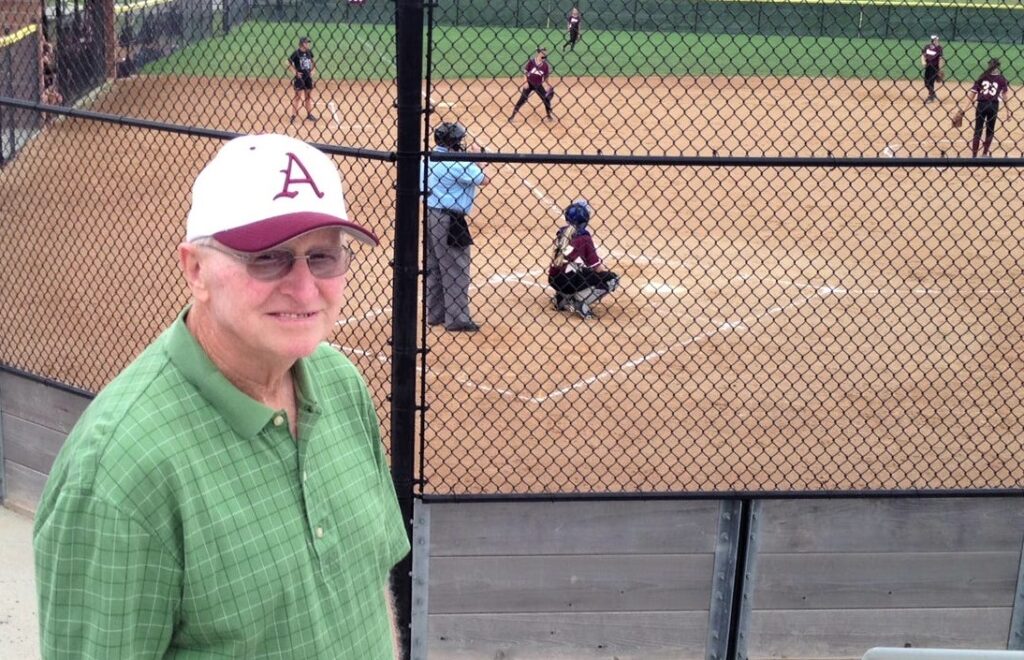 The community of Ankeny has lost one of its most prominent citizens.
Dick Rasmussen, the legendary softball and girls' basketball coach at Ankeny High School, passed away early Friday morning at the age of 85.
"I will miss him," said current Ankeny softball coach Dave Bingham. "I love him and (his wife) Sue."
Rasmussen coached at South Hamilton (Jewell) from 1962-72 before moving his family to Ankeny, where he turned the Hawkettes into powerhouse programs on both the basketball court and the softball field. He led Ankeny to three 6-on-6 girls' basketball championships, the only school to accomplish that feat.
Rasmussen was even more successful in softball, guiding the Hawkettes to 12 state titles–including a record four in a row beginning with the 1977 fall season. He took 27 teams to the state tournament, the third most ever, before retiring in 1996.
"My heart and love go out to all his family," said Karlin Hayes, who played for Rasmussen and starred in both sports. "He was such a big presence both in life and in sport, and he will be missed by so many."
Tributes to Rasmussen poured in over the weekend on social media. A common theme emerged–he was a great coach but an even better man.
"He was an amazing person," former player Kris (Thompson) Klinker wrote on Facebook. "He meant so much to so many. He will be dearly missed."
Another former player, Traci (Pilcher) Webb, called Rasmussen's death a hard loss to accept.
"He was a legendary coach, mentor and great man," she wrote. "I will truly miss him. Thanks coach Ras for molding me into the person I am today."
Deb (Schneider) DeBruin, who will deliver a eulogy on behalf of Rasmussen's former players at his funeral on Wednesday, echoed similar thoughts.
"My heart aches at the loss of such a wonderful person," she said. "He taught me way more than sports."
George Wares, a legendary softball coach in his own right at Central College, chimed in with his thoughts on Twitter.
"One of the all-time greats. RIP Coach!" Wares tweeted.
Rasmussen racked up 1,165 softball victories in his career. He was the National High School Coach of the Year in 1986, then later won that award in basketball as well in 1993.
The Ankeny Coaches Hall of Fame is named after Rasmussen. In 2014, the Ankeny softball field was officially named "Dick Rasmussen Field".
"Coach was always prepared, but he had a game plan and stuck to it," Hayes said. "He exuded such confidence that it rolled over to us. When we walked or ran into a gym or ball field, we just knew we were going to win. He was the consummate professional, and was forever a joyful competitor, encouraging while never showing stress. Reflecting all these years later, we were fortunate to have him as a great role model whether as a young person, athlete, parent and/or fan, or opposing coach."
When Ankeny Fanatic unveiled its all-time Ankeny softball teams in August of 2021, Rasmussen credited the success of the program to his players.
"You can talk about coaching all you want, but if you don't have the athletes, it's pretty tough to win," he said. "And I always had the athletes, and they knew how to play the game."
Former all-state pitcher Jenny Voss played on Rasmussen's final team at Ankeny in 1996. Together, they won another state championship.
"After finding out he was retiring, all the things–big and small–just meant that much more, but the moments I appreciated most with him were after we would end our offensive half of the inning and he would walk from his third-base coaching box to retrieve the game ball, dust it off, and wait for me to get out to the mound to hand me the ball and give me some words of encouragement," Voss recalled last year. "Mind you he had done this every season, but there was just an extra unspoken meaning to it when I would look him in the eye and say, 'Thanks, coach.'
"And ultimately, that is what the moral of my Hawkette softball career comes down to. Thank you coach Ras for caring about us as athletes and individuals, facilitating a top-notch program, and providing a positive experience that was challenging and fun!" she added.
Hayes agreed that Rasmussen had a way of communicating without even speaking.
"I ever so remember when stepping up to the plate in a big moment, with one last look down to him, he gave you that singular stare while clapping his hands quickly up near his face, and then the point of the finger that meant, 'I know you can do this, now let's do it!'" Hayes said. "No words were needed. It was in his eyes."
A visitation will be held from 4-7 p.m. on Tuesday at Holy Trinity Lutheran Church in Ankeny. A memorial service will be held at 10:30 a.m. on Wednesday, also at the church. The memorial service will be livestreamed at the following link: https://bit.ly/htlc-funeral.
The legendary coach may be gone, but he will never be forgotten.
"The legacy he and his girls created is a powerful standard that can't be measured," Bingham said. "I think about him before and after every practice when I'm out there alone."