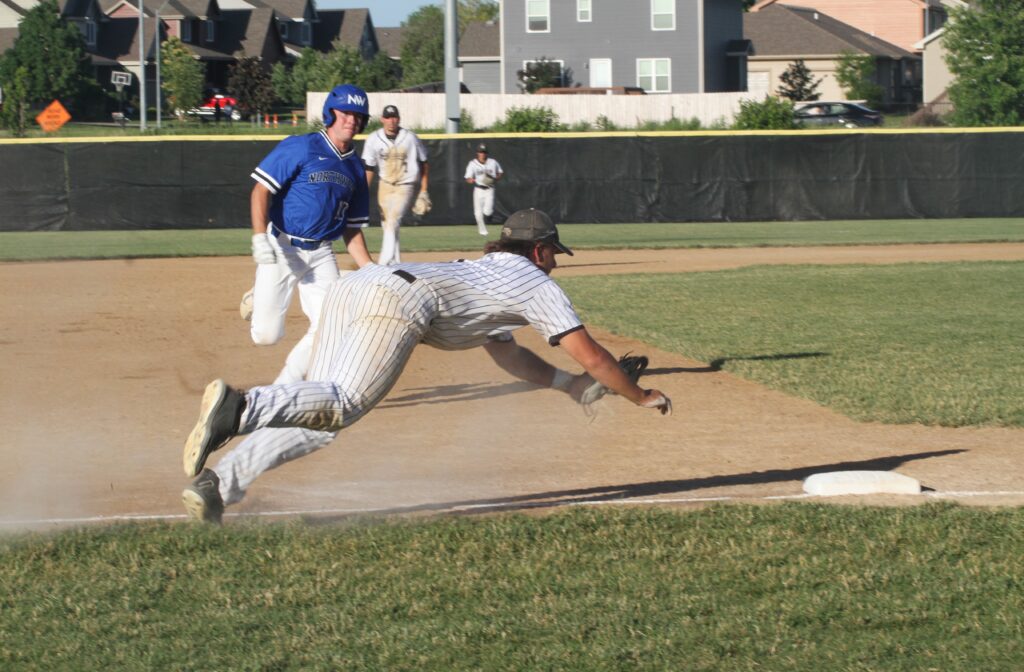 Catcher Nick Severson and his teammates on the Ankeny Centennial baseball squad were prepared to face one of the state's top pitchers on Wednesday.
Severson hit a go-ahead triple in the fifth inning and the Jaguars went on to beat Anthony Watts and ninth-ranked Waukee Northwest, 5-4, in the first game of a doubleheader at Centennial. Watts had tossed a two-hitter with 10 strikeouts against Centennial on June 6.
"We were very confident," said Severson, who went 2-for-3 and drove in two runs. "We came in this morning and we set the (pitching) machine a little higher, and all of our guys looked good. I'm not surprised by this. We've just got to keep it going. We had nine hits against a solid pitcher, and you can't complain about that."
Centennial then completed a sweep of the twinbill with a 4-1 victory in the nightcap. It was the 11th straight win for the Jaguars, who improved to 14-4 in the CIML Iowa Conference and 18-9 overall.
Centennial moved into a first-place tie with No. 8 Ankeny, which split a doubleheader at Ames.
"Northwest is obviously an excellent team, and we saw their best pitcher," said Centennial coach Mark Hey. "It was a really good couple of wins."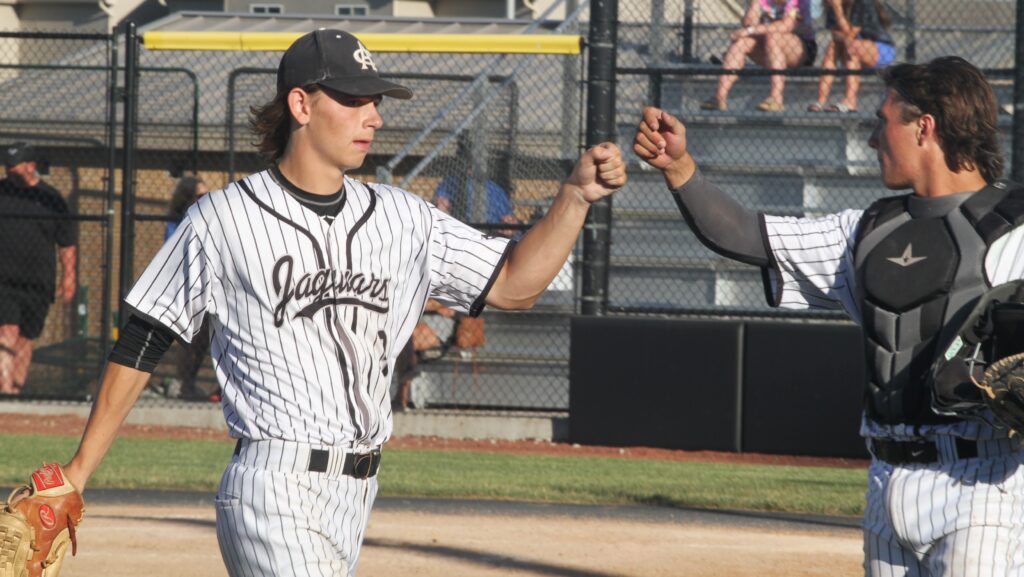 In the opener, Centennial lefthander Lincoln Lacey outdueled Watts, a Creighton recruit. Lacey allowed just one earned run on six hits and had a pair of strikeouts while raising his mark to 4-0.
"I just tried to throw some pitches that the hitters can hit and let my defense make the plays because I know they can," said Lacey. "I knew it would be a tough battle because Watts is a great pitcher. But my team hit fantastic and helped me out a lot."
The Jaguars took a 1-0 lead in the first inning. Kyle Miller singled with one out, stole second and then came home on a two-out single by Severson.
Sean Stewart led off the second inning with a double. He scored when Lucas Bruhl hit a drive to right field that was misplayed for a two-base error.
Bruhl made two nice plays at shortstop in the top of the third, allowing Lacey to work a quick 1-2-3 inning. Lacey cruised until the fourth, when Northwest rallied for three unearned runs.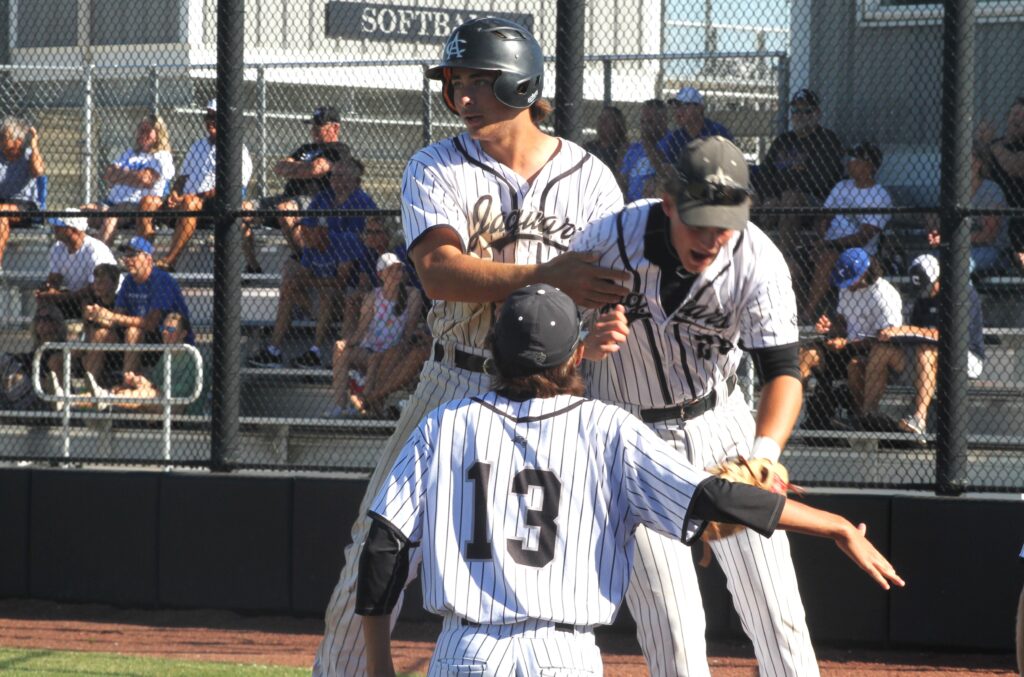 The Wolves got on the board with two outs when Carson Renken hit a fly ball that was dropped by Centennial right fielder Cole Grider. Caden Sammler later hit a two-run single.
"Cole had some trouble with the sun on that ball, but those things happen in baseball in Iowa," Hey said. "But he showed the guts that he has–he had a huge triple in his next at-bat that kind of ignited some things for us. I was really impressed with how he bounced back from that."
Grider's RBI triple in the fifth inning tied the game at 3-3. It was his 11th triple of the season, which leads the entire state.
Severson then followed with another triple, his seventh of the year. He ranks third in the state.
"Me and Cole went back-to-back home runs on Saturday, and it seems from there on out we're in a dogfight for triples," Severson said. "He's got me by a few, but that's ok because we're teammates and it's awesome."
Stewart followed with an RBI single that drove in what proved to be the winning run. That hit knocked Watts out of the game, ending his day with eight strikeouts.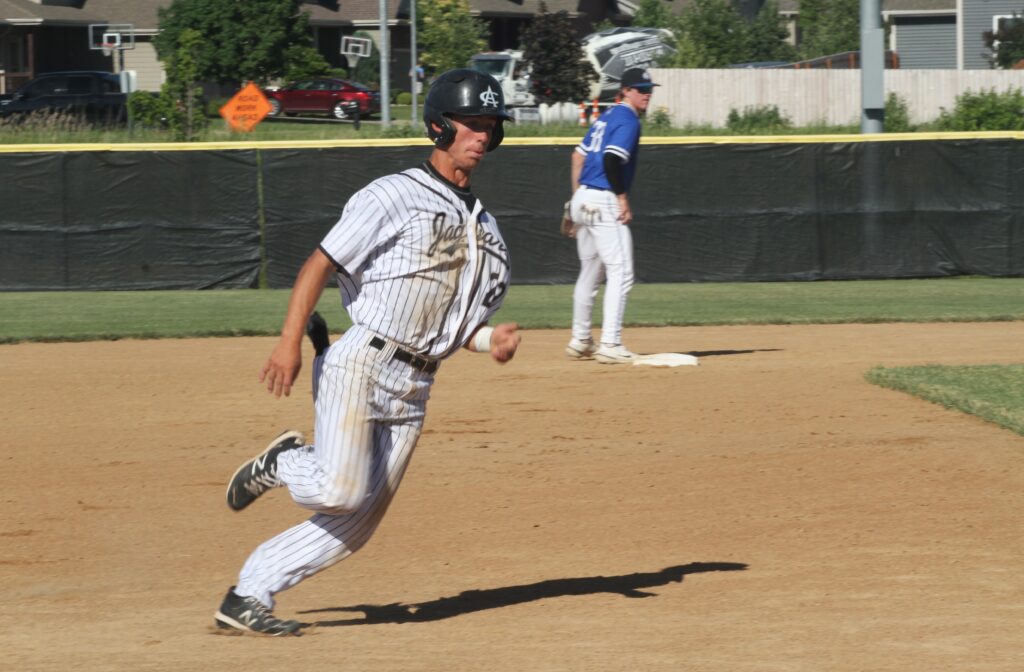 Northwest's Brady Grisham hit an RBI single with two outs in the seventh inning to produce the final margin. Miller then fielded a ground ball at third and dove to the bag for a force out that ended the game.
"We call him Jim, and he's been dealing," Severson said of Lacey, who's a fan of Jimmy Garoppolo and the San Francisco 49ers. "I'm not surprised at all. He shook me off a few times, but he threw the right pitch and I'm just happy for him. He went the whole game and gave up six hits, and a couple runs were on errors. He just kept going and didn't stop."
Grisham went 3-for-4 in the loss. Miller and Stewart each went 2-for-3 for the Jaguars.
In the nightcap, Centennial got another strong pitching performance from Emerson Alberhasky. He evened his record at 2-2 with six solid innings, allowing just one run on four hits while racking up 11 strikeouts.
"He just dominated from the third or fourth inning on," Hey said. "It was an outstanding effort from him."
Easton Miller got the final three outs to complete the sweep. He also went 2-for-4 at the plate.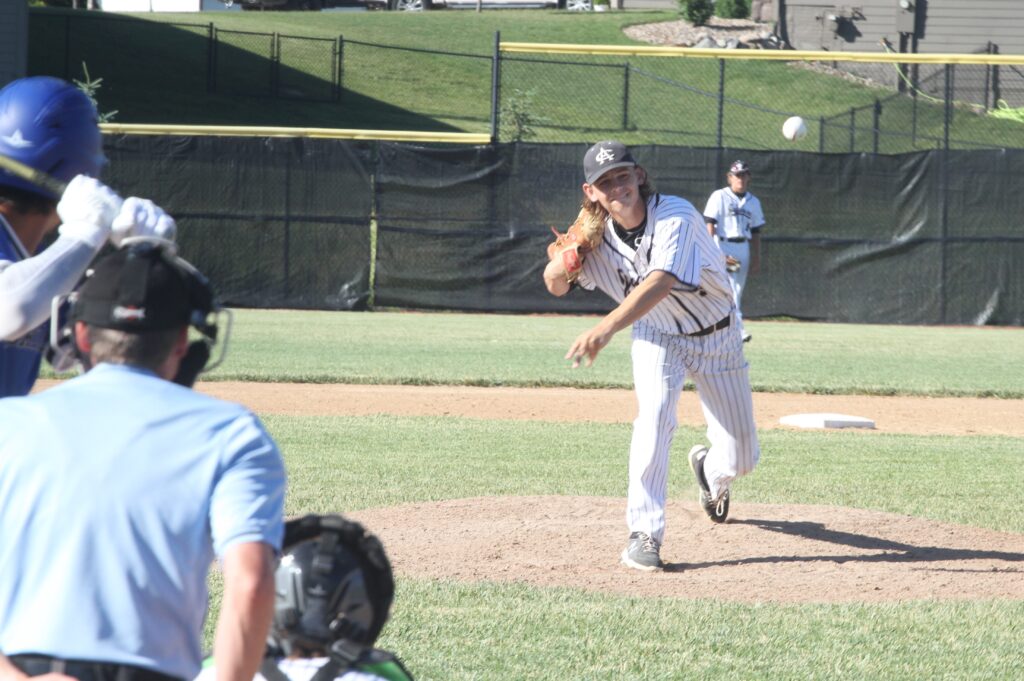 "It's feeling good," Lacey said. "We've got some more work to do, but right now we're looking right where we want to be. We've got to keep playing like we are and just keep doing our jobs. Hopefully, we come out on top (in the conference)."
Grider doubled and drove in a run in the second game. Severson went 2-for-3.
"Severson had a great night," Hey said. "I think all of our players had at least one hit on the night."
Northwest dropped to 11-7 in the conference and 16-11 overall.
"I really enjoy watching these guys," Hey said. "They just work very hard and do things the right way, and it's fun to watch."
Centennial will host a non-conference game against No. 3 Dowling Catholic (19-10) on Friday.