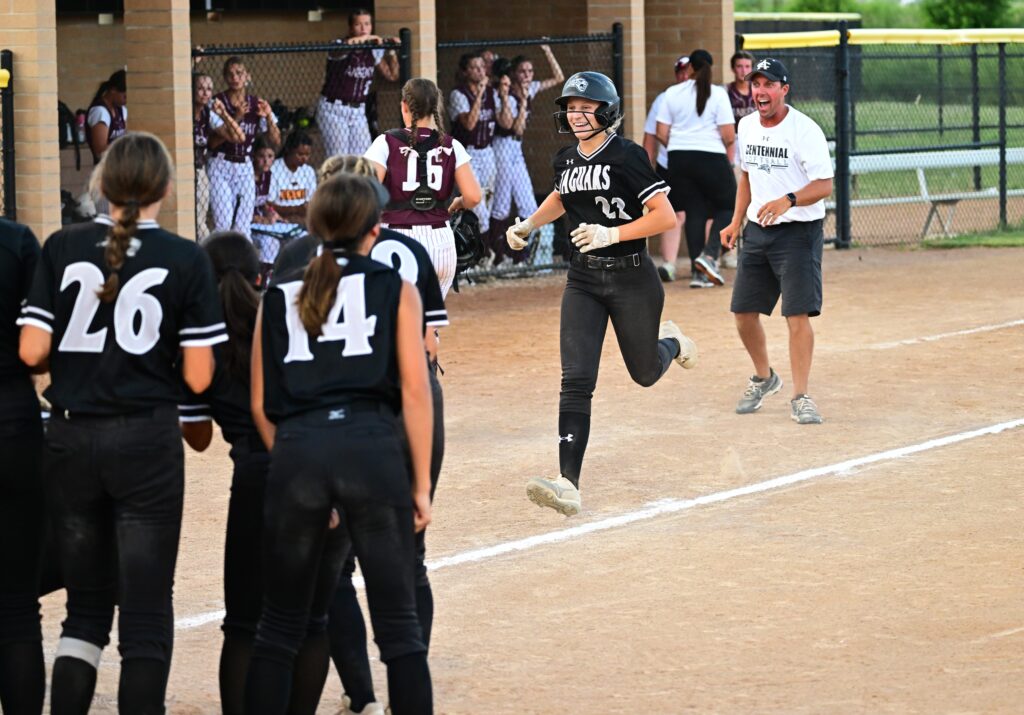 When Ankeny Centennial's Claire Suarez stepped to the plate in the bottom of the seventh inning on Thursday, she was looking to start a game-winning rally.
The junior second baseman did a lot more than that.
Suarez connected on a two-ball, one-strike pitch for a leadoff homer to left-center field, allowing the sixth-ranked Centennial softball team to walk off with a 4-3 victory over No. 9 Ankeny and completing a sweep of its crosstown rival at Centennial.
"It was a fastball right down the middle," said Suarez. "It felt good, especially on Senior Night."
It was the first home run of the season for Suarez, who was mobbed by her teammates at home plate.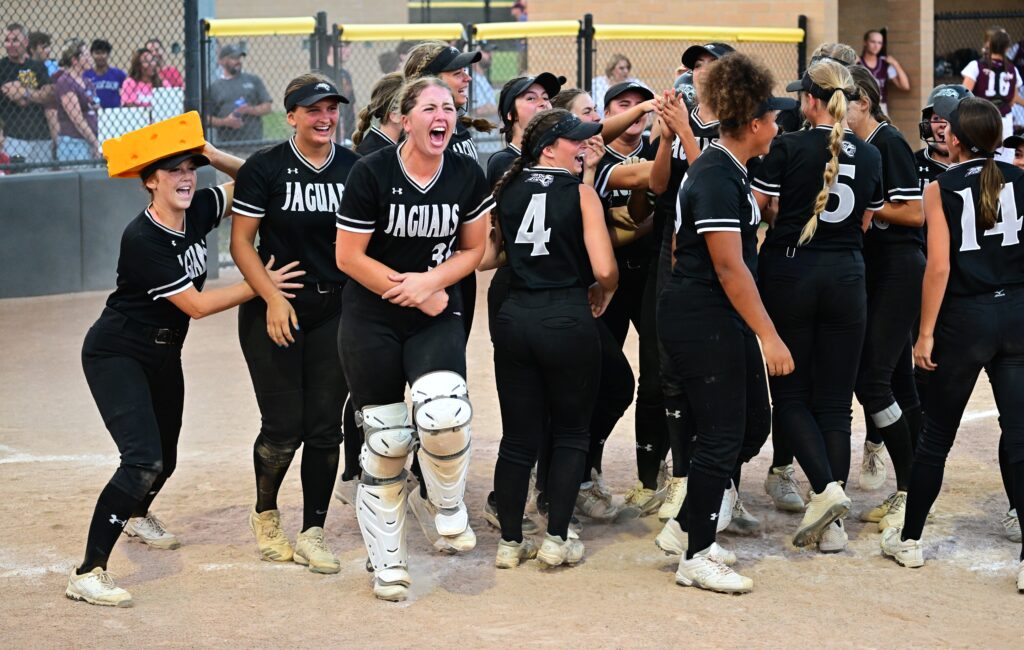 "I know she's a great hitter, but I didn't expect us to win that way," said Centennial pitcher Jadeyn Stahr, who tossed an eight-hitter in the Jaguars' 5-1 win in the opener of the doubleheader. "That was an amazing hit."
Centennial coach Brett Delaney, who was standing in the third-base coach's box, jumped into the air when Suarez's drive cleared the fence.
"Anytime you can beat a quality opponent–and Ankeny is a quality opponent–you've got to be happy," Delaney said. "And doing it in walk-off fashion is a nice way to do it. It's just the way it happened tonight. We would have taken a squeeze (play) or a sac fly, whatever it takes. But the girls came through and got it done today.
"Claire's been working all season to hit the ball hard, and she got a hold of that one and found a way to get it over the fence," he added.
The sweep allowed Centennial to move ahead of the Hawkettes and into third place in the CIML Iowa Conference. The Jaguars, who have won nine of the last 10 meetings against Ankeny, improved to 13-9 in the league and 22-12 overall.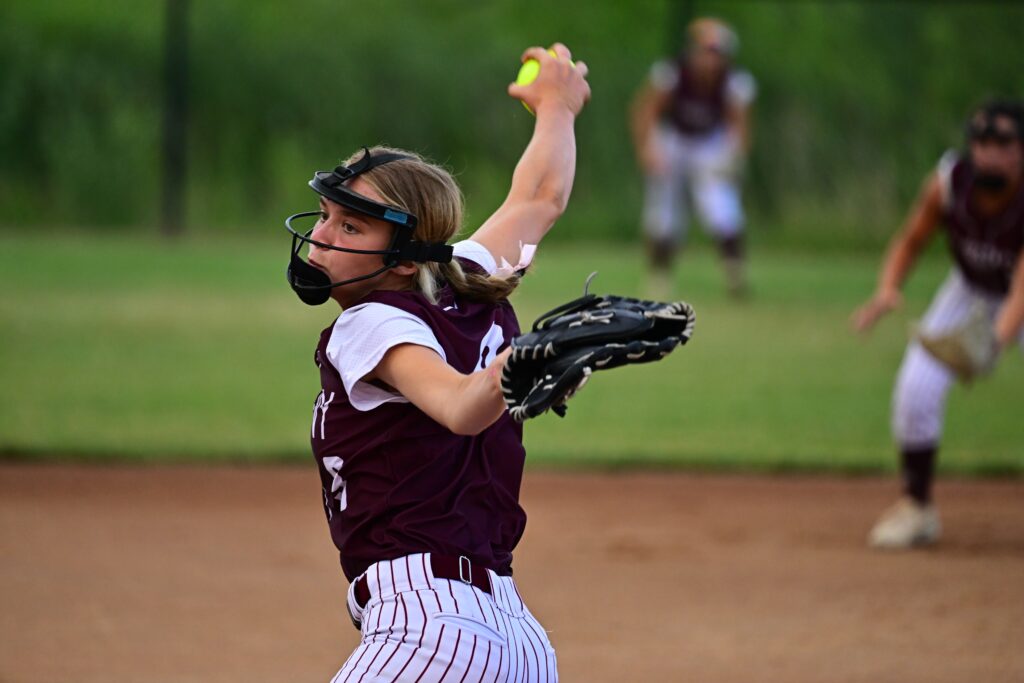 "We swept them a couple of weeks ago too, so it feels good to get all four wins," said Centennial outfielder Mackenzie James.
The Hawkettes' records dropped to 13-11 and 25-12.
"To have that camaraderie with Brett and to have these moments, it's exciting," said Ankeny coach Dave Bingham. "We're in the same community, so it means a lot to both sides. I thought Aubrey (Lensmeyer) pitched great in the second game. She threw a good pitch there at the end, but we've got to credit (Suarez) for stepping up in that moment. She delivered."
Ankeny had a chance to take the lead in the top of the seventh. Alysa Lowe doubled with one out, then tried to score when Larissa Miller hit a two-out single up the middle.
But James fielded the ball and gunned her down at the plate.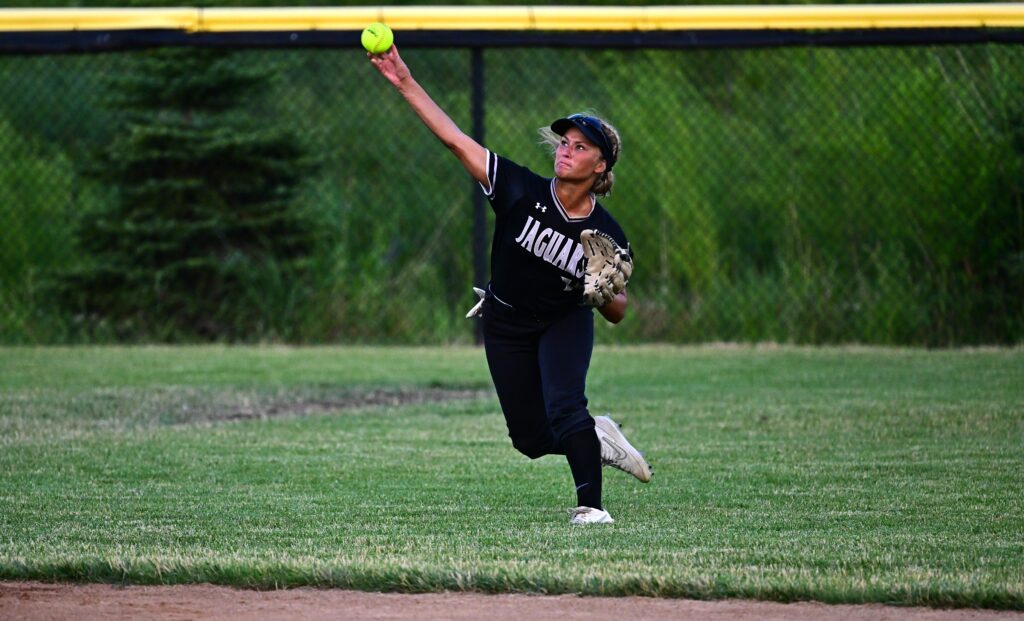 "Actually, right before that pitch, I was like, 'She's going to hit it to me and I'm going to throw her out,'" James said. "I was ready for it."
Bingham said he thought the umpires missed an obstruction call on the play.
"There were some things that were out of our control," he said. "Obviously, that would have put us ahead, and they just didn't see (the obstruction). The shortstop was in her way, and there was contact. But I thought (the umpires) did a great job."
Suarez went 2-for-3 with two RBIs in the win. Addi Starr also went 2-for-3, while Payton Drefke and Jordyn Kennedy each drove in a run.
Lensmeyer (3-2) finished with a seven-hitter. She had two strikeouts.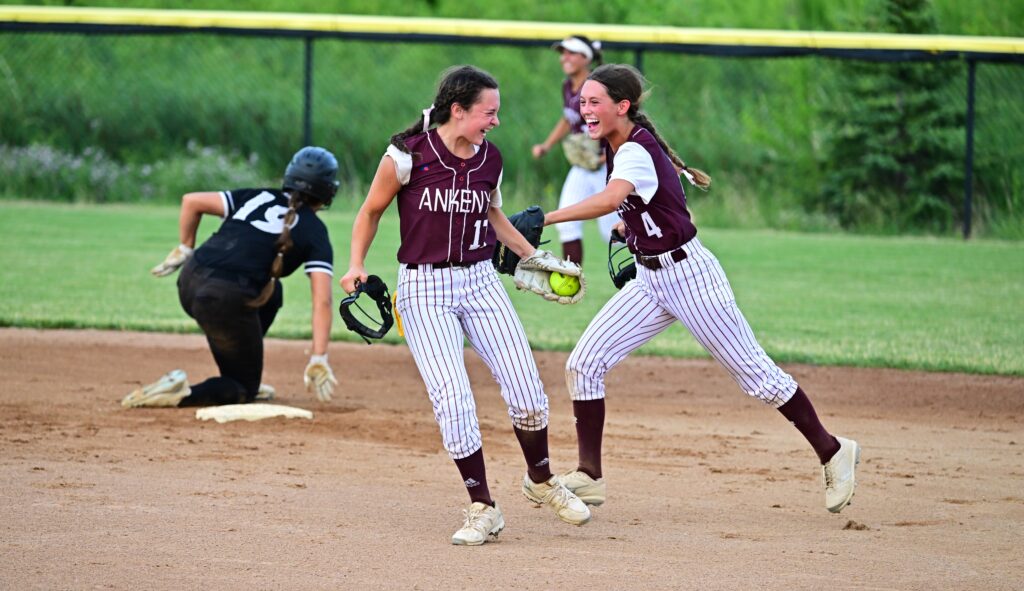 Ankeny held a 2-0 lead before the Jaguars rallied to tie it in the fifth inning. Each team then added a run in the sixth.
"We just had to stay hyped and be loud and whenever we're like that, we start hitting," James said. "We knew we could beat them."
Kendra Winfrey went 3-for-3 with an RBI, while Mariah Parton went 2-for-3 and knocked in a run for the Hawkettes. Miller went 2-for-4 and scored a run.
Cora Boyle (4-1) scattered 10 hits to earn the victory.
"It was definitely a goal to win both (games)," Stahr said. "I know I pitched very well and Cora did, too. And the team came through with a bunch of hits that helped us."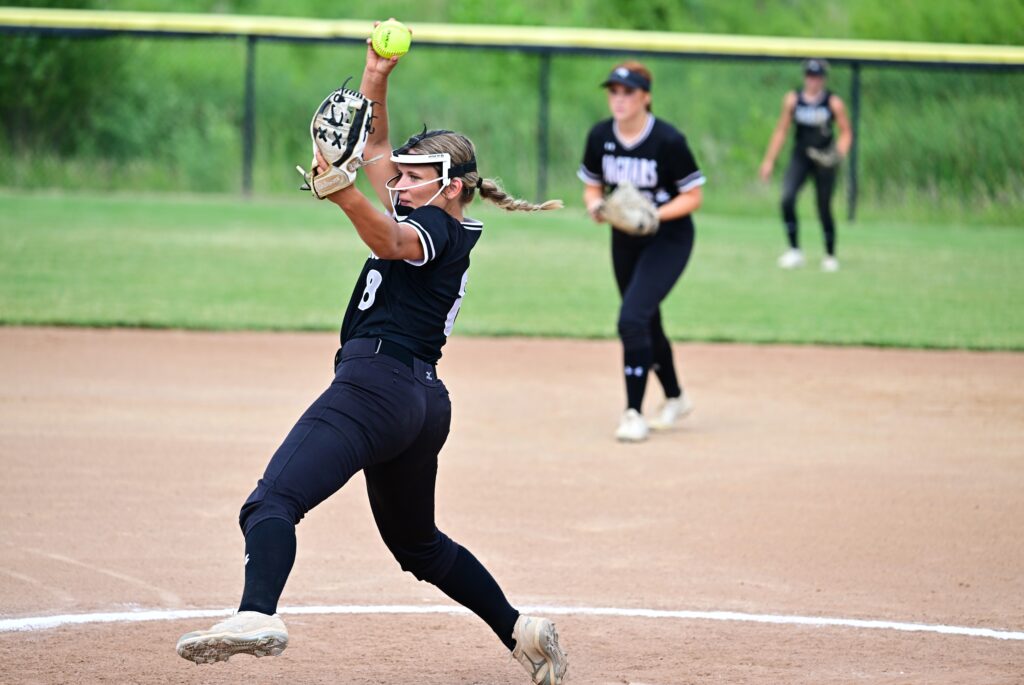 Centennial used a four-run fourth inning to build a 5-0 lead in the first game. All of the runs were unearned.
"I know we wanted this bad, but sometimes things don't go your way," Bingham said. "We've got to field the ball clean and come up with some clutch hits."
Stahr (11-4) won her fourth straight decision. She was bidding for a third consecutive shutout until Eva Fulk hit an RBI single in the fifth inning.
"I definitely was resting up for tonight (after not pitching on Wednesday at Ames)," Stahr said. "I knew I was going to come in and throw my heart out."
Drefke went 2-for-3 and had one RBI, while Lauren Gustofson went 2-for-3 and scored a run. Starr hit an RBI single in the first inning.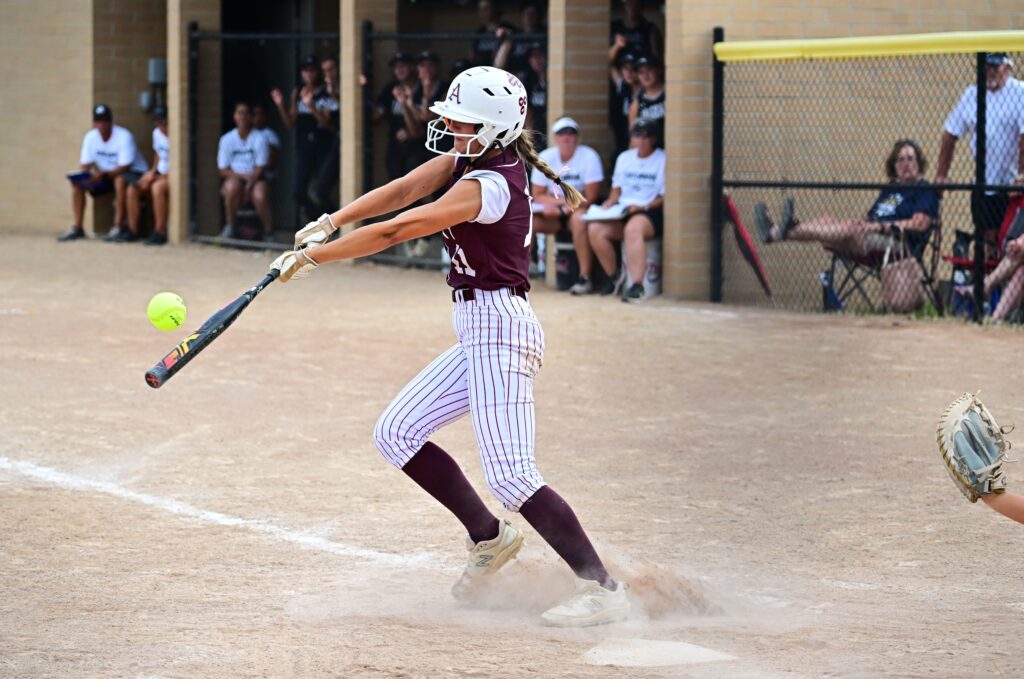 Ashtyn Billings (10-5) took the loss. She allowed just five hits.
Rylee Riesberg went 2-for-3 for the Hawkettes. Miller went 2-for-4.
"You can't carry this on. We've got to move on and take it one game at a time," Miller said. "We play two games (Friday at the Ottumwa Invitational), and we're looking forward to that. i know we can come out with a win, and we're looking forward to the postseason. We're really good as a team when we put all of our hits together."
The Jaguars will play two games on Friday at the Dallas Center-Grimes Invitational.
"It's a lot more enjoyable with the energy we have now than we did a week or two ago," Stahr said.