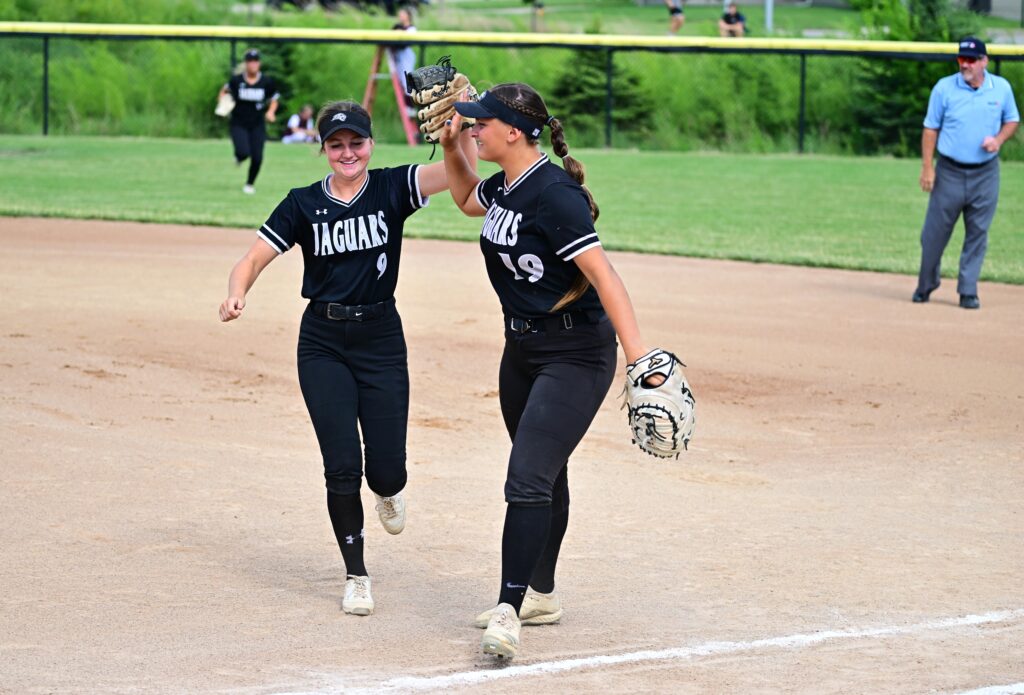 Riding the momentum of its doubleheader sweep over Ankeny on Thursday, the Ankeny Centennial softball team won a pair of games at the Dallas Center-Grimes Invitational on Friday.
The sixth-ranked Jaguars used a three-run rally in the bottom of the sixth inning to post a 4-3 victory over ADM (Adel), the No. 1 team in Class 4A. ADM lost for only the fourth time in 33 games this season.
Centennial (24-12) tied the score on a two-run single by Claire Suarez, who hit a walk-off homer the night before to complete the sweep over the Hawkettes. Suarez then raced home with the winning run on a walk-off single by Payton Drefke.
Jadeyn Stahr (12-4) tossed a seven-hitter to earn the victory. She had four strikeouts.
Drefke went 2-for-4 for the Jaguars, who have won five straight games and 10 of their last 11. Addi Starr had an RBI double in the fifth inning off losing pitcher Allya Yanga.
Yanga hit a two-run homer in the first inning to give ADM an early lead. Ella Grossman later knocked in a run in the top of the sixth to make it 3-1.
Earlier, Centennial overcame four errors to defeat North Polk, 12-7. The Jaguars pounded out 11 hits in the win.
Lizzy Klunder led the way, going 2-for-3 with a pair of doubles and five RBIs. Sydney Morris drove in two runs.
Lauren Gustofson went 2-for-3 and scored twice. Drefke, Jordyn Kennedy, Cora Boyle and Alee Edwards each knocked in a run.
Gustofson (7-5) allowed two earned runs over the first four innings. Kennedy then tossed the final three innings, allowing just one unearned run on two hits.
The Jaguars will close out the regular season on Tuesday with a CIML Iowa Conference doubleheader at Mason City (10-22). They swept the River Hawks by identical 12-0 scores on June 15.
Centennial needs just one win to finish in sole possession of third place in the league.