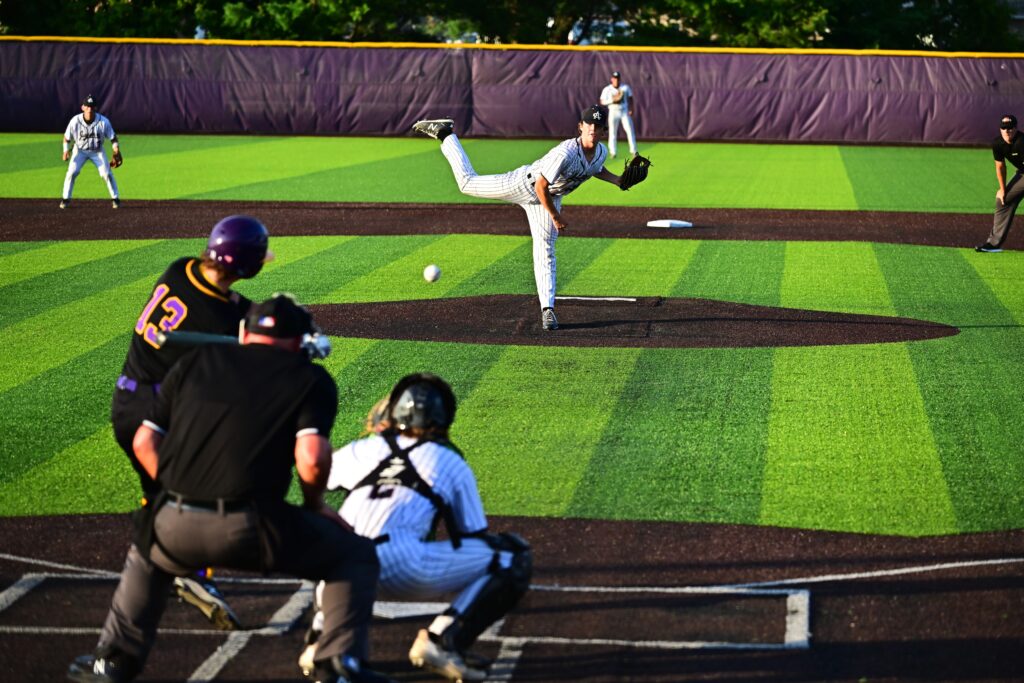 Sophomore pitcher Joey Oakie was one of the stars of the Ankeny Centennial baseball team. He posted a 3-3 record with a 1.92 ERA and a team-high 63 strikeouts this season. He also batted .347 with one home run, six doubles and 21 RBIs.
Here is a Q & A between Ankeny Fanatic publisher Dan Holm and Oakie, who was planning to attend the Class 4A quarterfinal games on Tuesday in Iowa City:
Holm: Congratulations on an outstanding season. Before I get your thoughts on your season, I wanted to ask you a couple of questions about the state tournament since you'll be in Iowa City. Who do you think is going to win the title?
Oakie: I think all of the teams are really good, but I think Johnston might be able to take (the trophy) out. They have so much depth with their pitching. They're a good team.
Holm: I think you're going to see some good games, and I think the 4 vs. 5 matchup between Waukee and Waukee Northwest is definitely intriguing. How crazy is it that in the first season of Northwest's existence they make it to state and they have to play their crosstown rival?
Oakie: That's crazy. That's going to be a crazy game. It's going to be a great environment.
Holm: I think Dowling Catholic could be a dangerous No. 6 seed as well. I know a couple of the Maroons' top pitchers were hurt for much of the season, but as I understand it, they might be back now. You actually got one of your wins against Dowling on June 24, tossing a six-hitter in a 6-3 victory. Do you think that is a team that is maybe capable of making it to the title game and possibly winning it all?
Oakie: Yeah, they're a very good team. They've got very good pitchers, and with their pitchers coming back, they're a very dangerous team.
Holm: Well, let's talk about your season now. You obviously were at your best during the postseason when you had two great outings. The first one came in a substate quarterfinal against Fort Dodge on July 8, when you tossed a one-hitter and struck out 14 of the 15 batters that you retired as the Jaguars posted a 10-0 victory in five innings. You were pretty much blowing the hitters away that night. Did you kind of feel like you were almost unhittable?
Oakie: Yeah, especially with all of my pitches working, and (catcher) Nick (Severson) calling a great game, I felt like they couldn't touch me.
Holm: You then pitched again in the substate final, but your team wouldn't have even made it that far without a thrilling rally against Mason City in the substate semifinal last Monday. You guys were down to your last three outs against lefthander Carter Thomas, but then you got a rally going and Damin Churchman came through with a two-run single to give you guys a 2-1 walk-off victory. How much fun was that celebration afterwards? It doesn't get much better than that, does it?
Oakie: Yeah, it was an amazing game. Carter threw a really great game. He was throwing really well, and then we finally got some hits going the last inning to rally and win.
Holm: Then on Wednesday your team went over to Johnston and faced a huge challenge, going up against the top-ranked Dragons in the substate final. Now Johnston entered the game with just four losses, but I got the sense that your team entered the game with a lot of confidence, especially with you on the mound with the way you've been pitching. How much confidence did you have going into the game?
Oakie: I had a lot of confidence. I knew I was going to throw a good game, and my hitters were going to hit the ball and score some runs. It was just unfortunate how we lost, but it was a very good game and I'm proud of my team.
Holm: Did you kind of feel like you guys had nothing to lose going over there, since most people probably thought Johnston was going to win?
Oakie: Yeah, we also knew that we were one of the best teams in the state. We knew that we could beat them, and we just had all the confidence in the world.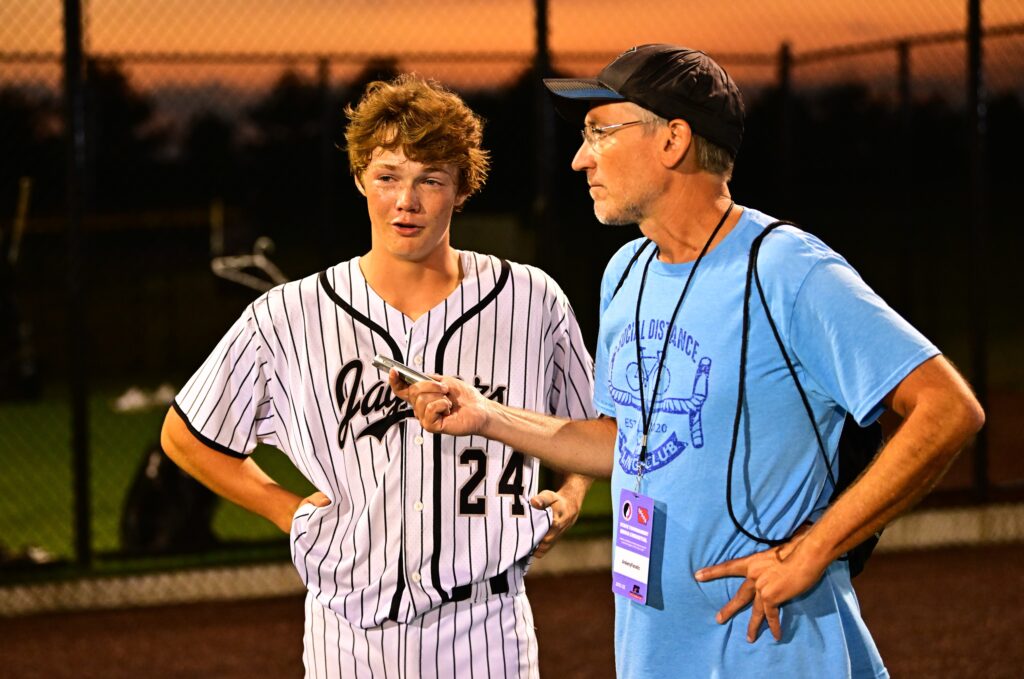 Holm: You certainly did your part in that game, allowing just two runs on four hits over 6 1/3 innings and recording 11 strikeouts. Did you feel like your stuff was as good as it was against Fort Dodge?
Oakie: Yeah, I felt like all of my pitches were working, and I thought I had a lot more velocity, too. I worked with Nick, and all of my locations were working really well. It all came together.
Holm: The only runs that you allowed came on RBI doubles by Tyne Weeden in the second inning and Michael Siemer in the third. Now the hit by Siemer came on an 0-2 pitch, so I'm guessing if you could have that pitch back, you'd probably throw something that was a little less hittable, wouldn't you?
Oakie: Yeah, I gave him a fastball and left it a little over the plate. He made me pay for it.
Holm: You guys got down 2-0, but you were able to battle back in the last two innings to tie it up against Johnston's bullpen. Now the Dragons used four pitchers in that game, even though the first two guys tossed a combined five shutout innings. Were you surprised at all that they used that strategy?
Oakie: I was a little bit surprised, but at the same time they had all of their pitchers ready because they hadn't played in five days. I could see it coming, and we handled it very well. We made our adjustments in the final innings.
Holm: Unfortunately, Johnston scratched across a run in the bottom of the seventh to win the game, so your team finished the season with a 25-14 record. But with you coming back next year along with almost the entire starting lineup, you have to feel really good about the prospects for 2023?
Oakie: Oh yeah, I'm really excited for next year.
Holm: Well Joey, it seemed like to me that you were throwing considerably harder this season. I saw some tweets during the postseason that indicated you were throwing in the mid-90s at times. Did it feel like your velo was consistently higher this season?
Oakie: Yeah, I felt like I put in a lot of work in the offseason, and it really showed with my velocity.
Holm: You obviously have a bright future in the game, and you've already committed to play for Iowa. Now the Hawkeyes had a very good season this year, and they were close to earning an NCAA Regional berth. Did you get a chance to go to any games this season?
Oakie: Yeah, I went to a couple of games, and it looked really fun.
Holm: Of course, former Ankeny standout Brody Brecht had a great freshman season for the Hawkeyes–he was named a freshman all-American. Now you could be in the same boat in two years that Brody was in last year, when he had to weigh whether or not to turn pro before he elected to go to Iowa City. I know it's still a long time away, but have you thought any more about the MLB draft and what you would do in two years if you have that option to go pro?
Oakie: Not really. College is a really good option, so that's what I'm leaning toward right now. It's a long ways away.
Holm: It's nice to have those options though, isn't it?
Oakie: Yeah, it is.