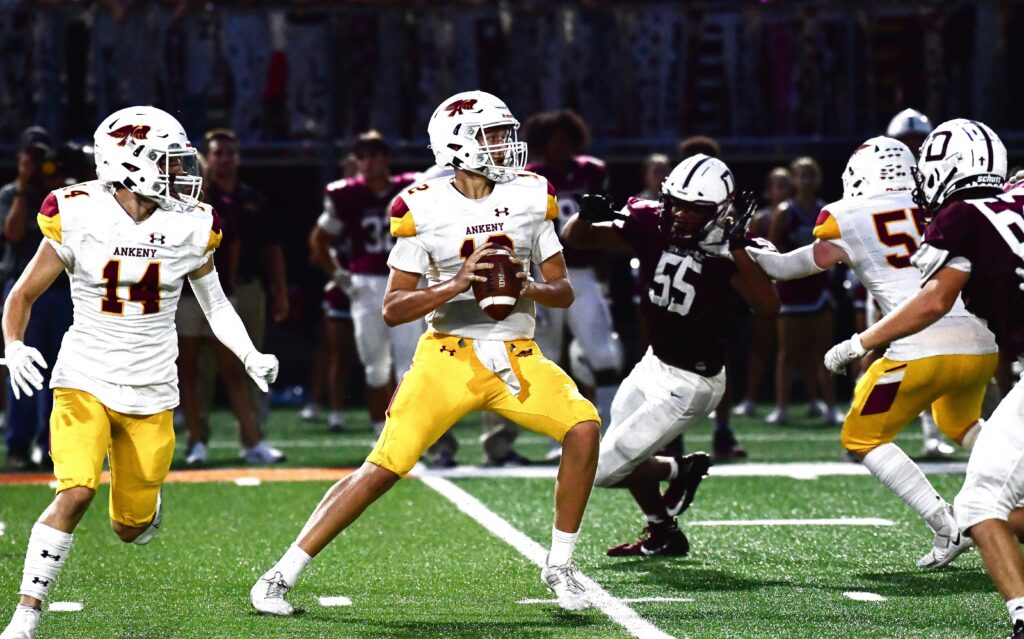 Senior quarterback JJ Kohl of the Ankeny football team is considered one of the nation's top recruits in the Class of 2023. A four-star prospect, he is now the No. 5 quarterback and No. 36 overall nationally in the latest rankings by On3 Recruits.
Kohl, an Under Armour All-American, helped the Hawks to a 10-3 record last season. He completed 143-of-237 passes for 2,185 yards and 25 touchdowns while being intercepted just three times.
Here is some inside info on Kohl:
I know you've had a busy summer. How many different camps/competitions did you go to?
I camped at both the Elite 11 and Future 50 this summer.
What was the highlight of your summer?
The highlight was helping out at my dad's scholarship (kicking) camp in Gatlinburg, Tenn., a couple weeks ago.
I know you traveled a lot. Did you have any time to relax this summer, or have you pretty much been going from one event to another?
I had some time recently to relax and enjoy the summer, but I was pretty busy until a week ago.
You've soared up the national recruiting rankings after some outstanding performances this summer. In what ways do you think your game has improved the most since last season?
I feel liked I've cleaned up mechanically a ton this offseason, and I really like where I'm at. I've also gotten a lot of reps with my receivers over the winter and spring, which really helps.
You verbally committed in April to play for Iowa State. Has it been a big relief to get your decision out of the way?
Once I committed, I had a lot more free time to spend with my friends and family, which I've really enjoyed.
Since you committed, the Cyclones have since added several more high-profile recruits, including your teammate Jamison Patton. Did you try to steer some of those guys to Ames, and do you think your commitment helped sway some of their decisions?
I definitely tried to steer Jamo and some other guys to play with me in Ames. I also feel that being committed helped some other recruits.
You were named one of the team captains for your Ankeny squad. Are you planning to be even more of a leader this season?
I feel very honored to have been selected team captain, and I'm going to push myself to be the best leader I can be this year.
I'm sure your team's primary goal is to win a state title after placing second in Class 5A last year. Do you have any individual goals as far as touchdown passes or passing yards that you'd like to reach?
Obviously, my team goal is to win the state championship, but some of my personal goals are to pass for 3,000+ yards and 30+ touchdowns.
I think a lot of people expect your team to have an explosive offense this season. Are you confident that the team's defensive unit will again be strong as well?
I feel like our defense will have another strong year.