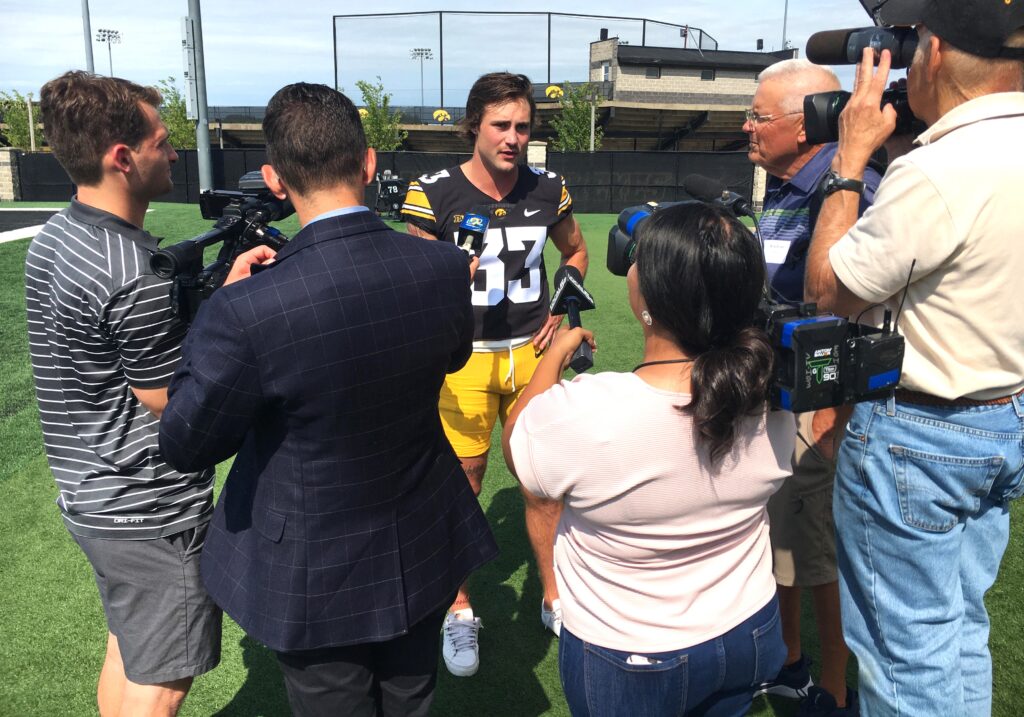 Throughout most of last fall, Riley Moss thought he was leaving for the National Football League.
Iowa's star defensive back had already accomplished about everything that he could at the collegiate level.
"I was leaning probably 75 percent of the season to leave, but when you're staring into the barrel of the gun and it's decision time, I really looked back and thought I could stay another year and grow in this area and that area," said Moss, a former Ankeny Centennial standout. "I just love playing football at Iowa, too. I look at it as a win-win. The NFL will always be there, but I only have five years to play at Iowa."
Moss participated in his final media day on Friday at the Iowa practice facility. He was one of the most popular Hawkeyes to be interviewed; 12 different outlets requested to talk to him.
Because he is taking advantage of the extra year of eligibility due to the COVID-19 season in 2020, Moss will likely become a rare five-time letterwinner this fall.
"I just want to continue to get better and grow as a player and help the team achieve our goals," Moss said. "I'm excited to get the season started on Sept. 3 (against South Dakota State)."
Moss enjoyed a tremendous year in 2021, earning first-team all-American honors from Sporting News after helping Iowa to a 10-4 record and an appearance in the Big Ten championship game. He was named the Tatum-Woodson Big Ten Defensive Back of the Year.
Moss currently ranks second on Iowa's all-time list in career interception return yards with 239. He is one of three players with three interception return touchdowns, and he is one of four players under coach Kirk Ferentz to record more than one interception in multiple games (2).
Moss, who is tied for 11th in Iowa history with 10 career interceptions, was named a preseason first-team all-American by Athlon Sports, Phil Steele and Sporting News. He was also named to the preseason Watch list for multiple prestigious awards, including the Walter Camp Award.
Moss was often picked on by opposing quarterbacks during his first collegiate season in 2018, when he was one of only three true freshmen for the Hawkeyes to not redshirt. Now, as one of the top players in the country, Moss will likely see fewer balls thrown his way as opponents try to avoid him.
Still, the 6-foot-1, 193-pound Moss said he needs to improve in order to play at the next level.
"I need to get better at man coverage and playing in the slot because they do that a lot in the NFL," he said. "I came back for a year, and I'm not going to waste this year on dumb stuff. I know what I need to work on."
Iowa is expected to boast one of the best defensive units in the nation, but the Hawkeyes were unranked in the preseason coaches' poll. Iowa has finished in the national top 25 in each of the last four years.
Moss said the Hawkeyes won't play any harder because of a perceived lack of respect.
"I don't think anyone in the facility really cares about the preseason (rankings)," he said. "That's not on our board. We play for Iowa. Do your job and play hard. That's just what we do. The preseason rankings really don't matter to us. We're just ready to play some football."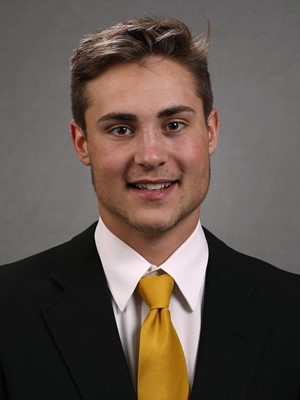 Moss was named last week to The Freaks List by Bruce Feldman of The Athletic. It's a list of 101 college players who have showcased jaw-dropping physical traits at their respective programs.
Moss said he earned the honor because of his dual-sport success in high school, when he also competed in track and set an all-time Iowa best of 13.85 seconds in the 110 hurdles. That mark has since been broken.
"Running track and playing football in high school helped with the transition to playing Division I sports," Moss said. "I think track is one of the best transitional sports you can do. It really helps with your flexibility and speed. It helped me immensely."
Moss is hoping to use his athleticism in the return game this fall. He was mentioned by Ferentz as one of the candidates to return punts.
"We've got some capable candidates, and we'll just kind of see where that goes," Ferentz said. "But you've got certainly guys like (Cooper) DeJean. You've got Arland Bruce, Riley Moss, three guys right there that have the potential to be pretty good for us back there."
Moss said he wants to do everything he can to help the Hawkeyes.
"I'm going to try to get in there," Moss said of returning punts. "I kind of threw it out there, and (special teams) coach (LeVar) Woods was like, 'Yeah, let's get you going.' I think he realized after three or four years that this kid used to return punts in high school. That used to be my cup of tea, but it's been awhile. We'll see how it goes, but I would love to do it."