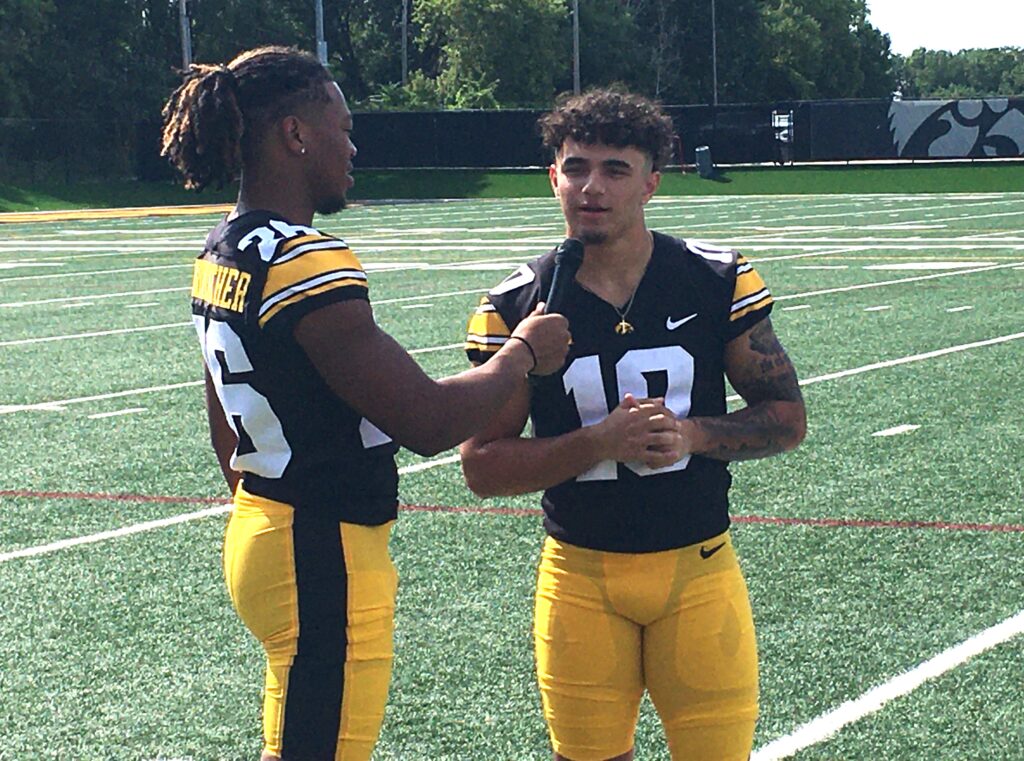 Perhaps no position group on the Iowa football team has more question marks than the wide receivers.
A trio of former Ankeny stars–Arland Bruce IV, Brody Brecht and Jordan Kumm–will try to provide some answers.
Bruce, a sophomore, is currently listed at a second-team spot behind senior Nico Ragaini. Brecht, a redshirt freshman, and Kumm, a sophomore walk-on, are trying to work their way up the depth chart.
Iowa's strength at the position took a hit in the offseason when veterans Charlie Jones and Tyrone Tracy both transferred to Big Ten Conference rival Purdue.
"I want to coach the guys who want to be here," said Kelton Copeland, the Hawkeyes' wide receivers coach. "I'm really excited about this group. It's a huge opportunity for all of these young men to come out and showcase what they can do on a day-to-day basis."
Injuries have also taken a toll on the receivers group. Sophomore Keagan Johnson, a projected starter, has been hobbled by an ailment–and so has Brecht.
"Injuries have been part of the deal there, predictably," said Iowa coach Kirk Ferentz. "Hopefully we're making progress, but seeing really good performances from Nico, our most veteran guy, and then Arland Bruce has done a really good job, too.
"Keagan is working back. I think he's close to being where he needs to be, and hopefully the same thing with Brody. They're the two guys that have missed the most time now," he added.
Brecht and Bruce were two of the stars on Ankeny's state championship squad in 2020. While Brecht sat out last season as a redshirt after suffering a thumb injury during fall camp, Bruce earned some playing time as a true freshman and helped the Hawkeyes to a 10-4 record, including a trip to the Big Ten championship game.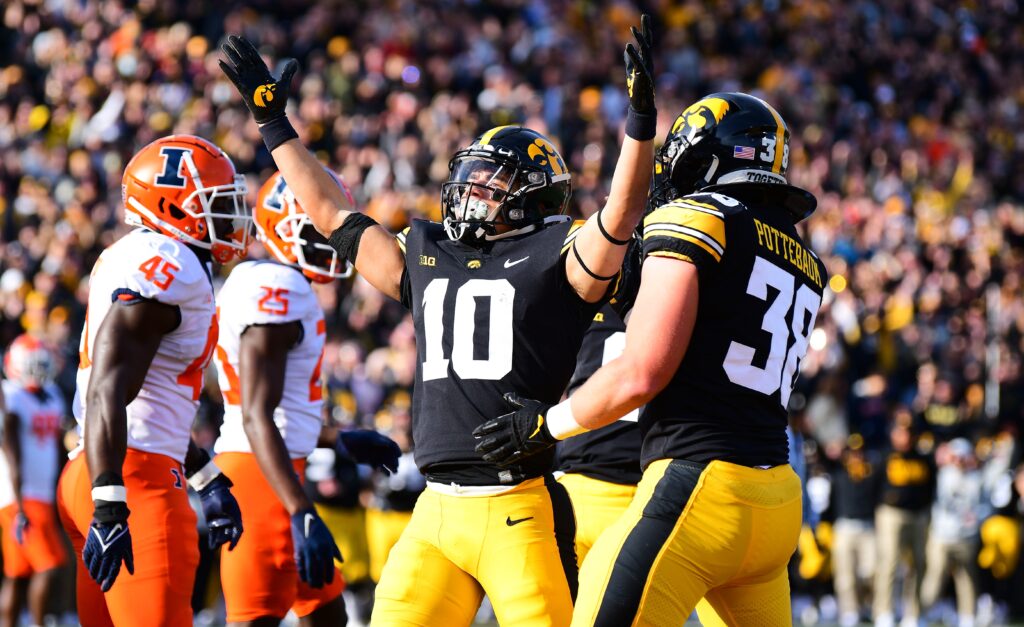 "Arland is one of those dream kids," Copeland said. "I don't want to put too much glamour and glitter on him and put him on a pedestal, but he's what you ask for in coaching. He's a low-maintenance kid who is really talented. He shows up with the right mindset every day.
"I'm excited to watch him continue to progress," he added.
Bruce caught 25 passes for 209 yards and a touchdown in 2021. He also ran 10 times for 65 yards and three scores.
"I feel a lot more comfortable and a lot more confident," Bruce said. "I know what I'm doing. I've gotten closer with the quarterbacks. I've had to step up as a leader in the receiver room, and I'm just looking forward to this year."
Tight end Sam LaPorta, who led the team last year with 53 catches for 670 yards, is again expected to be quarterback Spencer Petras' favorite target. But Bruce said the wide receivers are ready to make a bigger impact than last year, when the Hawkeyes averaged 23.4 points per game.
"Nico, Keagan and I have all had to step up earlier than we thought we would, and that's fine," Bruce said. "Each year you want to improve and take that next step. That's completely fine with each one of us."
Bruce is also hoping to contribute in the return game. He is battling Cooper DeJean and former Ankeny Centennial star Riley Moss to replace Jones, who was one of the nation's top punt returners last season.
"I'd love to return punts," Bruce said. "With a guy like Cooper, it just makes you work harder. He's going to work just as hard or harder than you. I've been working with (punter) Tory (Taylor) all summer catching punts, and it's been great."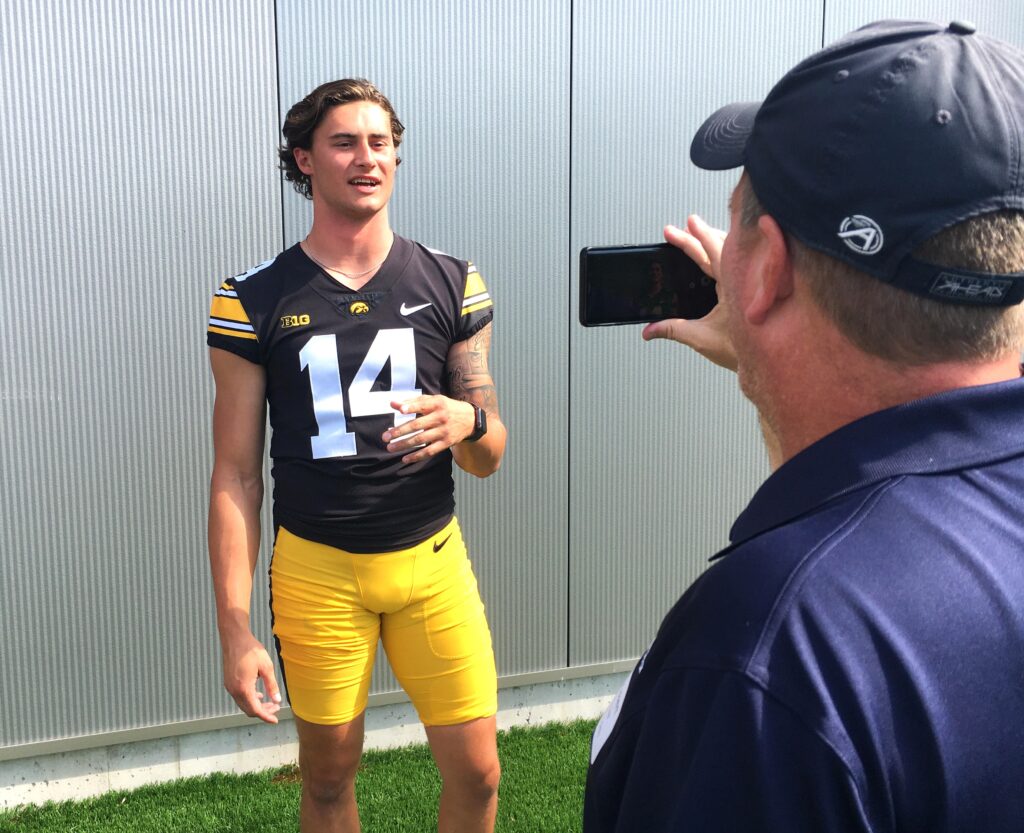 Brecht, meanwhile, is still adjusting to being a dual-sport athlete at the Division I level. He missed most of spring practice while playing baseball for the Hawkeyes.
The righthanded pitcher earned freshman all-American honors after posting a 3.18 ERA in 17 appearances.
"Brody has done a really good job of (playing two sports), which we all know is not easy," Copeland said. "He knew it was going to be a challenge going back to high school when we were recruiting him, and I've been telling him since then that if that's his dream, my job and my priority is to help him reach those goals. He had a good baseball season, obviously. Now, I want him to do the same thing in football.
"He's had a minor setback (with his injury), but he's doing everything he can to get back on the field. I think he'll be back sooner rather than later," he added.
Brecht described it as a minor injury.
"It sucks being out, but I'll be back this week hopefully," he said. "It's a lot less severe than last year. I've been rehabbing and should be good to go soon."
Brecht is planning to play both sports for two more years before he could be selected in the 2024 MLB amateur draft, when he would likely again have the opportunity to pursue a pro baseball career. He turned down a reported seven-figure signing bonus last year in order to continue playing football.
"It's harder than I thought," Brecht said of juggling the two sports. "I knew it was going to be hard. The biggest thing is just the toll mentally and physically. It's a lot of time. A lot of back-to-back days. Late nights, early mornings. But I've had a lot of fun. It's been a blast.
"We know how to handle it now. We have a year under our belt. So I think it'll be easier the next couple of years," he added.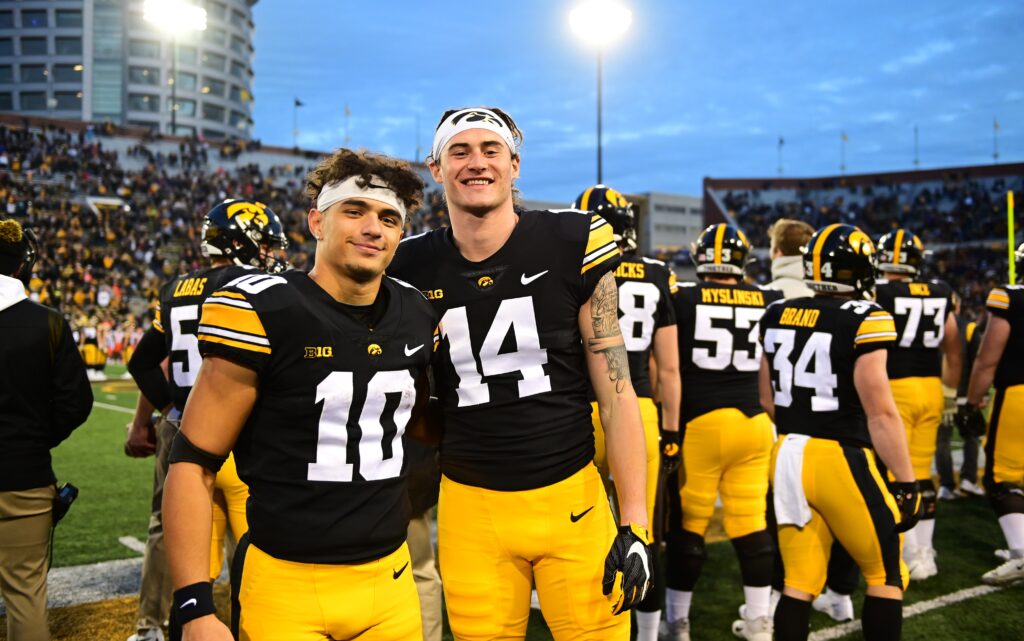 Brecht has been spending a lot of time in the film room to master the Hawkeyes' offense. He wants to be able to play any of the receiver spots–and not just the "X" position that he focused on last year.
"I've gotten really close to (fellow receiver) Jack Johnson. We go over film every night," Brecht said. "I feel like when I'm healthy and I get back out there, I won't miss a beat. These last few months I've really focused on the whole concept of the plays. If I need to slide to 'Z' or 'F' or whatever, then I'll know what to do.
"Whatever the team needs me to do, I'll do it. I think we have a great opportunity in front of us as a room. There's a lot of potential there to help our offense take a step forward. If I can be a part of that, I'd love to do that," he added.
Brecht said he is more physically prepared to play than he was last season.
"Physically and mentally I've grown a lot," he said. "I've taken advantage of the awesome strength staff here. I just feel like I'm more physically ready to compete at this level. I was really skinny last year, and I've put on a lot of weight since then.
"I just want to help any way I can, whether that's special teams, 'X' receiver, whatever it is. I'll do whatever the coaches ask me to do," he added.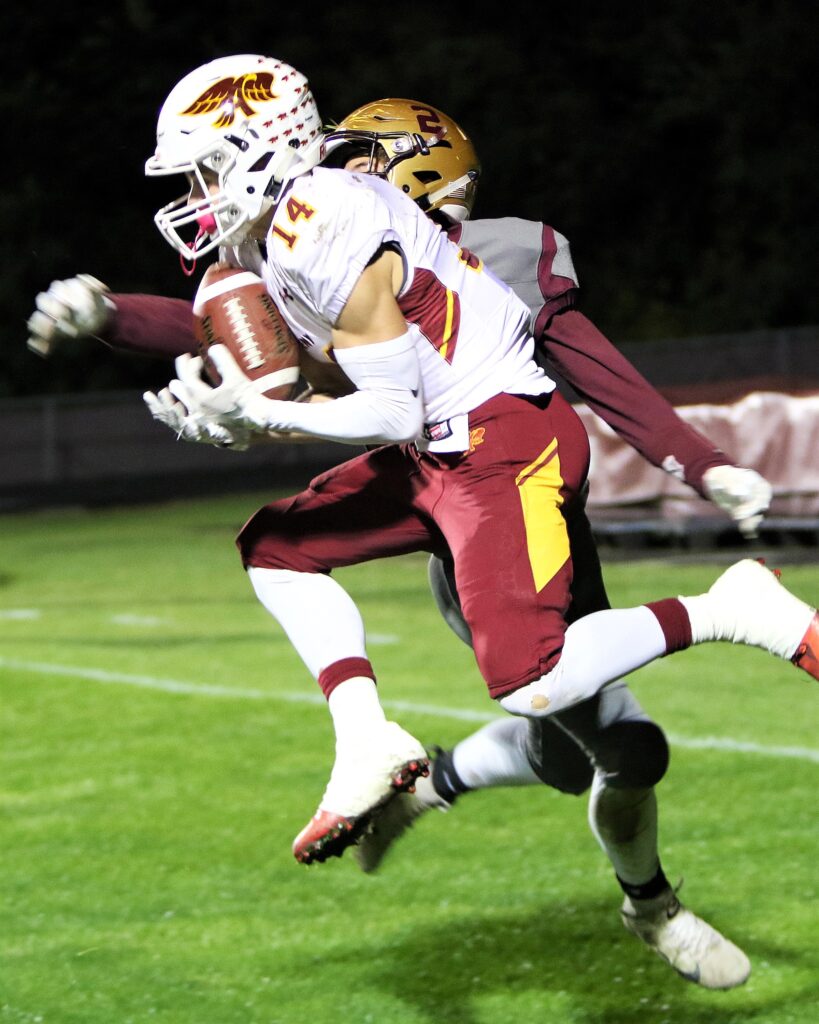 Like Brecht, Kumm is trying to learn the Hawkeyes' system after spending two years at Iowa Central Community College in Fort Dodge. The 2019 Ankeny graduate caught 29 passes for 380 yards last season.
Kumm joined the Iowa program as a preferred walk-on, which created a friendly rift in his family.
"My family was split between Iowa State and Iowa (fans)," he said. "Some of my family members were happy and some of them gave me a hard time, but in the end they were happy."
The transition from the junior college level to a Power Five school has been an easy one for Kumm.
"I don't even really know if it's an adjustment," he said. "It's just kind of a shock all the things they have here and all the tools they have for you to succeed at this level. I haven't experienced that before, so it's been nice."
Copeland, whose first full-time job was at Coffeyville Community College in Kansas, has been able to easily relate to Kumm.
"I know what the juco life is like. We called it juconese back in the day," Copeland said. "There's a certain type of lifestyle that a guy has to live at a juco, so when a man comes out of that scene and gets into this environment, there can be some hurdles. But with Jordan, to be honest, it's been pretty seamless. There haven't been any issues with him.
"He's taken to coaching well, and it's my job to teach him the system and to help him get out there and be able to perform. He's doing a really good job," he added.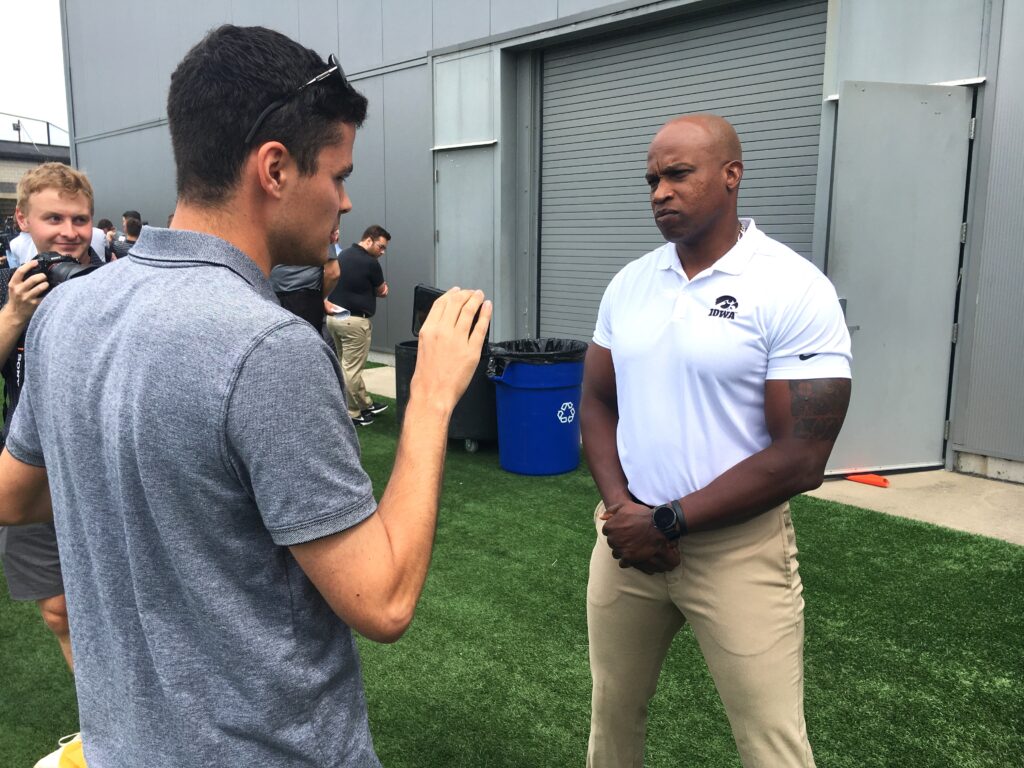 Kumm has been reunited with Brecht, his teammate on the Ankeny squad that reached the Class 4A quarterfinals in 2019.
"It's cool to have another Ankeny guy here," Brecht said. "We sit next to each other in the room. It's cool to have another guy that I played with (in high school)."
Moss started the parade of former Ankeny players to Iowa City in 2018. He began his career as an overlooked recruit before turning into a star, so he can relate to Kumm's current situation.
"I've talked to him a couple times," Moss said. "You've just got to keep your head down and keep working. You're kind of the underdog, but that's where we like to be."
Kumm may have started his Iowa career at the bottom of the depth chart, but the combination of defections and injuries could give him an opportunity to make an impact sooner than expected.
"We've got a great group of guys," he said. "It's football and injuries happen, so it's the next man up and I think our receiver room is deep. When it's your time to step on the field, I think all of us will do a great job out there."
If he's called upon, Kumm said he will give a maximum effort.
"I've just got to go out there and play to the whistle every time," he said. "Catch the ball when it's thrown to me and just execute. Attack my assignments with 110 percent effort."