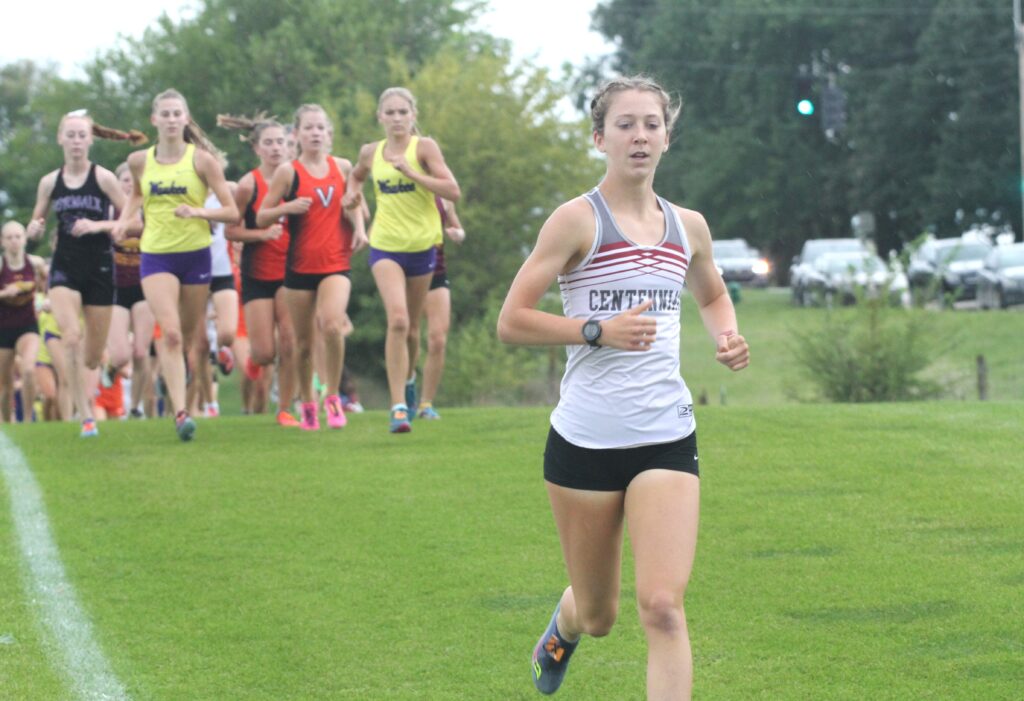 The Ankeny Centennial girls' cross country team discovered last season that the gap between the top squads in Class 4A isn't very large.
The Jaguars placed 10th at the state meet with 188 points, the second-lowest total in school history. Only 47 points separated the team from third place.
"A year ago, we took part in the closest finishing state meet in the past 26 years I have data from," said Centennial coach Eric Cogdill, whose team was coming off a third-place finish in Class 4A in 2020, its highest finish ever. "Any of those eight teams could have finished third if things had broken their way. The varsity girls have set big goals this year of finishing on the podium (top three). They've been building toward that since winter. And, based on the improvement I've seen from this spring and summer, I could make the argument that this year's girls would have finished second in last year's state meet."
Centennial returns six of its top seven runners. Kendall Jorgensen, the team's No. 7 finisher, was the only runner who graduated.
Senior Rondi Quass and junior Anja Peck are back along with sophomores Julia Flick, Bella Hodges, Anika Mohrhauser and Tillie Smith.
"All six of those girls qualified for state in a second sport and three of them (qualified) in three sports," Cogdill said. "Additionally, junior Lauren Reimer competed at state two years ago."
Quass, one of the state's best distance runners, is a two-time top-15 placewinner. She took 14th at the state meet as a sophomore, then finished eighth last year in a time of 18:44–improving her time by 10 seconds despite running on a soggy course in windy conditions.
Quass placed in the top five at six of the 10 meets last season. She was the runner-up in the Bud Williams Invitational at Iowa City, then later took third in the CIML Iowa Conference meet.
Quass placed sixth in a regional meet at DMACC, where she led the Jaguars to the team title. She broke her own 5k school record with a time of 18:32.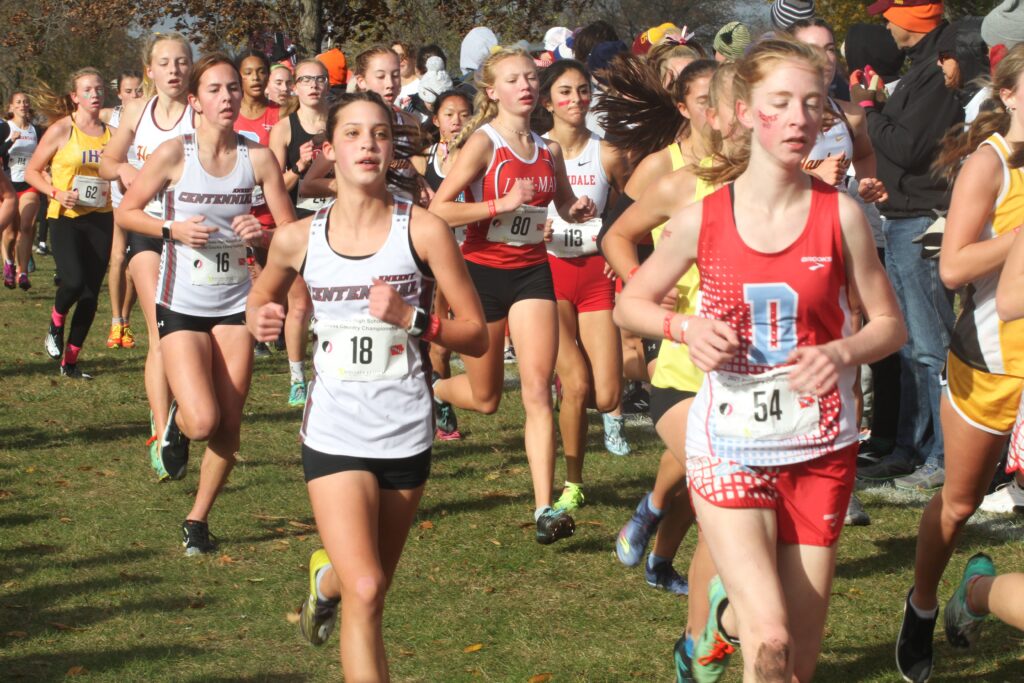 Mohrhauser improved throughout her freshman year and became the team's No. 2 runner at the end of the season. She placed seventh at the regional meet, then finished 39th at state in 19:49.
Hodges placed eighth at the conference meet in 19:52, helping the Jaguars to a second-place finish. She later took 48th at state in 20:05.
"I'd put our top three girls up against any top three we've had in school history, and so it's going to come down to how close our 4-5-6-7 girls stick to those three," Cogdill said.
Peck was 51st in Class 4A in 20:07, Smith placed 80th in 20:37, and Flick finished 87th in 20:46. Centennial posted an average time of 19:52 with a spread of 1:52.
Peck, who is also a standout on the Ankeny girls' swimming team, will continue to juggle both sports this fall. Many of her teammates are also dual-sport athletes.
"Welcoming 79 girls brings the expected challenges of being a super squad, but beyond that over half of those girls are either in a second sport (school or club) or back to school fine arts camps (show choir or marching band)," Cogdill said. "We are really supportive of each individual runner's needs and pursuits so those extra commitments keep them bouncing back and forth or having excused days off to ensure adequate rest and recovery. One thing that I have been particularly happy with is I have noticed an intensity among all the groups that the girls are seeking to get the best out of themselves and an unwillingness to settle."
Freshman Kylee Patterson is another dual-sport athlete who could make a big impact for the Jaguars.
"Kylee was a high-level runner a year ago, finishing 12th at the middle school state meet while also splitting time with volleyball. She was sixth in our time trial and is playing volleyball again this fall, too," Cogdill said. "Additional girls who are currently training in our top squad are senior Cam Hershberger–who has multiple years of varsity race experience–along with sophomores Haley Hveem and Tallie Plueger, and freshmen Maizie Smith (Tillie's sister), Emily Conger and Piper Zeman.
"I predict we will have close to a dozen girls see varsity action this season," he added.
The Jaguars will open their season on Aug. 25 by hosting the Centennial Invitational at DMACC. The meet will be the first step in a long journey to the state meet at Fort Dodge.
Cogdill said he expects another close battle in Class 4A.
"Of the three teams that took home trophies, only Pleasant Valley graduated a scoring runner," said Cogdill, whose team is ninth in the preseason rankings. "In fact, only one team from the top 11 graduated more than one scoring runner. So, like always, that top three is going to be hard to break into. I would expect our squad to be a top 10 team and if the season plays out like a year ago, they will have a chance to meet their goal in what should be an even tighter state meet than 2021."