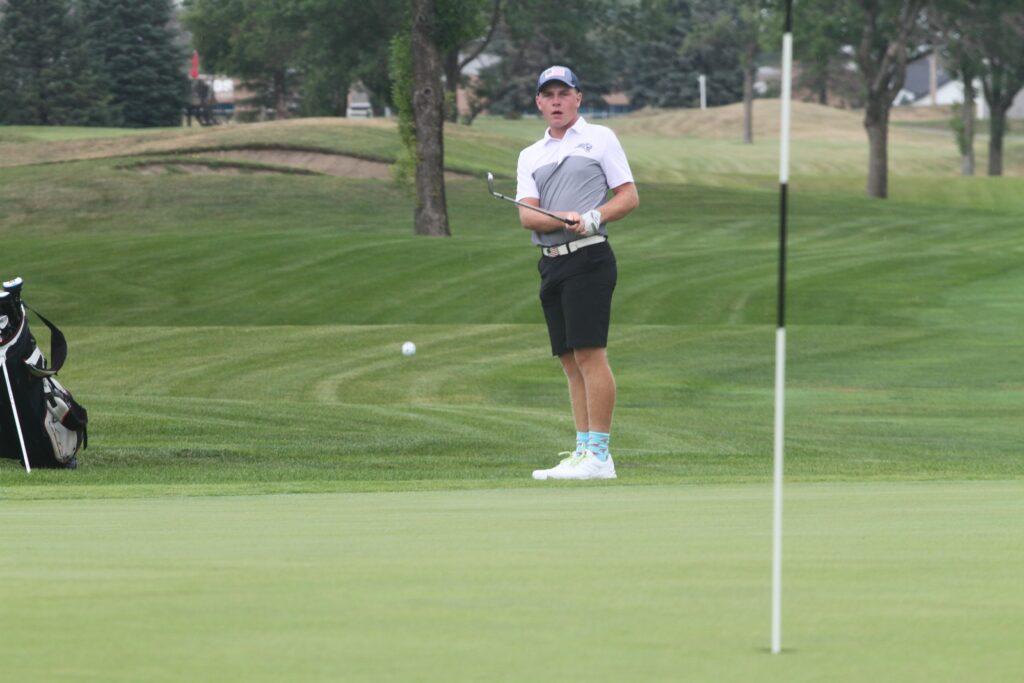 Senior Lawson Hachmeister helped the Ankeny Centennial boys' golf team to a runner-up finish in the Jesse Peck Invitational on Aug. 15 at Briarwood Golf Club. He carded a 77 to place 10th as an individual.
On Wednesday, Hachmeister shot a 1-over-par 73 to finish fifth in a triangular meet at The Legacy Golf Club in Norwalk. He had five birdies for the Jaguars, who lost to Waukee Northwest by 23 strokes and also fell to Dowling Catholic on a tiebreaker.
Here is some inside info on Hachmeister:
First of all, I have to ask you a personal question. You wear the most colorful socks of any golfer that I've ever seen. How did that tradition start, and do you have a favorite pair?
The tradition for the long colorful socks started when I was 13 or so when I had completely run out of white socks. Rather than go without socks, I put on colored socks and it's been my thing since. My favorite pair is definitely the USA-themed socks.
Did you play in very many events over the summer?
I played a total of 29 tournament rounds of golf.
How is the season going thus far? Have you been happy with how you have played?
My season has gone really well. I've been quite consistent, and improved my ability to grind my tougher rounds out. I would say that I'm reasonably happy about how I've played. I definitely have had a few rounds that I wanted to finish sub-par but couldn't hold on.
What is the best part of your game right now?
It is without a doubt my chipping/wedges.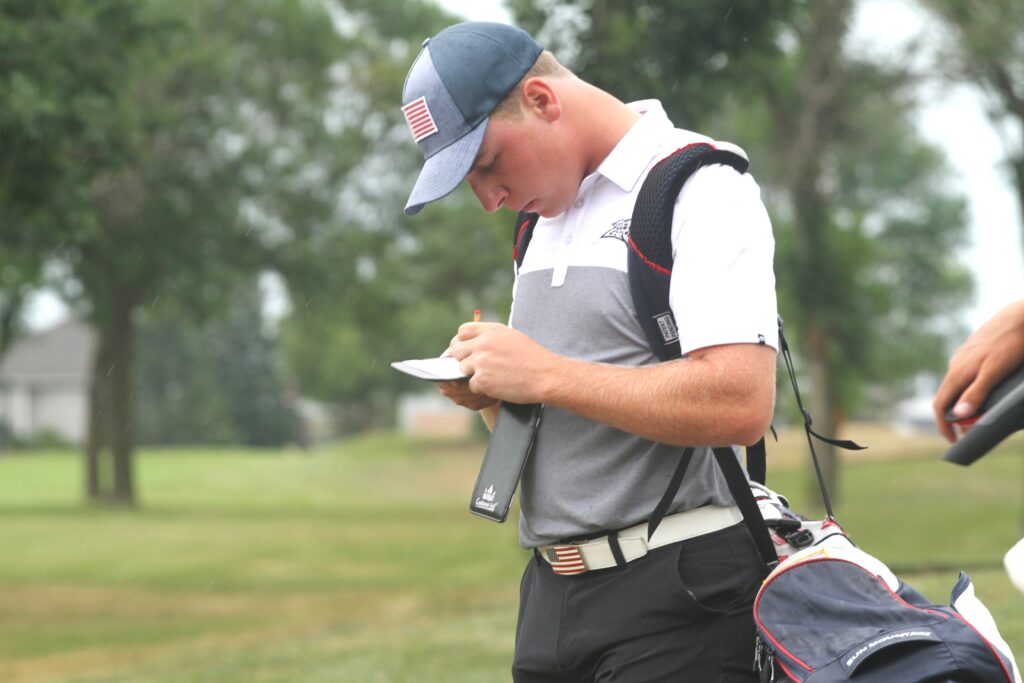 Do you like what you have seen from your team?
The team this year is very talented. We have players that can easily shoot around par or better. Now to start off the year we haven't had our best game, but I still have high hopes for the team.
Your squad has already played two of the best teams in the CIML Conference–Southeast Polk, which won the Peck Invitational by six strokes, and Waukee Northwest. After seeing the Wolves shoot a 290 on Wednesday, do you think they are a team that could contend for the state title?
That's definitely great golf played by the team, and I think if they or any team shoots scores like that they will be a contender for a state title.
Your team will face Southeast Polk again on Monday in a triangular meet at Copper Creek, where Valley will also participate. What is the key to having success on that course?
The key to playing a course like Copper is really course management. There are a lot of birdie opportunities and holes that can turn into double or triple bogey holes if you try to force shots or just hit poor shots.
What are your goals for the rest of the season–both as a team and as an individual?
My goals for the team are to win districts and make it to state. As an individual, I would like to have some scores that are below par and in the 60s.
The state meet will be held on Oct. 7-8 at Elmcrest Country Club in Cedar Rapids. Have you ever played that course, and if not, do you know much about it?
I have never played Elmcrest and I don't know anything about it, but I do plan on playing it closer to when we play districts and prepare for state.
Plans for next year? Will you play golf in college?
My plans for next year involve moving to a more adequate climate for year-round golf in college. And I'm currently in talks with a few different colleges.