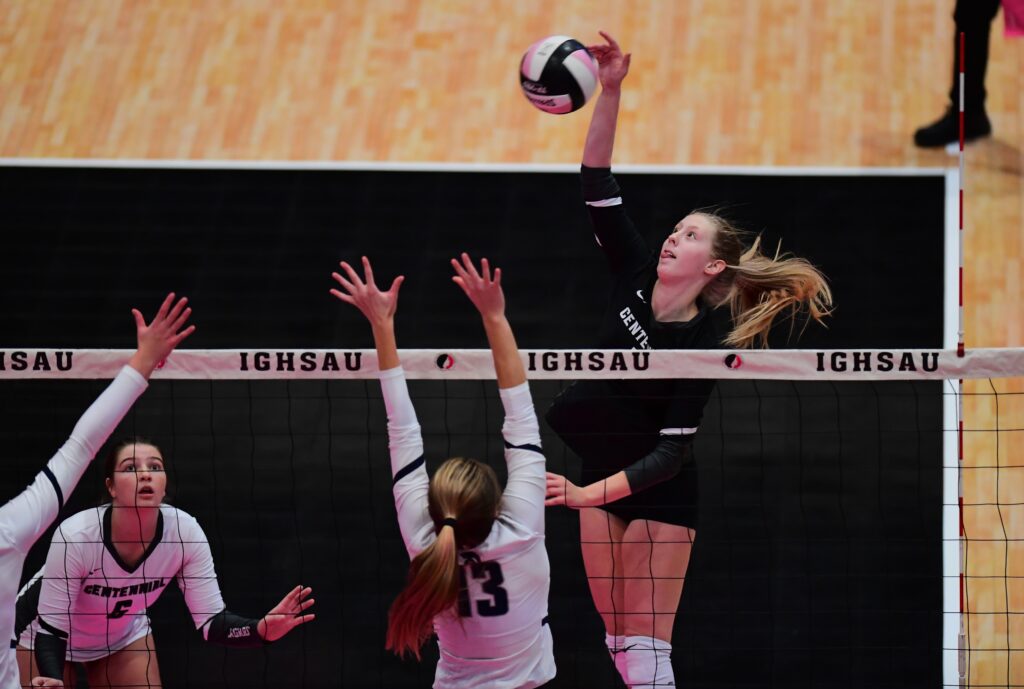 Throughout most of her tenure as the Ankeny Centennial volleyball coach, Jessica Rinehart has had some of the state's best players on her roster–from Jaali Winters to Kenna Sauer to Devyn Robinson just to name a few.
Now, the Jaguars will head into the 2022 season without even one returning all-conference player.
Centennial posted a 30-10 record last year and qualified for the state tournament for the eighth time in nine seasons, but several standout seniors graduated from that squad. Middle hitter Monica Mirembe twice earned all-state honorable mention and was joined on the CIML Iowa Conference first team by outside hitter Olivia Anderson and setter Morgan DenBeste, while libero Ella Becker and outside hitter Marissa Meyer were second-team all-conference picks for the Jaguars–who shared the league crown with Ankeny and Waukee Northwest.
"Although we graduated a lot of seniors, we do have several players back who are now in their third year of playing varsity," said Rinehart, who needs 14 more wins to reach the 300-victory mark for her Centennial career. "That does not typically happen in our program. They bring a lot of experience, and in addition, the majority of our squad has seen some varsity time and they know what it takes to compete at this level. This is not one of our more inexperienced squads."
Centennial will be part of the new CIML Conference this season. The league consists of the nine Des Moines suburban schools.
"Our conference is going to be tough, and there are a lot of good teams throughout 5A," said Rinehart, whose team is 11th in the preseason rankings. "I believe it's going to be a battle from start to finish, but I think our people are ready."
Seniors Reagan Angus, Taylor Bechen, Kendra Kasperbauer, Hannah Kurth and Delainey Winkel are all back for the Jaguars along with sophomore Jaeden Pratt.
Winkel, an outside hitter, is the team's most experienced player. She racked up 141 kills, 79 digs and 18 blocks as a junior.
Kasperbauer, an outside hitter, moved into a larger role in 2021 after Anderson suffered a season-ending injury. She contributed 48 kills and 49 digs.
Kurth, a middle hitter, had 22 kills while posting a .188 hitting percentage. Pratt, a middle hitter, added 17 kills.
Angus, a setter, will likely take over the spot that was vacated by DenBeste. She had 31 assists, 124 digs and 23 aces a year ago.
Bechen, a defensive specialist, could become the Jaguars' libero. She totaled 184 digs last season.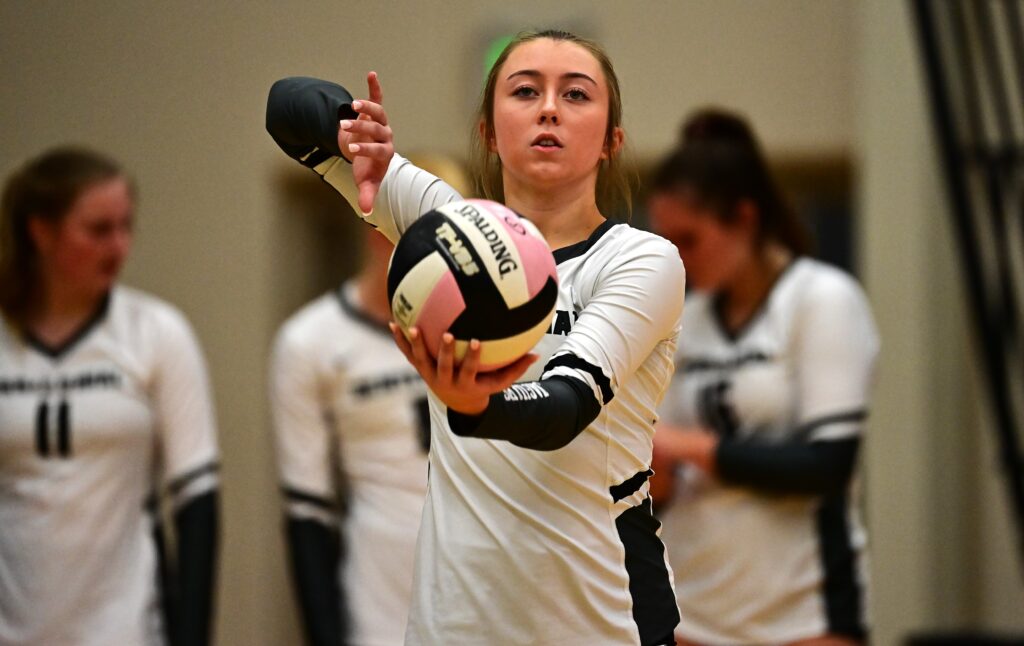 Bechen was also one of the team's best servers. She completed 238-of-243 serves (97.9 percent) and had 12 aces.
"Reagan, Taylor and Delainey have all really stepped up into leadership roles," Rinehart said. "They've done a great job of setting the tone and expectations for the season. They've been very consistent in their play and leadership both on and off the court. I know the team looks to them and trusts them to lead the way."
Pratt spent much of her summer playing basketball and is receiving Division I interest in that sport. Now, she will try to become a bigger force on the volleyball court.
"Jaeden in the middle is one of the fastest players Centennial has had," Rinehart said.
Two newcomers, Anna Sash and Emma Leitchi, could also play a big role in the middle.
"They are all dynamic hitters and put up a huge block," Rinehart said.
On the outside, Delaney Miller and Jada Schmidt are also battling for playing time. They were both on the varsity squad last year.
"Those two have made a big impact," Rinehart said. "Delaney played with the High Performance team this summer and has come back ready to play. Jada has a huge vertical, can hit over the block and also puts up a nice block on the right side."
Centennial will open its season on Tuesday by competing in the Dallas Center-Grimes Invitational. The Jaguars will then host the Centennial Invitational on Saturday.
"The keys to success for this team will be everyone doing 'their job'," Rinehart said. "We have great players in every position, and we feel if they each just do their piece this team can do big things. As with every season, our team is going to have to be resilient and able to fight."