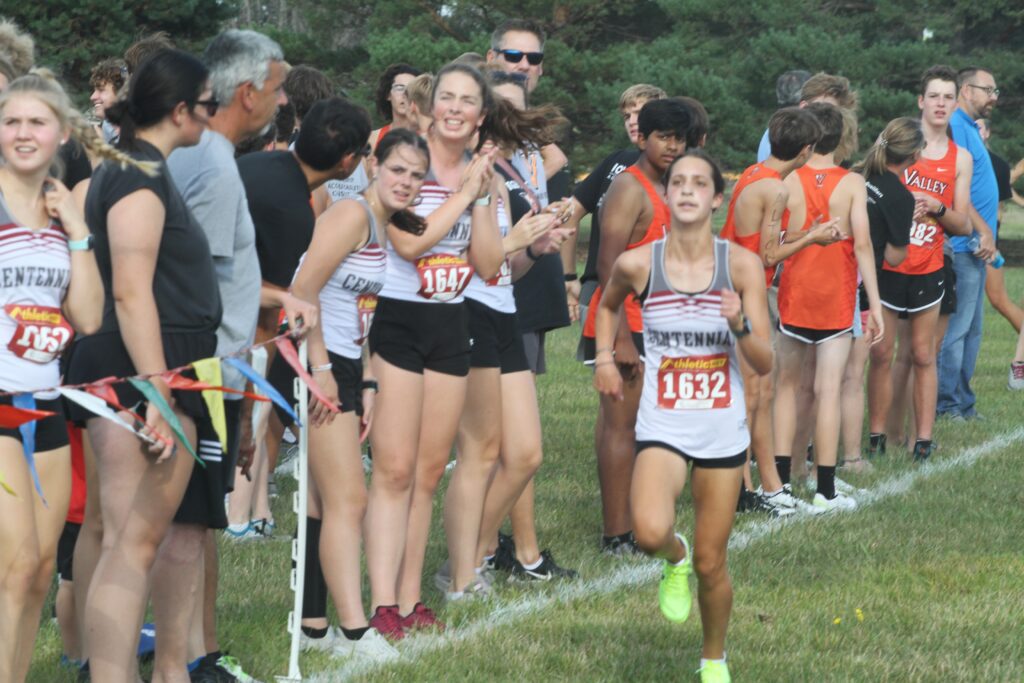 Sophomore Anika Mohrhauser is one of the top returning runners for the seventh-ranked Ankeny Centennial girls' cross country team. She was 30th in the Class 4A individual preseason rankings.
On Thursday, Mohrhauser opened her season by placing second in the 9/10 race in the Centennial Invitational at DMACC. She covered the 5k course in a time of 18 minutes 52 seconds, finishing about 7 seconds behind Valley's Greta Bergman.
Mohrhauser led Centennial to the 9/10 division title. The Jaguars finished one point behind Valley for the overall crown when the results of the two races were merged.
Here is some inside info on Mohrhauser:
Were you happy with your first race of the season?
Yes, it felt good to get out and race again. My goal was to finish in the top three, and I was able to do that.
Coach Cogdill said he believed that you had a shot to win the race. What was your pre-race strategy?
My plan was to try and stick with Drew Beason (of Ankeny). She has always been tough competition for me, and I knew she would challenge me to the finish. I knew there was a good Valley freshman coming in, so I didn't know what to expect from (Bergman).
You finished ahead of Beason, who was eighth in the Class 4A preseason rankings and placed 11th at last year's state meet. Does that give you a big confidence boost?
Drew had a strong start and pushed me through most of the race. I can't wait to see how we continue to push each other throughout the season.
I understand that you had a tremendous summer of training. Do you know how many miles you ran?
I ran 364 miles during summer cross country camp.
Do you feel like you are in the best shape of your life?
Coach Cog put together a great summer training program for me that helped me improve my endurance and speed. I worked really hard trying to stick to his program and hopefully we will see my work pay off this season.
Your teammate, Rondi Quass, is a two-time state placewinner. Have you learned a lot from training with her?
Rondi is a motivating and hard-working teammate. She encourages me to work hard and pushes me to be a better runner. I enjoy the conversations we have while going on runs together. Rondi reminds me not to stress about having bad days on and off the course.
What are your goals for the season?
Our team goal is to finish in the top three at state. My personal goals are to run under 18:45 during the season and to place in the top 20 at state.
When did you first start running competitively, and what did you like about it?
I first started running competitively in eighth grade. I went out for cross country to get in better shape for lacrosse and basketball. I really enjoyed the team atmosphere and running with friends.
Coach told me that you prefer training more than the actual races. Do you just enjoy the process of putting in all the hard work?
Races stress me out, but I love running, talking with friends and team spaghetti dinners. I like challenging myself by doing hard workouts and seeing improvement.
I know you weren't one of the top eight runners on your eighth grade team, then last year you became one of the top eight freshman runners in the state. To what do you attribute your success?
I worked hard all summer at cross country camp and trained throughout the winter. Coach Cog's plans for me are quite challenging, but it is important for me to put in the work. My teammates are very encouraging and supportive, which helps me get through hard workouts.
Do you have any aspirations to run in college?
I would like to run in college. I think it would be a great experience and a fun way to meet new people.