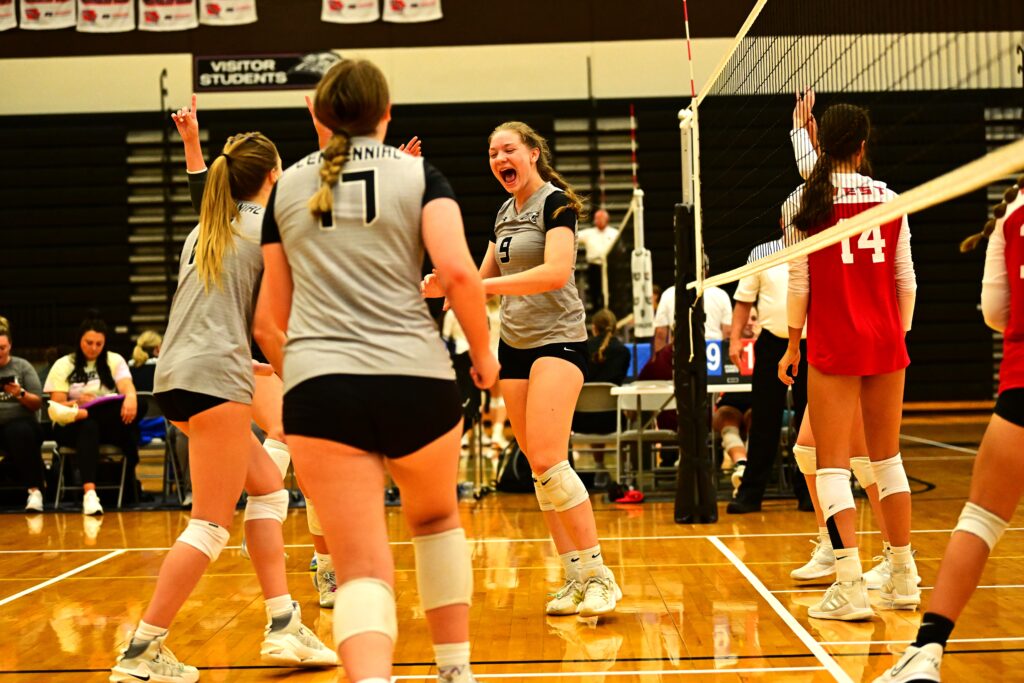 Saturday's Ankeny Centennial Invitational was like a mini-state tournament, featuring many of Iowa's best volleyball squads in the 16-team field.
Fifth-ranked Ankeny and No. 11 Centennial both had some moments of spectacular play. In the end, though, the Hawkettes and Jaguars were both eliminated in the quarterfinals of the championship bracket.
Ankeny went 3-0 during pool play to win Pool A. The Hawkettes closed out pool play with a 19-21, 21-17, 15-7 victory over No. 1 Iowa City Liberty.
"We knew that Liberty was in our pool, and they were going to be so tough," said Ankeny setter Jesa Wallace. "Our goal was to play our game, make smart decisions and hopefully win. The team came together, our back row was killing it, our hitters were on fire, we had some great blocks, and I think as a team we fought hard, we played with purpose and we encouraged each other and we were able to come away with the 'W'.
"It was a fun day of volleyball!" she added.
The Hawkettes overcame 13 kills from Liberty star Cassidy Hartman.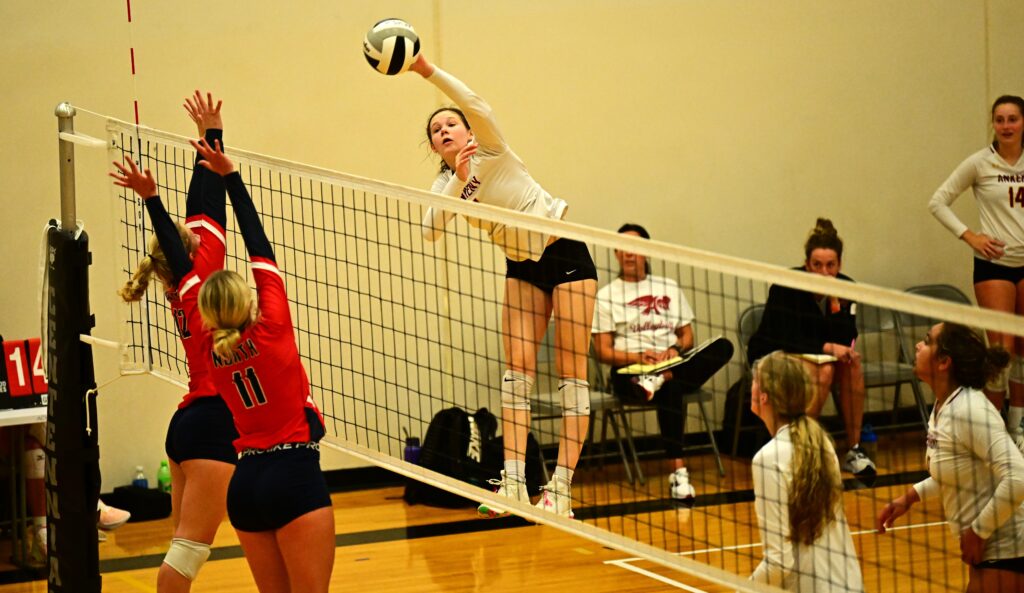 "That was an amazing game. I checked my heart rate at the end of it, and it was 138!" said Ankeny coach Dani Kohut Lynch. "It was so great to see two great teams step up to the plate and battle. We knew coming into the game that they had some really heavy hitters, and we needed to find some weaknesses quickly. We made a lot of errors in the first set so we made sure in the second set we kept things simple by serving smart and aggressively, and we wanted to stay in system as much as possible to get all hitters going."
Ankeny defeated two other ranked opponents during pool play. The Hawkettes outlasted No. 12 Council Bluffs Lincoln, 21-10, 19-21, 15-6, and swept No. 13 Sioux City North, 21-13, 21-13.
Centennial, meanwhile, went 2-1 to place second in Pool C. The Jaguars swept their first two foes, posting a 21-17, 28-26 win over Valley and a 21-13, 21-10 triumph over Davenport West.
Centennial then won the first set against No. 2 Cedar Falls before the Tigers rallied for a 19-21, 22-20, 15-11 victory to win Pool C.
"I think we fought hard every set that we played," said Centennial sophomore Jaeden Pratt. "I think we played great the whole time, and everyone played their role."
The eight-team championship bracket included six of the top 11 squads in Class 5A as well as eventual champion Dike-New Hartford, the No. 1 team in Class 2A. No. 3 Pleasant Valley and No. 10 Dowling Catholic were the other pool winners.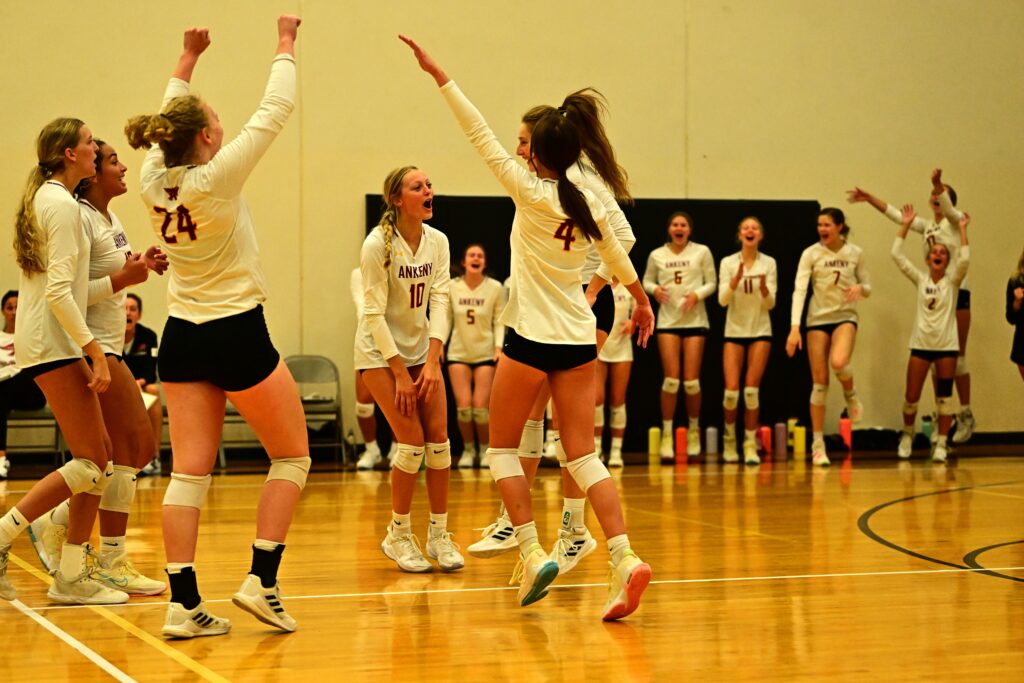 Dike-New Hartford, which lost to Dowling during pool play, then rallied to beat Ankeny in the quarterfinals, 23-25, 25-17, 15-9. It was the first loss of the season for the Hawkettes (7-1).
"This tournament is so good and so tough," Kohut Lynch said. "We walked away with a lot of positives, and I'm very proud of how our team played."
Jadyn and Payton Petersen each had 14 kills to lead the Wolverines (7-1).
"I am so happy about how the team played at the tournament," Wallace said. "We knew the competition was going to be tough. There was a lot of really good teams there, and coach Lynch and (assistant) coach (Sam) Sheldon were preparing us for that during practice."
Centennial (5-3) also lost a three-set match in the quarterfinals. The Jaguars fell to Pleasant Valley, 25-14, 23-25, 15-8, in a rematch from last year's Class 5A quarterfinals.
Jada Schmidt had 10 kills in the loss. Anna Sash chipped in six, Delaney Miller had five, and Pratt added four.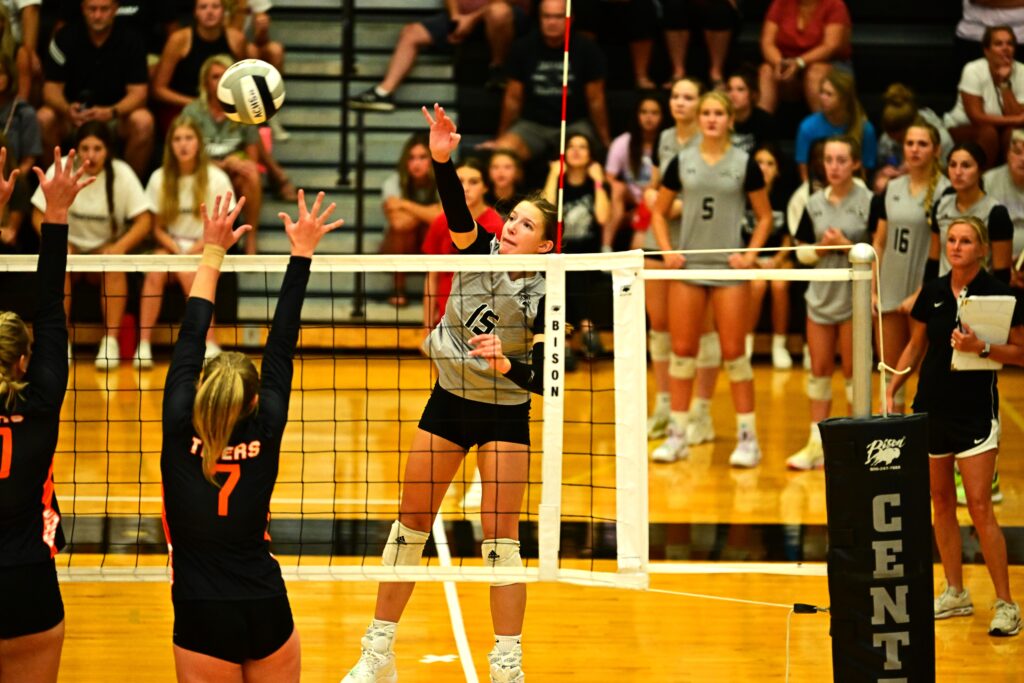 Reagan Angus dished out 16 assists and also had an ace. Taylor Bechen added four digs.
All-stater Halle Vice had 12 kills and four aces for Pleasant Valley (9-1), the defending Class 5A champion. The Spartans eventually lost to Dike-New Hartford in the title match, 25-19, 25-14.
"I think what we need to do against the better teams is just stay collective as a group and know we are equally just as talented," Pratt said. "No match is a guarantee win, and us just going point by point will help us in the bigger games."
The Jaguars will host No. 7 Urbandale (4-3) in their CIML Conference opener on Tuesday. The J-Hawks placed second in the consolation bracket of the Centennial Invitational.
Ankeny will play its league opener at Waukee (2-2), which also reached the quarterfinals of the Centennial tournament before losing to Cedar Falls.