Ankeny Centennial girls' cross country coach Eric Cogdill challenged his team prior to Thursday's Kirk Schmaltz Invitational in Ames.
"We lost to Valley by one point last week," said Cogdill. "We've got to aim higher. Don't set a goal that you know you can reach. Set a goal that you want to reach, and they attained it."
Fifth-ranked Centennial raced to a victory on the Iowa State cross country course, finishing with 54 points. No. 4 Valley placed second in the 11-team field with 75 points.
"Our goal was to win it," said Centennial sophomore Julia Flick. "It was a big goal, but we wanted to achieve it. We told ourselves we could, and we're happy we did it."
No. 7 Ankeny placed third with 98 points. The Hawkettes finished six points ahead of No. 11 Waukee and eight points ahead of No. 9 Ames.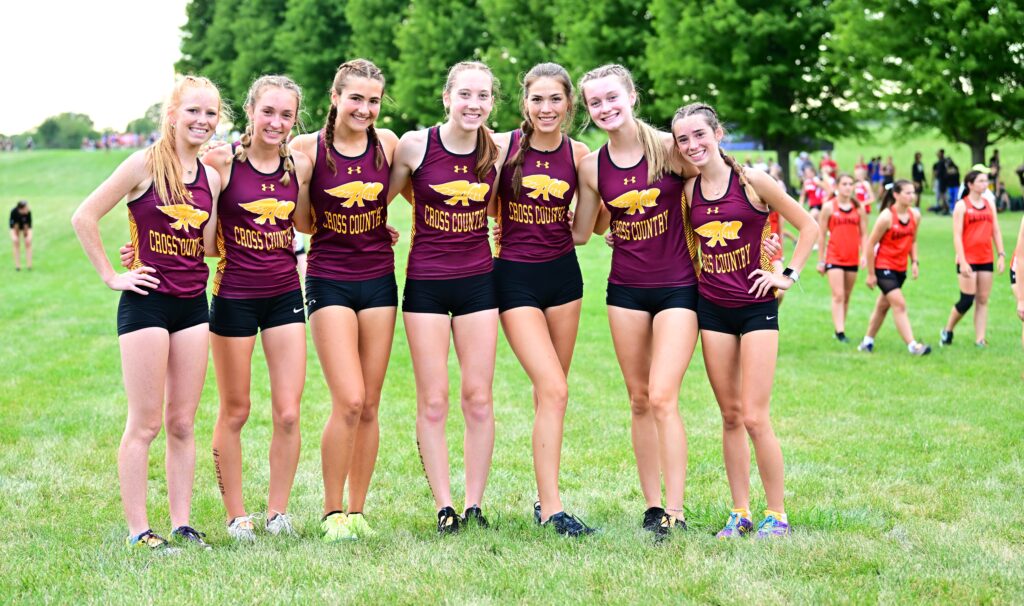 Defending state champ Addison Dorenkamp of Valley easily won the 5k race in a time of 17 minutes 32 seconds. Lourdes Mason of Mount Vernon-Lisbon, the No. 2 runner in Class 3A, was the runner-up in 17:56.
Rondi Quass placed fifth in 18:39 to lead the Jaguars. Teammate Anika Mohrhauser was seventh in 18:51.
The key to Centennial's victory was the pack of Bella Hodges, Flick and Kylee Patterson, who ran together most of the way and crossed the finish line in succession. Hodges placed 13th in 19:40, Flick was 14th in 19:41, and Patterson finished 15th in 19:51.
"We were trying to all stick together and then pass with each other," Flick said. "This definitely shows our potential."
Anja Peck placed 25th in 20:09, finishing ahead of Valley's No. 4 runner. Tillie Smith took 37th in 20:51.
"We ran together as a unit today, and that was kind of our big focus was to work together and literally talk to each other during the race. Just work as a unit and just go," said Cogdill, whose team boasts four girls in the top 30 of the individual rankings. "We talked about how important the 3, 4, 5 runners were today, because Ames had two good runners, Ankeny had a couple of really good runners, and Valley had two good runners. Where that 3, 4, 5 finished was going to carry the team results. That grouping really paid off nicely."
Drew Beason led the way for Ankeny. She placed ninth in a time of 19:27.
"I'm pretty happy with the race," said Beason, who is ranked eighth. "I wanted to stay out with the pack ahead of me, but I tried my hardest."
Lauren Jackson took 18th for the Hawkettes in 19:53. Brylee Moyer placed 20th in 20:00, Paige Beason was 24th in 20:07, Alex Gloviak finished 27th in 20:12, Gwen Briggs was 33rd in 20:37, and Sophia Graber placed 43rd in 21:10.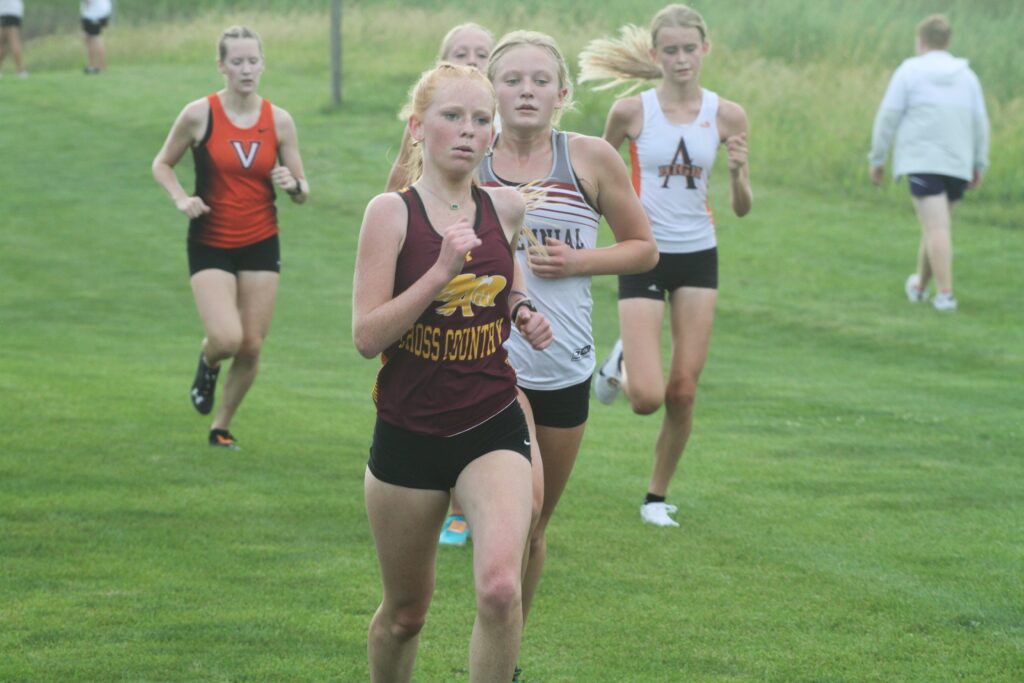 Unlike Centennial, Ankeny didn't set a team goal for the meet, according to Beason.
"We're just trying to get better," she said.
Ankeny coach Eric Klingensmith was pleased with his team's performance, though.
"We had 29 PRs on the team overall and a 44-second spread among our top five runners," he said. "Although we hoped for a higher team finish, we ran with grit and determination in a very fast-paced race. Our sights are now set on gaining a better position from the start. With two of our ladies running sub-20, Drew and Lauren, and the next four on the cusp of sub-20, we have the ability to be one of the most competitive teams in the state, which is our plan."
The Hawkettes will compete in the Bobcat Invitational on Thursday at Marshalltown, while Centennial will travel to Cedar Rapids for the Kennedy Invitational at the Seminole Valley cross country course.
"Next week the competition won't be as stiff, so we'll work on even pacing, staying calm, and running smooth and effortlessly," Cogdill said. "And maybe pull back and let a couple of the kids get healthy. We've got a couple that are dinged up like every team right now."