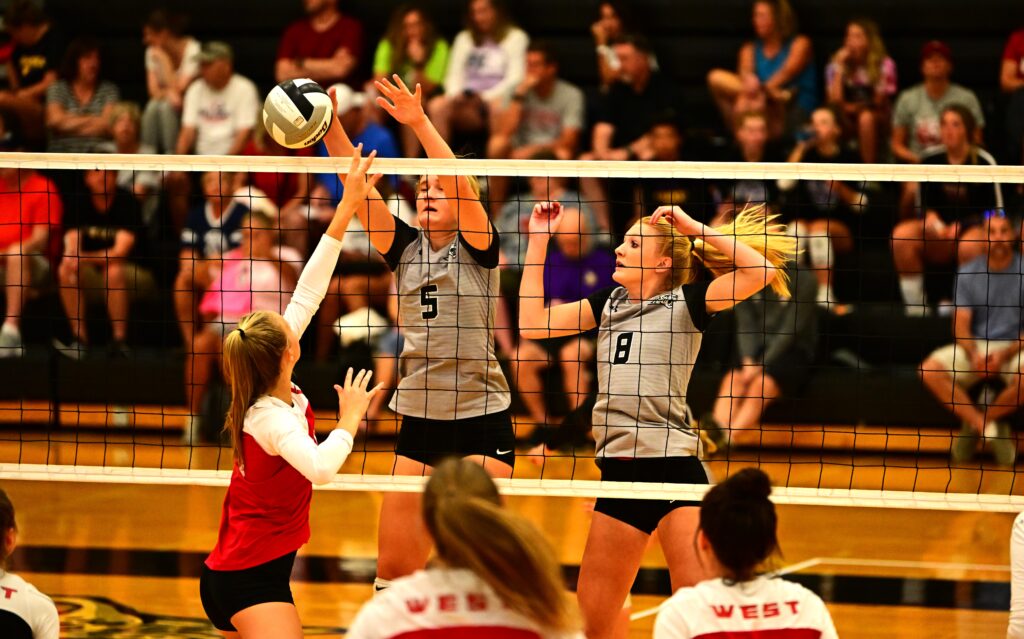 On a day when the Iowa football team struggled to get its offense going in its season opener at Kinnick Stadium, the Ankeny Centennial volleyball squad had no such problems on Saturday just a few miles away at Iowa City High School.
The fifth-ranked Jaguars swept all four of their matches in two sets to win the Little Hawk Invitational title for the second straight year. They improved their record to 10-3 on the season.
"Iowa City was fun!" said Centennial coach Jessica Rinehart, who moved four wins away from the 300-victory mark for her Centennial career. "It was great to play different competition and win the tournament. Our team did a great job of doing what we needed to do to get 'W's. We made many clutch plays down the stretch which will hopefully build our confidence when we face other close matches."
Two of Centennial's wins came against rated opponents, Council Bluffs Lewis Central and Bettendorf. Lewis Central (6-1), the No. 6 team in Class 4A, battled the Jaguars to the wire in both sets before dropping a 21-18, 23-21 decision.
Centennial's Delaney Miller had eight kills in the win, Jada Schmidt chipped in six, and Delainey Winkel added five. Jaeden Pratt had three blocks.
Setter Reagan Angus racked up 19 assists and six digs. She also completed all 11 of her serves and had one ace.
The Jaguars later posted a 21-14, 22-20 victory over No. 13 Bettendorf (3-3). Miller led the way with seven kills, Schmidt had six, and Anna Sash added four.
Angus finished with 17 assists. Winkel contributed seven digs.
Taylor Bechen had six digs in Centennial's 21-12, 21-11 win over Dubuque Hempstead (2-4). The Jaguars had 11 aces in the triumph, including six by Winkel and four by Angus.
Miller pounded six kills. Pratt had three blocks.
Centennial closed out the tournament with a 25-23, 21-13 victory over Iowa City High (2-5). Pratt had eight kills and two blocks in the win, while Angus dished out 15 assists.
Bechen chipped in six digs. She also completed all 14 of her serves and had one ace.
"The overall highlight would probably be our last match against Iowa City where we hit over .300 as a team," Rinehart said. "We've been working on getting all of our hitters going and our middles involved, and it happened in that match."
The Jaguars will play a CIML Conference match at No. 6 Dowling (9-3) on Tuesday. The Maroons lost to Centennial, 21-12, 21-15, at the Dallas Center-Grimes Invitational on Aug. 23.