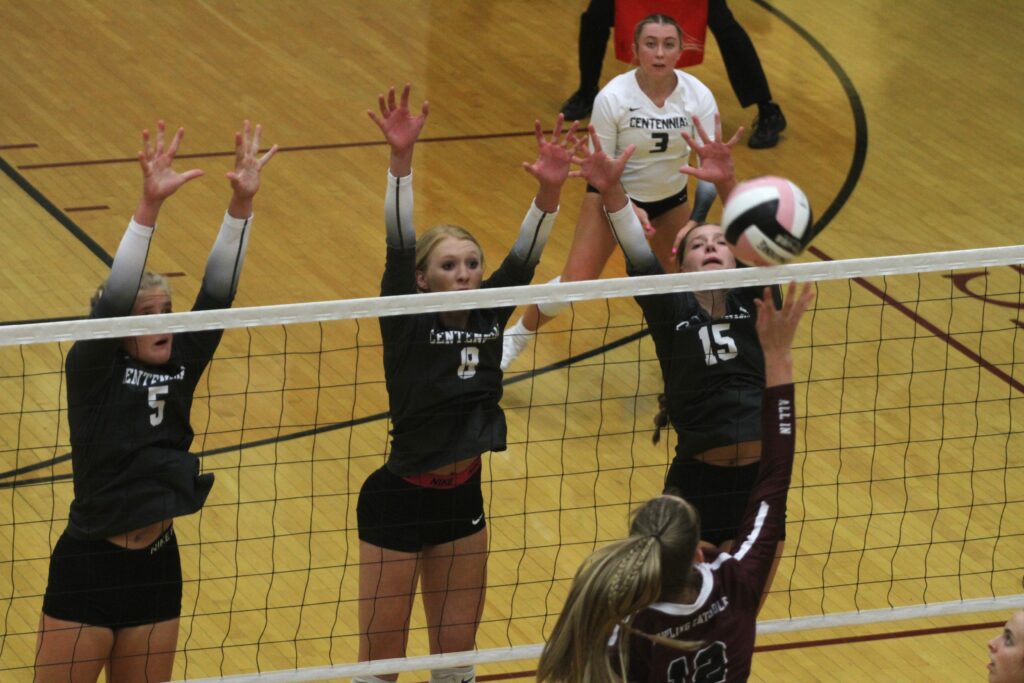 Two weeks ago, the Ankeny Centennial volleyball team rolled to a win over Dowling Catholic in its first match of the season at the Dallas Center-Grimes Invitational.
On Tuesday, the sixth-ranked Maroons avenged that loss in a five-set thriller on their home court.
Dowling rallied from a 2-1 deficit to post a 22-25, 25-18, 15-25, 25-19, 15-6 victory over the No. 5 Jaguars in a CIML Conference match.
"We figured it would be a battle," said Centennial coach Jessica Rinehart, whose team dropped to 1-1 in the conference and 10-4 overall. "We were mentally prepared for five (sets), hoping that it would be less than five. We had chances to make it less than five, but we didn't capitalize when we could have."
The Maroons improved to 2-0 in the league and 12-4 overall. They have won their last four matches, including a sweep over No. 3 Ankeny in the Marj White Classic on Saturday at Valley.
"The girls can do it, and getting some big wins (at the Valley tournament) really helped them believe they can do it," said Dowling coach Mary Beth Wiskus, who earned her 400th career victory. "We know it, but getting those wins really helps your confidence for sure."
The Jaguars lost despite outhitting Dowling, .140 to .132. The Maroons got 14 kills from Mackenzie Dean and 13 from Megan Frischmeyer, the only two upperclassmen in their starting lineup.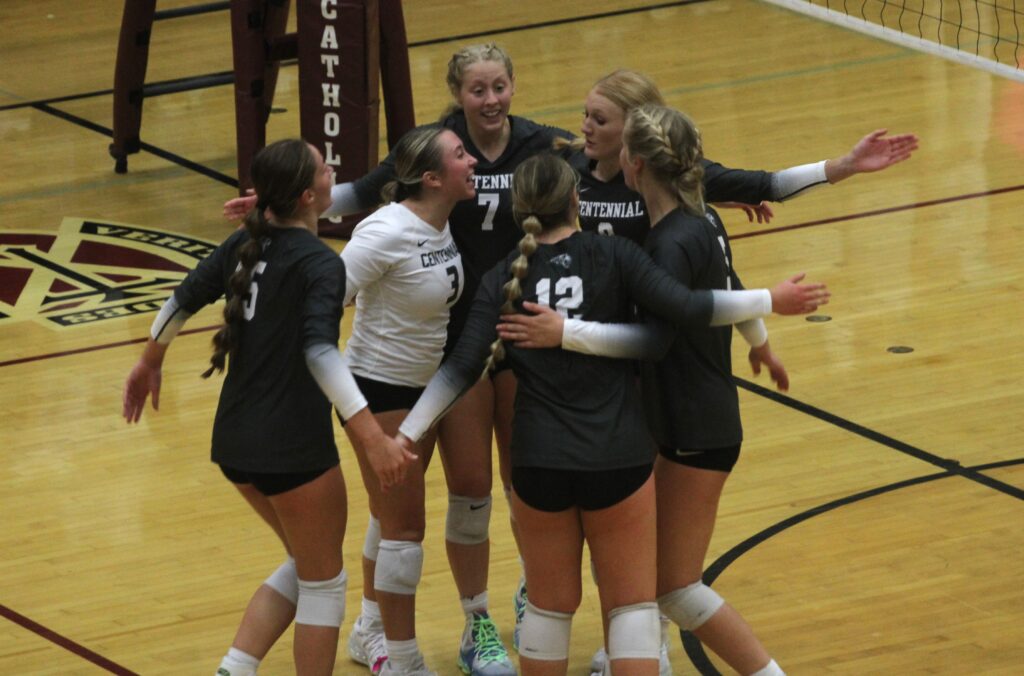 "We're young," Wiskus said. "We start three sophomores and a freshman, but we just keep improving. We've made some adjustments in our training, and we've talked about playing smarter volleyball. The girls are very coachable, and they work hard in practice. We just keep getting better so that's really been the focus."
Delainey Winkel led Centennial with 15 kills. Delaney Miller had 13, and Jaeden Pratt added 12.
But it wasn't enough as Dowling smashed eight aces, including one to end the match. The Jaguars had just two.
"It was a good atmosphere," Rinehart said. "The crowd was loud, and the volleyball was good–90 percent of the time."
Centennial never trailed in Set 1. Anna Sash got a block to finish it off.
Dowling used a 5-0 run to take a 12-9 lead in Set 2 and led the rest of the way. The Maroons used an ace to even the match at one set apiece.
The Jaguars jumped out to 7-1 lead in Set 3. They closed out the set on a kill by Winkel, but were unable to sustain their momentum.
Dowling built a big advantage in Set 4. Centennial fought off three set points before the Maroons pounded a kill to close it out.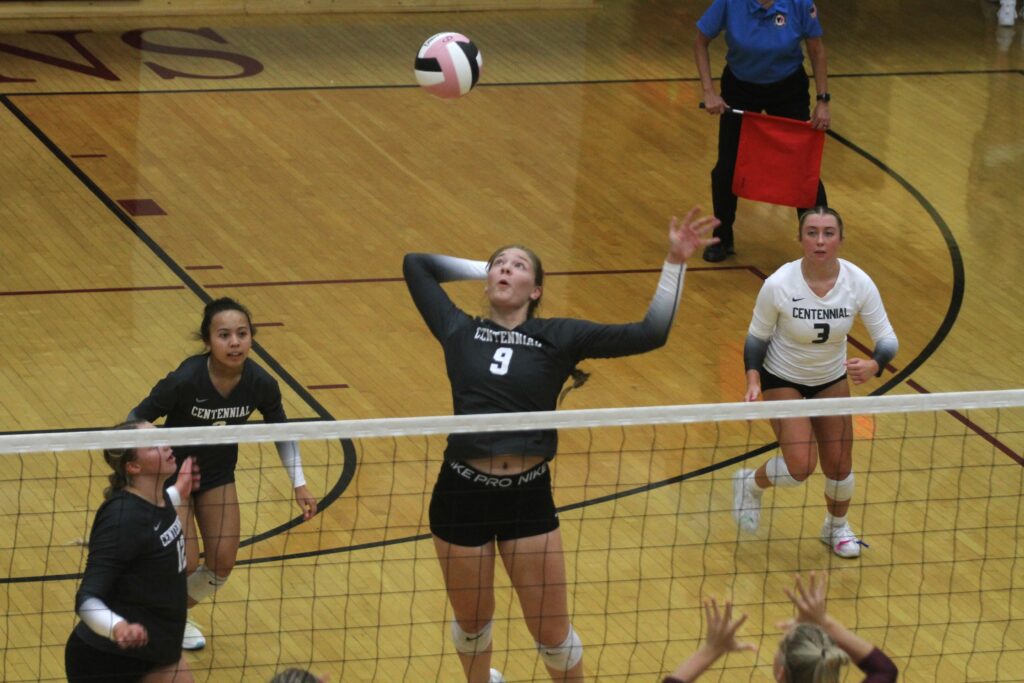 "We worked a lot on what we call 'Yellow Light Swings'," Wiskus said. "Just taking smart shots when we aren't able to have a good heavy swing, keeping the ball alive and putting it in good spots."
Dowling then took an early 6-2 lead in Set 5 and cruised to the win. Ella Rogers dished out 41 assists for the Maroons, while Dean and Ally Anderson each had three aces.
"I'm not sure (what happened). I'd have to go back and watch film," Rinehart said. "I thought on our end we made a few more errors, and that took pressure off of them. They got some momentum and carried it into game five."
Reagan Angus had 32 assists for the Jaguars. Pratt contributed five blocks, and Taylor Bechen racked up 18 digs.
Rinehart said both teams improved over the last 14 days.
"That was the very first match of the year," she said. "(Dowling) made a ton of errors in that game, and they made fewer today. I thought we made some adjustments too, so I think both teams looked better than we did that first match."
The Jaguars will play in the Metro Classic on Saturday at Southeast Polk. Rinehart remains four wins shy of the 300-victory mark for her Centennial career.