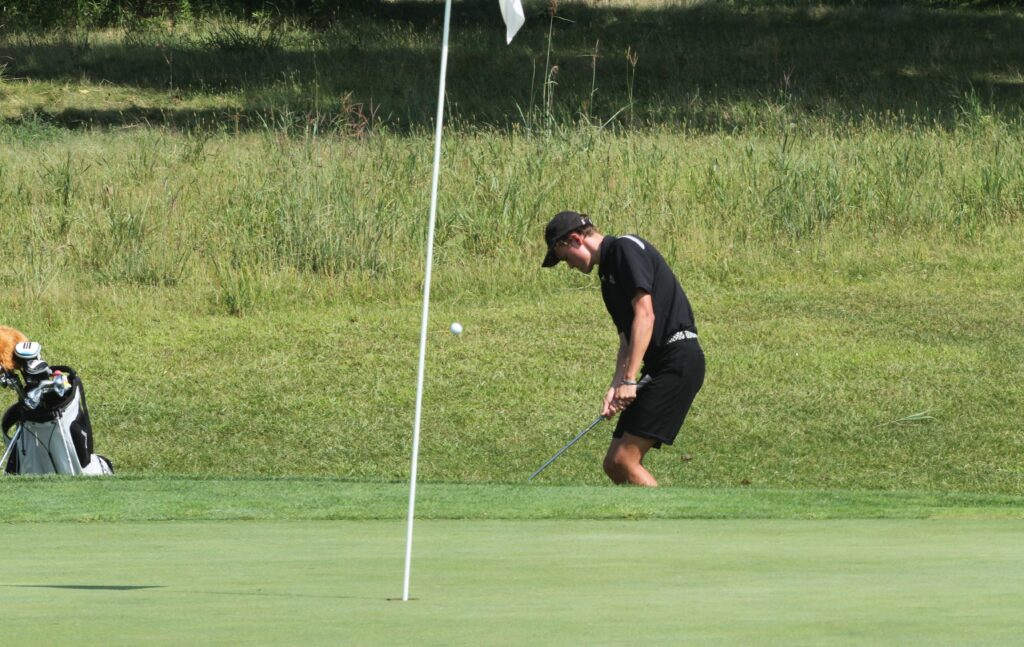 A 16-stroke loss to its crosstown rival seems like a distant memory to the Ankeny Centennial boys' golf team.
The ninth-ranked Jaguars, who were beaten soundly by No. 7 Ankeny during a triangular meet on Aug. 29 at Otter Creek, returned to the Hawks' home course on Wednesday to compete in the Ankeny Invitational.
Centennial placed fourth in the 11-team field with a 301 total. The Jaguars edged fifth-place Ankeny by one stroke, defeating the Hawks for the third time in the last nine days despite playing without varsity regulars Lawson Hachmeister and Ben Meier.
"Thanks to Gable (Strother) and Danny (Paulson), we were able to compete," said Centennial coach Rick Fee. "Missing Lawson and Ben was a tough pill to swallow, but the boys battled and we managed to take four scores under 80. Gable is proving he can be depended on to fire a solid score constantly."
Ankeny, meanwhile, rebounded after a couple of disappointing rounds at The Legacy Golf Club. But the Hawks still fell far short of the school-record score of 284 that they posted in their previous home meet.
"I thought we played much better today, but we did have a team conversation after the tournament and talked about how important it is that we figure out how to play well on the road and not just at Otter, especially since this is our last home meet of the season," said Ankeny coach Mike Weddingfeld. "The entire team played much better, but some of the guys still had a few holes where they made bigger numbers and that hurt our overall score."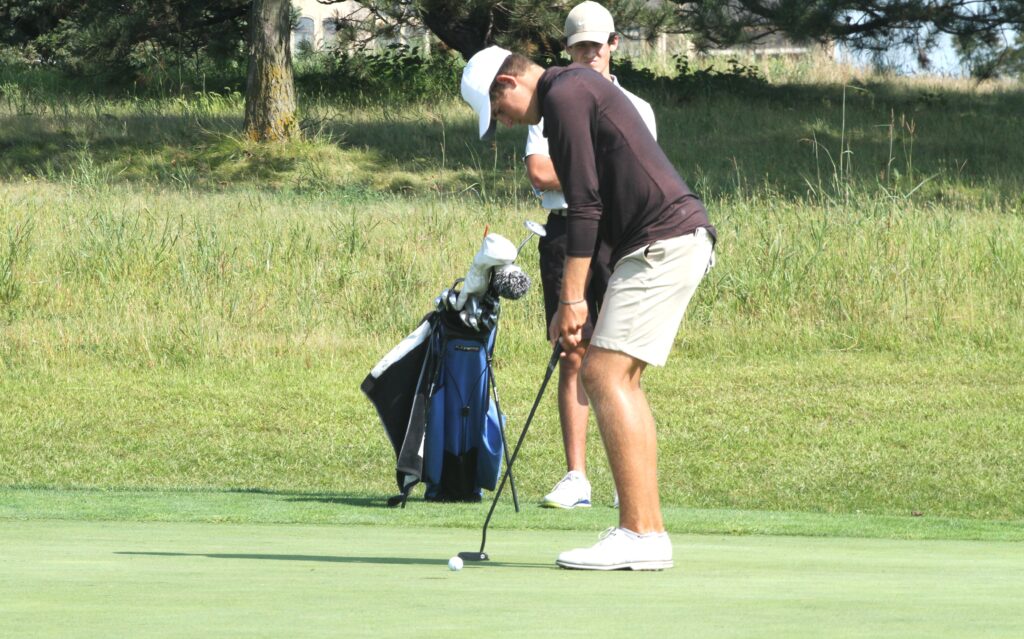 No. 11 Dowling Catholic captured the team title with a 288 total, edging No. 8 Southeast Polk by one shot to defend its title. Valley was third with a 297.
"We know that we can go low, but we have to play without big mistakes if we want to beat the other teams in our conference," Weddingfeld said. "We knew that Southeast Polk and Centennial were good from our previous meetings and now we also know that Dowling and Valley are talented as well. If we want to beat those teams, we are going to have to play our best golf and limit the mistakes."
Cooper Sebastian of Urbandale carded a 4-under-par 67 to earn medalist honors. He had six birdies on the day, as well as an eagle on the par-5, No. 3 hole.
Five other golfers finished at even-par 71, including Sam Wahman of Southeast Polk. Wahman claimed runner-up honors on a cardoff.
Paulson also shot a 71 and placed sixth for the Jaguars. He overcame a double bogey on the par-4, No. 9 hole.
"I figured out the driver a little bit (Tuesday) at practice, and that made a huge difference," Paulson said. "It felt great to beat Ankeny today without two of our top six guys. We had some guys, especially Gable, step up today which made a huge difference."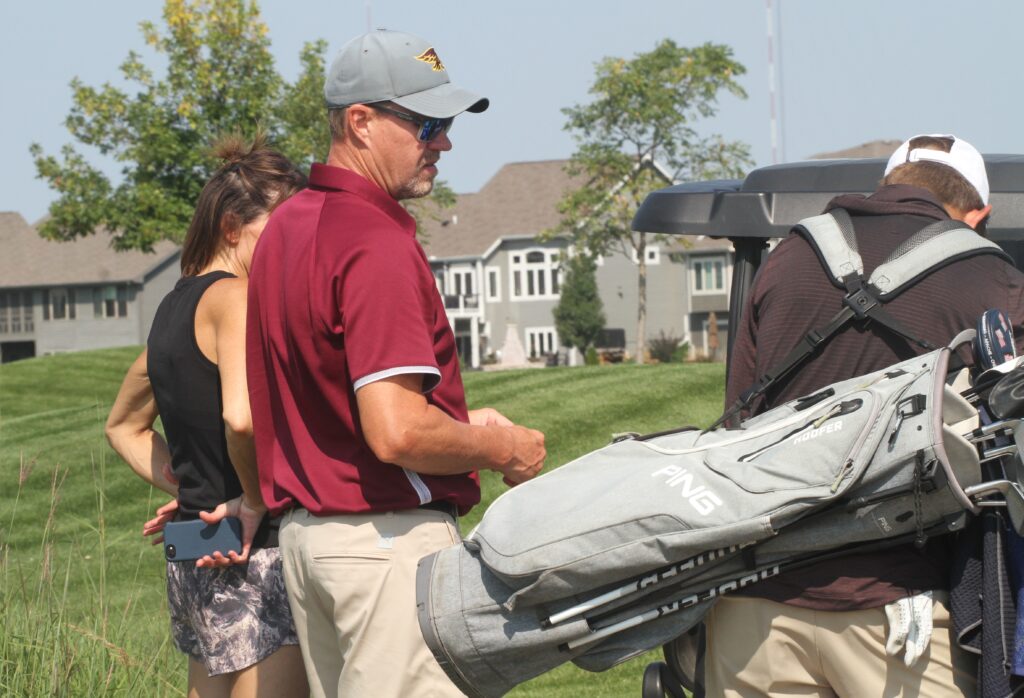 Strother placed seventh with a 72. Ankeny's Drew Hensen also carded a 72 and finished eighth.
Caden Weddingfeld fired a 76 for the Hawks. Duncan Beelner and Avin Legg each had a 77, Jacob Adams shot a 78, and Evan Hodapp added a 79.
"We are a young team that is learning and improving with every meet, and I am really proud of how the guys bounced back today," Weddingfeld said.
Zach Hoffman, Cal Johnson and Tate Logan each had a 79 for Centennial. Logan Sease finished with an 81.
"I'm glad we only have one event this week!" Fee said. "Hopefully, we will get both of our varsity guys back and healthy next week."
Both Ankeny and Centennial will compete in the Turk Bowman Invitational on Monday at Veenker Golf Course in Ames.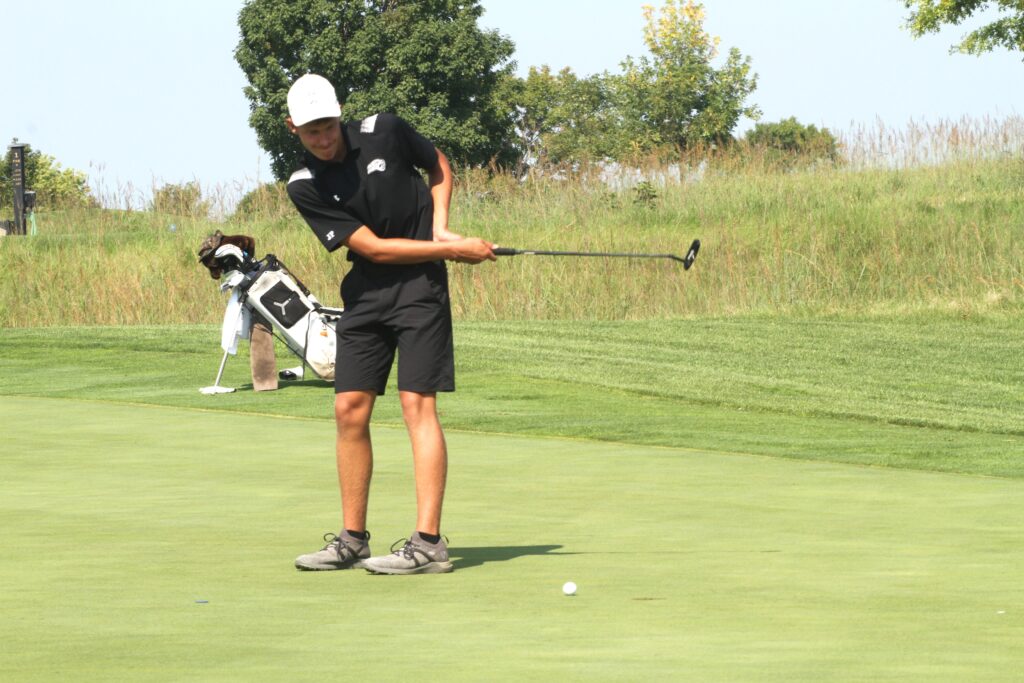 District assignments
Both squads learned their postseason assignments on Wednesday. The Iowa High School Athletic Association announced that the Class 4A district meets will be played over two days in October at four different sites.
The Jaguars will play in a district meet at Blank Golf Course in Des Moines on Monday, Oct. 3. No. 3 Johnston, No. 4 Waukee and Dowling will be among the other teams in the field.
The Hawks will travel to Council Bluffs on Tuesday, Oct. 4 for a district meet at Bent Tree Golf Club. No. 2 Waukee Northwest and No. 5 Indianola will be among the other teams in the field.